24 Hawkeyes to Watch 2018-19 | Hawk Talk Monthly — November | Hawk Talk Daily
IOWA CITY, Iowa — The University of Iowa soccer program signed two-time New Zealand Youth National Team forward Samantha Tawharu to a National Letter of Intent, it was announced Wednesday by head coach Dave DiIanni.  Tawharu will have three years of eligibility with the Hawkeyes.
 
The Green Bay, Auckland, New Zealand, native played on the FIFA U17 and U20 Women's World Cup teams, scoring nine goals in nine matches for the U20 team and 11 goals in 10 matches for the U17 team.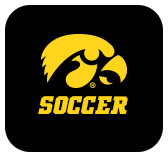 "We are excited to add a player like Sam to our Iowa soccer family," said DiIanni. "Not only does she come with two cycles of National Team starting experience, but she is genuinely ecstatic about joining our program and helping contribute in any way possible to our mission of building this winning culture. Sam is a technical forward, who can play back to goal or as an attacking mid in many different systems."
 
Tawharu also played for the Future Ferns Domestic Program and New Zealand National League, where she scored eight goals in 11 matches. At Forrest Hill Milford, she netted 42 goals in 35 games, helping the team to a 2016 New Zealand National Knockout Cup title and a championship appearance in 2018.
 
Tawharu has scored 114 career goals.
 
"I chose the University of Iowa as I immediately felt welcome and a part of the team," said Tawharu. "Everyone on the team shares the same desire of facing new challenges and wanting to succeed both academically and athletically."
 
Tawharu, who will join the program in January, is the 11th signee in the 2019 recruiting class and the sixth forward.
 
The class also consists of Samantha Cary (D, St. Charles, Ill.), Samantha Cramin (F, Northbrook, Ill.), Gianna Gourley (F, Las Vegas, Nev.), Melina Hegelheimer (M/F, Ames, Iowa), Daisy Light (F, Louisville, Colo.), Natalie Massa (D/M, Naperville, Ill.),  Megan Nelson (M, West Des Moines, Iowa), Hannah Rittenhouse (F, Geneva, Ill.), Sam Schroder (M, Iowa City, Iowa), and Sabrina Shaw (GK, Zionsville, Ind.).