Hawkeye Fan Shop — A Black & Gold Store | 24 Hawkeyes to Watch 2018-19 | Hawk Talk Daily | I-Club Events Page | Match Notes — Lehigh
Editor's Note: The following first appeared in the University of Iowa's Hawk Talk Monthly, a national award-winning e-magazine that offers a look at the Iowa Hawkeyes, delivered free each month to fans of the Hawkeyes worldwide. To receive periodic news from the Iowa Hawkeyes, sign up HERE.
By DARREN MILLER
hawkeyesports.com
IOWA CITY, Iowa — Whether it was a pop in the mouth or a good slap in the face, it led to a jolt for the fourth-ranked University of Iowa wrestling team.
 
Both expressions were used to describe what took place between Iowa head coach Tom Brands and senior Sam Stoll before the 285-pound match in the Iowa Corn Cy-Hawk Series wrestling dual Dec. 1.
 
Was the pre-match ritual a pop in the mouth, as Brands claims, or a slap in the face, as Stoll remembers? Regardless, it provided a lift that resonated loudly throughout the 9,751 in attendance at Carver-Hawkeye Arena.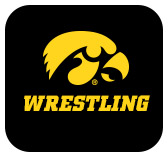 It had an all-star wrestling feel when Stoll walked slowly to Mediacom Mat through smoke, flames, and a standing ovation. On the opposite side of the mat was Gannon Gremmel, an Iowa State sophomore, who like everyone else, thought he would face Iowa's Aaron Costello in the eighth bout of the afternoon.
 
That's what Brands thought, too.
 
"(Stoll is) a senior, he said it's his last time in the dual like this and he made the call," Brands said. "I wasn't going to let him go and he explained it to me that he wanted to go. I popped him in the mouth and he went."
 
The last time Stoll was in action was March 17, 2017, when he pinned Hoftsra's Mike Hughes in 1:57 for his 25th victory and 10th fall of the season. That win was for fifth place and All-America honors at the NCAA Championships in Cleveland, where Stoll won the Gorriaran Trophy, presented annually to the wrestler who records the most pins in the least amount of time at the NCAA Championships.
 
But Stoll spent most of the offseason recovering from injury and Hawkeye fans weren't sure when they would see the popular heavyweight back in action.
 
When Stoll weighed in Dec. 1, even he didn't expect to partake in his final dual against the Cyclones. That changed while he was pacing in the tunnel and heard walkup music for the 285-pounders.
 
"I had no intentions on going, but it's hard when we're losing a big dual like that," Stoll said. "Maybe I was just getting ready to make the other guy think he was wresting me. But if we're losing, it's hard to sit back and do nothing, especially in my last (Iowa) State Week.
 
"I ran out there and Tom met me in the middle and said, 'I don't want this, you're not going.' I said it's my last one and I'm going. He gave me a good slap in the face and I went."
 
The third-ranked Hawkeyes trailed 15-12 at the time. Stoll's 5-1 decision over Gremmel knotted the score and Iowa eventually won, 19-18 — its 15th consecutive win over Iowa State. For Stoll, he earned a takedown 11 seconds in and compiled four-minutes, seven-seconds of riding time.
 
"I wrestled fine. I would have liked to have scored more points and got a fall, but it didn't happen," Stoll said. "(Gremmel) didn't sniff me one time. It was a solid match."
 
Brands admitted he wasn't comfortable with his top-rated heavyweight making the call and competing in the in-state dual. Now the question is whether Stoll remains in the lineup.
 
"We will evaluate (his performance against Iowa State) and use him when he is ready," Brands said. "We will do the best thing for Sam Stoll and he will do the best thing for himself."
 
For now, both Stoll (1-0) and the Hawkeyes (5-0) are undefeated on the season. That sure beats a pop in the mouth. Or, a good slap in the face.