24 Hawkeyes to Watch 2018-19 | Hawkeye Fan Shop — A Black & Gold Store | Hawk Talk Daily | Pop, Slap, Victory | I-Club Events Page | Match Notes — Lehigh
By DARREN MILLER
hawkeyesports.com
IOWA CITY, Iowa — Someone from the fourth-ranked University of Iowa wrestling team will compete at 174 pounds Saturday against No. 16 Lehigh.
 
It just won't be senior Mitch Bowman. Yet.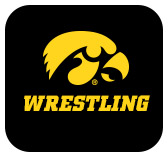 Bowman, who is 2-0 this season at 197 pounds, confirmed Tuesday he is cutting down to the 174 spot that became vacant because of injuries to junior Michael Kemerer and freshman Myles Wilson. Bowman is certified at 174, but because of NCAA rules, will not be able to weigh in at 174 for the better part of a month.
 
"There is a spot that needs to be filled right now and I am certified at 174," Bowman said. "But it wouldn't be this week. This week I'm filling in where I need to fill in and that's 184 and 197. (Freshman Jacob) Warner was tweaked a little bit (against Iowa State), so I need to be ready to go there (197). That's where my mind is right now."
 
Bowman came up big in Iowa's Big Ten dual against Purdue on Nov. 24. He gave away 13 pounds to 11th-ranked Christian Brunner, but opened the dual with a pair of first-period takedowns and added a second-period reversal to earn a 7-5 decision.
 
Bowman has not competed since, but is listed as a probable at 184 for Saturday alongside No. 14/17 Cash Wilcke, a junior. Warner, who is ranked sixth at 197, said he is ready compete against Lehigh after winning his varsity debut Dec. 1.
 
Iowa head coach Tom Brands sees Bowman as a candidate at 174, just not now.
 
"We have a lot of possibilities there," Brands said. "We have guys coming up from lower weight classes, we have the possibility of guys going down from heavier weight classes and right now, for the guys coming down, the math doesn't work out with the weigh-in certification rules."
 
Brands also indicated that an unnamed Hawkeye wrestler expressed interest in moving up to 174 from either 149, 157, or 165.
 
"It could have been anybody or I could have made that up," Brands said Tuesday at his weekly news conference in Carver-Hawkeye Arena. "There are a lot of weight classes below (174) and there are a lot of people that want to get out on the mat. We have the kind of guys that want to wrestle."
 
The Hawkeyes head into their final dual of the calendar year with an unblemished 5-0 record. In the preseason, the 174 spot belonged to Kemerer, a two-time All-American who competed at 157 his first two seasons. Wilson appeared to be an early-season fill-in for Kemerer and had a 2-2 record heading into last Saturday's Iowa Corn Cy-Hawk Series dual against Iowa State. On Nov. 27, four days before facing the Cyclones, it was announced that Kemerer would have season-ending knee surgery.
 
Iowa's 174 depth worsened during the dual. Wilson, after gaining a 4-3 lead over Marcus Coleman, was forced to default because of a lower body injury.
 
For now, it's a mystery who Iowa's representative at 174 will be against Lehigh.
 
"We are not having good news with Wilson and that is very unfortunate because he is a great ambassador and representative of our program," Brands said. "We're going to move on; we're huddling with our medical team to figure out the next course of action.
 
"We're going to fill it with someone and that someone will go out there to win matches in a very entertaining fashion and in the right way. Just like if Kemerer or Myles Wilson were out there."
 
Iowa hosts Lehigh at Carver-Hawkeye Arena on Saturday at 7:30 p.m. (CT). Admission is $12 for adults and $8 for youth. Children five-years-old and younger and UI students are admitted free.