Hawkeye Fan Shop — A Black & Gold Store | Hawk Talk Monthly — December | 24 Hawkeyes to Watch 2018-19 | I-Club Events Page | Hawk Talk Daily
By DARREN MILLER
hawkeyesports.com
IOWA CITY, Iowa — Midlands wrestling memories — good and not-so-good — have been made for 55 years. University of Iowa sophomore Alex Marinelli looks for another good one Dec. 29-30 in Hoffman Estates, Illinois.
 
It was at the 2016 Midlands where Marinelli experienced his first (and only) two losses competing unattached as a true freshman. To date, winning the 165-pound championship as a redshirt freshman at the 2017 Midlands is his most impressive tournament title.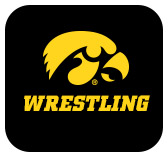 Marinelli is one of eight "top contestants" listed for the 2018 Midlands, which returns to Sears Centre Arena. The list also includes Evan Wick (Wisconsin), Joshua Shields (Arizona State), former Hawkeye Joey Gunther (Illinois), Jonathan Viruet (Brown), Logan Peterson (South Dakota State), Cael McCormick (Army), and Kenny Moore (Northern Illinois).
 
As a true freshman, Marinelli took a 4-0 record into his first Midlands Championships. He opened with wins by fall and decision, then lost a 14-5 major decision to Isaiah Martinez of Illinois. After three victories on the backside of the bracket, Marinelli lost by fall to Anthony Valencia of Arizona State and finished fourth.
 
He won all four of his matches at Midlands last season, knocking off Jon Scheifer of Princeton in the finals, 3-1 in sudden victory. After pinning Johnny Blankenship of Nebraska, Marinelli won in the quarterfinals (Viruet) and semifinals (Richie Lewis of Rutgers) by scores of 3-2.
 
"I look back on those matches and I should have opened my attacks more," Marinelli said. "I learned a lot. I didn't wrestle at my pace; I let the opponent build into the match and it was too close."
 
After winning the Midlands title and being named Champion of Champions, Marinelli won his next eight bouts and headed into the Big Ten Championships with a record of 14-0.
 
"(Midlands) helped me build on the rest of the season," Marinelli said. "It was a great tournament for me, but I have to capitalize to do it again."
 
Marinelli placed sixth at both the Big Ten and NCAA championships. He knows what it will take to become a two-time Midlands champion.
 
"I have to wrestle how I know how to wrestle, get to my attacks and score fast, score quick, and score often," Marinelli said. "That's what (associate head coach) Terry (Brands) likes to preach. If I'm doing that, then there isn't a lot the guy can do. If I put the pressure on the guy, then he can't get to his attacks."
 
Marinelli agrees with the 2018 Midlands top contestants list, but he would also include his teammate, true freshman Nelson Brands, who is 13-0.
 
"Nelson is a good contender," Marinelli said. "He has shown a lot of improvement and has a lot more experience now with (championships) at the Grand View, Lindenwood, and UNI opens."
 
The top seed will likely be Wick, who placed third at the 2018 NCAA Championships. Wick defeated Marinelli, 16-3, in a consolation semifinal on the final day of the tournament. It is a rematch that Marinelli welcomes.
 
"I hope Wick is there, he didn't wrestle last year because Wisconsin didn't wrestle a lot of their starters," Marinelli said. "This year I expect him to wrestle."
 
Session I of the 56th annual Midlands Championships begins Dec. 29 at 9:30 a.m. (CT). The third session begins Dec. 30 and noon with finals to follow at 7 p.m.