24 Hawkeyes to Watch 2018-19 | I-Club Events Page | Hawk Talk Daily | Hawkeye Fan Shop — A Black & Gold Store
HOFFMAN ESTATES, Ill. — Six University of Iowa wrestlers advanced to the finals in the Ken Kraft Midlands Championships on Sunday inside the Sears Centre Arena.
 
With 2:57 of riding time in the 141-pound bracket, No. 2 Max Murin posted an 8-0 major decision to advance to his first Midlands final.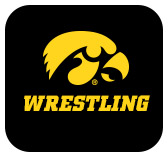 No. 1 Spencer Lee and No. 2 Cash Wilcke both earned decisions in the 125 and 184-pound brackets to advance to the final round. 
 
No. 2 Kaleb Young and No. 2 Alex Marinelli combined for 6:25 of riding time in their decisions in the semifinal round of the 157 and 165-pound brackets. 
 
Second-seeded Austin DeSanto moved onto the finals in the 133-pound bracket due to a disqualification. 
 
There are four Hawkeyes still alive on the backside of the bracket. No. 5 Pat Lugo and Jeren Glosser will wrestle for third place in the 149 and 157-pound brackets. 
 
Paul Glynn and No. 2 Jacob Warner will wrestle for fifth place in the 133 and 197-pound brackets. Two wrestlers were eliminated during the third session. 
 
No. 10 Anthony Cassioppi placed seventh in the 285-pound bracket by forfeit. 
 
Iowa is in first place with 173.0 points, 61.5 more than Northern Iowa in second place with 111.5. 
 
Competition resumes with Session IV tonight at 7 p.m. (CT). The Midlands Championships is streamed online at BTN2Go and at FloWrestling.com. Live results are available at TrackWrestling.com. The tournament in broadcast on AM 800 KXIC and stream on hawkeyesports.com via Hawkeye All-Access.
 
 
SESSION 1 
 
Championship Round 1 
133 – Paul Glynn (IOWA) dec. Derek Spann (Buffalo), 1-0
 
141– #11 Carter Happel (Iowa) major dec. Chad Hay (WWC), 16-4 
 
149 — #5 Pat Lugo (Iowa) pinned Nicholas Villarreal (ASU), (4:23) 
 
157 – Keegan Shaw (IOWA) dec. Anders Lantz (WIS), 13-6
157 –Jacob Wright (FSU) dec. #12 Jeren Glosser (IOWA); 3-4 TB1
157 – #2 Kaleb Young (IOWA) tech. fall Elijah Davis (PUR), 17-0
 
165 – Jeremiah Moody (IOWA) dec. Emil Soehnlen (Unat Purdue), 6-4 SV1
 
174 – Mitch Bowman (IOWA) pinned Devon Sievers (South Dakota), (3:26) 
 
184—Cash Wilcke (IOWA) pinned Peter Acciardi (Unat Buffalo), (6:41) 
 
Championship Round 2
125 — #1 Spencer Lee (IA) major dec Heinselman (Unat. Ohio St.), 2:34
125 – Justin Cardani (Illinois) dec. Perez Perez (IOWA), 9-4
 
133– Paul Glynn (IOWA) dec. Michael Cullen (Wisc.), 2-0
133 — #2 Austin Desanto (IOWA) fall Honor Nguyen (SIU Edwardsville), (2:16) 
 
141— #9 Nathan Boston (Campbell) dec. Justin Stickley (IOWA), 7-4 SV1
141— Marshall Keller (Princeton) dec. #11 Carter Happel (IOWA) 12-8
141—#4 Vince Turk (IOWA) major dec. Danny Bertoni (Maryland), 16-3
141—#2 Max Murin (IOWA) fall James Pawelski (Brown), (2:56) 
 
149 – #5 Pat Lugo (Iowa) tech fall Jake Bergeland (Minnesota), 15-0 
 
157— Ryan Deakin (Northwestern) major dec. Keegan Shaw (IOWA), 16-5
157—#2 Kaleb Young (IOWA) tech fall Tracy Hubbard (Central Michigan), 16-0  
 
165— Evan DeLuise (Penn) dec. Jeremiah Moody (IOWA), 7-4
165—Alex Marinelli (IOWA) pinned Cael McCormick (Army West Point) 6:33
 
174—Mitch Bowman (IOWA) major dec. Leonardo Tarantino (Harvard) 11-3
 
184—Cash Wilcke (IOWA) dec. Anthony Pedro (Brown), 5-0
 
194 — #1 Patrick Brucki maj. dec. Connor Corbin (IOWA), 12-4
194 — Jacob Warner (IOWA) maj dec. Sam Schuler (Buffalo), 13-3
 
285— #1 Sam Stoll (IOWA) pinned Izaak Shedenhelm (UNI), 1:58
285 — Aaron Costello (IOWA) def. James Valentino (Brown), DQ
285 — #10 Tony Cassioppi (IOWA) pinned Duece Rachel (Illinois), 2:20
 
Championship Round 3
125 — #1 Spencer Lee tech. fall #16 Bryce West (Northern lll.), 17-0
 
133 — Paul Glynn (IOWA) dec. #9 Josiah Kline (Arizona State), 3-1 SV1
133 — #2 Austin DeSanto (IOWA) tech. fall Devan Turner (Oregon State), 22-4
 
141 — #4 Vince Turk (IOWA) major dec. PJ Ogunsanya (Army West Point), 8-0
141 — #2 Max Murin (IOWA) dec. Corey Shie (Army West Point), 6-4
 
149 — #5 Pat Lugo (IOWA) def. #12 Ryan Diehl (Maryland) by injury default
 
157 — #2 Kaleb Young (IOWA) pinned Isaiah Hokit (Fresno State), 4:13 
 
165 — #2 Alex Marinelli (IOWA) major dec. Dan Braunagel (Unat. Illinois), 12-2
 
174 — #9 Willie Scott (Rutgers) dec. #8 Mitch Bowman (IOWA), 6-4
 
184 — Cash Wilcke (IOWA) dec. Kyle Jasenski (Maryland), 2-0
 
197 — Jacob Warner (IOWA) dec. Matt Wroblewski (Illinois), 6-1
 
285 — #1 Sam Stoll (IOWA) dec. Andrew Gunning (North Carolina), 3-1
285 — #5 Mason Parris (Unat. Michigan) pinned Aaron Costello (IOWA), 3:26
285 — #10 Tony Cassioppi (Unat. IOWA) dec. AJ Nevills (Fresno State), 12-8
 
Consolation Round 1 
157—#12 Jeren Glosser (IOWA) major dec. Jon Murphy (Omega Training Center) 12-0
 
Consolation Round 2
125– King Sandoval (Unat. Maryland) def. Perez Perez (IOWA), 9-4
 
141– Marcus Robsinson (Unat. Buffalo) def. #11 Carter Happel (IOWA), 8-6
141 — Lenny Peterson (Air Force) pinned Justin Stickley (IOWA), 2:08
 
157 — #12 Jeren Glosser (IOWA) def. Conor Melbourne (Princeton), 10-4
157 — Keegan Shaw (IOWA) tech. fall Eli Davis (Purdue), 16-0
 
165 — Jeremiah Moody (IOWA) dec. Adam Kemp (Unat. Fresno), 9-7 SV1
 
Consolation Round 3
157 — #12 Jeren Glosser (IOWA) major dec. Davey Tunon (Indiana), 12-1
157 — Keegan Shaw (IOWA) dec. Mason Kauffman (Northern Illinois), 8-6
 
165 — Caden McWhirter (Northern Ill.) dec. Jeremiah Moody (IOWA), 7-0
 
197 — Connor Corbin (IOWA) pinned Steven Mercadante (Franklin & M), 4:40
 
SESSION 2
Championship Round 4
125 — #1 Spencer Lee (IOWA) tech. fall #9 Drew Hildebrandt (Central Mich), 18-0 (2:23)
 
133 — Paul Glynn (IOWA) dec. Hunter Kosco (Brown), 4-0
133 — #2 Austin DeSanto (IOWA) major dec. Doug Zapf (Penn), 13-3
 
141 — #5 Yahya Thomas (Northwestern) dec. #4 Vince Turk (IOWA), 5-4
141 — #2 Max Murin (IOWA) dec. Alexander McKenna (Northwestern), 6-1
 
149 — #5 Pat Lugo (IOWA) by injury default. #4 Joshua Heil (Campbell), 1:10
 
157 — #2 Kaleb Young (IOWA) tech fall. #7 Luke Weiland (Army West Point), 15-0 (7:00)
 
165 — #2 Alex Marinelli (IOWA) dec. #7 Jonathan Viruet (Brown), 8-6 SV1
 
184 — #2 Cash Wilcke (IOWA) dec. Cade Belshay (Unat. Arizona), 4-1
 
197 — Tanner Sloan (Unat. South) tech fall #2 Jacob Warner (IOWA), 18-3
 
285 — #1 Sam Stoll (IOWA); MFF 
285 — #2 Jere Heino (Unat. Campbell) major dec. #10 Tony Cassioppi (IOWA), 11-3
 
 
Consolation Round 4
157 — Jeren Glosser (IOWA) dec. Colten Carlson (South Dakota), 5-1
157 — #6 Christia Pagdilao (Arizona State) dec. Keegan Shaw (IOWA), 10-8 SV1
 
174 — #14 Andrew Morgan (Campbell) dec. #8 Mitch Bowman (IOWA), 10-7
 
197 — #11 Drew Phipps (Bucknell) dec. Connor Corbin (IOWA), 2-1 TB1
 
285 — Aaron Costello (IOWA) dec. Ian Butterbrodt (Brown), 2-1
 
Consolation Round 5
157 — Jeren Glosser (IOWA) pinned Kendell Coleman (Unat. Purdue), 1:59
 
285 — Aaron Costello (IOWA) major dec. Blake Wolters (South Dakota), 11-3
 
SESSION 3 
 
Semifinals
125 — #1 Spencer Lee (IOWA) dec. #4 Pat Glory (Princeton), 12-6
 
133 — #4 Noah Gonser (Campbell) dec. Paul Glynn (IOWA), 1-0
133 — #2 Austin DeSanto (IOWA) defeats #3 Dylan Duncan (Illinois), DQ
 
141 — #2 Max Murin (IOWA) major dec. Michael Blockhus (Unat. Northern Iowa), 8-0
 
149 — #1 Matthew Kolodzik (Princeton) dec. #5 Pat Lugo (IOWA), 7-4
 
157 — #2 Kaleb Young (IOWA) dec. Zach Hartman (Bucknell), 9-2
 
165 — #2 Alex Marinelli (IOWA) dec. #3 Joshua Shields (Arizona State), 4-1
 
184 — #2 Cash Wilcke (IOWA) dec. #6 Mason Reinhardt (Wisconsin), 8-2
 
Consolation Round 6
141 — #3 Tristan Moran (Wisconsin) dec. #4 Vince Turk (IOWA), 5-3
 
157 — Jeren Glosser (IOWA) dec. #7 Luke Weiland (Army West Point), 5-2 
 
197 — #2 Jacob Warner (IOWA) dec. Beau Breske (Unat. Wisconsin), 5-3
 
285 — #10 Tony Cassioppi (IOWA) dec. Andrew Gunning (North Carolina), 5-1
285 — #6 Matt Stencel (Central Michigan) pinned Aaron Costello (IOWA), 1:12
 
Consolation Quarterfinals
157 — Jeren Glosser (IOWA) dec. #3 John Vanbrill (Unat. Rutgers), 9-2
 
197 — #2 Jacob Warner (IOWA) pinned #10 Josh Hokit (Fresno State), 5:59
 
285 — #6 Matt Stencel (Central Michigan) pinned #10 Tony Cassioppi (IOWA), 0:43
 
Consolation Semifinals 
133 — #9 Josiah Kline (Arizona State) major dec. Paul Glynn (IOWA), 11-3
 
149 — #5 Pat Lugo (IOWA) vs. Jacori Teemer (Unat. Arizona)
 
157 — Jeren Glosser (IOWA) dec. #5 Eric Barone (Illinois), 3-1 SV1
 
197 — #4 Rocco Caywood (Army West Point) dec. #2 Jacob Warner (IOWA), 5-3
 
7thPlace 
285 — #10 Tony Cassioppi (IOWA) def. #4 Trent Hillinger (Wisconsin), FF
 
SESSION 4 — SUNDAY at 7PM:
 
Finals
125 — #1 Spencer Lee (IOWA) vs. #2 Sebastian Rivera (Northwestern)
 
133 — #2 Austin DeSanto (IOWA) vs. #4 Noah Gonser (Campbell)
 
141 — #2 Max Murin (IOWA) vs. #1 Josh Alber (Northern Iowa)
 
157 — #2 Kaleb Young (IOWA) vs. #1 Ryan Deakin (Northwestern)
 
165 — #2 Alex Marinelli (IOWA) vs. #1 Evan Wick (Wisconsin)
 
184 — #2 Cash Wilcke (IOWA) vs. #1 Drew Foster (Northern Iowa)
 
Third Place 
149 — #5 Pat Lugo (IOWA) vs. #16 Sammy Sasso (Unat. Ohio State)
 
157 — Jeren Glosser (IOWA) vs. Zach Hartman (Bucknell)
 
5thPlace 
133 — Paul Glynn (IOWA) vs. #3 Dylan Duncan (Illinois) 
 
197 — #2 Jacob Warner (IOWA) vs. #8 Thomas Lane (Cal Poly)
 
 
TEAM SCORE
1.    IOWA                                                    173.0
2.    Northern Iowa                                       111.5
3.    Northwestern                                         101.5
4.    Wisconsin                                                 96.5
5.    Princeton                                                  81.5
6.    Arizona State                                           77.0
7.    Fresno State                                             69.5
8.    Army West Point                                      68.0
9.    Illinois                                                         61.0
10. Campbell                                                   57.5