Hawkeye Fan Shop — A Black & Gold Store | Hawk Talk Monthly — January | 24 Hawkeyes to Watch 2018-19 | I-Club Events Page
By DARREN MILLER
hawkeyesports.com
IOWA CITY, Iowa — A season ago, while competing for Drexel University, Austin DeSanto didn't face top 10 opponents in back-to-back matches until the final day of the NCAA Championships.
 
The 133-pounder for the University of Iowa will see two in a row during the first two Big Ten Conference duals in January.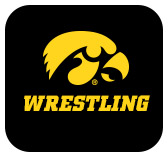 On Sunday, DeSanto will participate in one of the three bouts against Minnesota that features top 10 competitors going head-to-head. Ranked No. 10 by Intermat, DeSanto will tangle with fellow Pennsylvania High School prep Ethan Lizak (ranked seventh) in Maturi Pavillion in Minneapolis.
 
(No. 3 Nick Suriano of Rutgers, a 2018 NCAA finalist at 125 pounds, is on deck Jan. 18).
 
Competing frequently against the Big Ten's elite isn't the only reason DeSanto transferred to Iowa. Daily sparring with teammates in a loaded Dan Gable Wrestling Complex and receiving instruction from the coaching staff were primary reasons for his switch in colleges.
 
An added bonus, however, is the opponent he will see in nearly every conference dual.
 
"The stretch is awesome, but I have to worry about one guy at a time," DeSanto said.
 
 
DeSanto is 10-1 on the season and 3-1 against opponents ranked in the top 18. In his most recent outing, he went 5-0 and won the Midlands Championships.
 
"He is up for any challenge," Iowa head coach Tom Brands said of DeSanto. "He is getting better and a little more savvy in those seven minute matches. His opponents know they have to be ready. We like our guy and we like how he is developing."
 
Lizak, a two-time All-American with 104 career victories, has been one of the nation's most successful lightweights over the past five seasons. He is still searching for a win over a Hawkeye (0-4). In 2014-15, he lost by decision and technical fall to Thomas Gilman. In 2016-17, he lost by fall to Gilman after leading 8-0. Last season, he lost by technical fall to Spencer Lee.
 
Lizak is known for his prowess in the top position.
 
"You have a guy (Lizak) who is going to want to get a quick opportunity on top and make it as lopsided as possible as quickly as possible," Brands said. "We have a guy (DeSanto) with a big motor, but the thing about DeSanto is he doesn't wrestle slow because he knows he can come on. He doesn't wrestle slow at the beginning to save himself to come on. He wrestles a hard match for seven minutes."
 
Because of a four-year age difference, this will be the first meeting between Lizak and DeSanto. DeSanto has studied film of the Lizak-Gilman matches, particularly the dual in 2017 where Lizak grabbed an early and substantial advantage.
 
"I can't put myself where Gilman put himself in those positions," DeSanto said. "I need to keep working and not let him get what he wants.
 
"I have to wrestle all positions: top, bottom, neutral, and keep pushing my pace. If I get put on my back, I have to get right back up and not worry about it. I need to worry about the next position and keep wrestling."
 
The border brawl between No. 4 Iowa (6-0 overall, 1-0 Big Ten) and No. 8 Minnesota (8-1, 1-0) begins Sunday at noon. The dual will be televised by BTN with Tim Johnson, Jim Gibbons, and Shane Sparks calling the action.