Hawkeye Fan Shop — A Black & Gold Store | Hawk Talk Monthly — January | 24 Hawkeyes to Watch 2018-19 | I-Club Events Page | VIDEO — Pat Lugo
By DARREN MILLER
hawkeyesports.com
MINNEAPOLIS — Iowa had already won the dual when University of Iowa junior Pat Lugo took the mat Sunday against Minnesota's Tommy Thorn in a battle of top 20 149-pound wrestlers.
 
The situation leading up to the afternoon's final bout could have led to a case of nonchalance for Lugo, who entered the dual ranked 12th with a record of 7-5 and four bonus-point victories.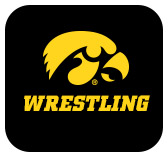 His effort was anything but casual.
 
In what was one of his finest matches in an Iowa singlet, Lugo used two takedowns and eight nearfall points to dominate Thorn, 14-0. Thorn is a three-time NCAA qualifier who placed eighth at the NCAA Championships at 141 in 2017.
 
"We have guys that want to wrestle, we have guys that get ready to wrestle," Iowa head coach Tom Brands said after the Hawkeyes' 24-10 victory. "We showed some things with where we're headed. The path we are on is going in the right direction."
 
He praised Lugo for racking up nearfall points.
 
"I like how in a tough match he hit that first shot, got the corner, got up and through him to his feet, and finished with his head tight and good technique, good skills," Brands said. "More importantly, he is getting better there. It's a lot of work to come up through it; it pays off and he made it pay off. We have to keep that going."
 
Lugo's resume included 63 collegiate victories when he transferred from Edinboro University in 2017. His career at Iowa started with a 10-9 loss to Russell Rohlfing of California State-Bakersfield. He dropped two of his next three duals before winning five in a row, including four straight at the Midlands Championships.
 
In the semifinals at Midlands, Lugo lost a 7-4 decision to top-rated and eventual champion Matthew Kolodzik of Princeton. In the third-place match, he lost in overtime to Sammy Sasso of Ohio State, 6-4.
 
"I didn't have the performance I wanted at Midlands," Lugo said. "I had to get back up, get back to the drawing board, and fix my mistakes; it showed (against Minnesota)."
 
He did that Jan. 13 in front of 5,238 fans in Maturi Pavillion in Minneapolis. Lugo pressed the action from the opening whistle and with 26 seconds left in the first period, he clutched Thorn's left leg and finished for a 2-0 led. After a strong mat return, Lugo rode Thorn the remainder of the period.
 
Thorn chose bottom to start the second period and Lugo capitalized. Five seconds in, Lugo sucked Thorn back to the mat for a four-point nearfall. He repeated the maneuver 20 seconds later and had a 10-0 lead with riding time secure heading into the final two minutes.
 
Lugo escaped 38 seconds into the third period and, even with what appeared an insurmountable lead, stayed on the attack. Lugo was in deep on a shot that he couldn't finish in bounds, but with one second remaining, he again took Thorn to the mat for the final 14-0 margin.
 
"I was the last match to go, so I knew I had to adjust accordingly and I did," Lugo said. "I did everything I needed to do after weigh-ins, and before weigh-ins and when it was my time to go I was ready.
 
"During the match I stayed in my positions and got off my haunches when I took a shot. The big thing was finishing on top at the end of the periods. Every period I finished on top and that was big."
 
The win over Thorn might be the spark Lugo needs for a solid second half of the season. The junior from Homestead, Florida, gets another shot at a monumental Big Ten Conference win Jan. 18 when the Hawkeyes (7-0 overall, 2-0 Big Ten) host Rutgers (7-3, 1-1).
 
Lugo will again be tested.
 
At 149 for Rutgers is sixth-year graduate student Anthony Ashnault (13-0), a three-time All-American who is ranked No. 2 in the country.
 
Lugo's recipe for success is simple: Do your job.
 
"If everyone does their job, we should win every dual meet and every tournament," he said.