Hawk Talk Monthly — January | Hawkeye Fan Shop — A Black & Gold Store | I-Club Events Page | 24 Hawkeyes to Watch 2018-19 | 7 Hawkeyes Set for Duhawk Open
CHAMPAIGN, Illinois — The fourth-ranked University of Iowa wrestling team rolled past No. 20 Illinois, 31-8, on Friday night at Huff Hall.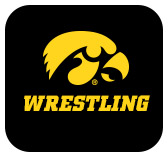 Spencer Lee opened the dual with a fall, Sam Stoll closed with a fall, and somewhere in between Iowa got bonus points from Pat Lugo and Alex Marinelli, and first-time wins from Paul Glynn and Keegan Shaw.
 
Glynn made his season debut at 133 and defeated No. 17 Dylan Duncan in overtime, 3-1. Shaw, a career 149- and 157-pounder, jumped up to 174 and won his first career dual appearance, 6-2.
 
"(Glynn and Shaw) get an opportunity, they're excited for the opportunity, and then they do something about it," said Iowa head coach Tom Brands. "The results go in their favor. They go in our favor. They're not in there because of charity. They're in there because we need them. They made the most of a good situation. They should be excited."
 
Glynn and Shaw are the 15th and 16th different Hawkeyes to earn a dual win this season. Glynn wrestled in place of fourth-ranked Austin DeSanto. Shaw is the fifth Hawkeye to take a shot at the 174-pound lineup spot. Michael Kemerer was set to the be guy prior to a season-ending injury, and Iowa has since filled the position with Myles Wilson, Jeremiah Moody, Mitch Bowman, and now Shaw.
 
"I've been in this program for a while and didn't know if I'd ever get my opportunity," Shaw said. "But I stayed around. I was there for the process and finally got an opportunity tonight, and when you go out there you have to take advantage of it because you don't know if you'll ever get the opportunity again."
 
Glynn had that opportunity a year ago. He won two Big Ten duals as Iowa's starting 133-pounder, but went 0-2 at the 2018 Big Ten Championships with a 9-1 loss to Duncan. He redeemed that loss Friday.
 
"Wrestling hard in every position, that's really what it comes down to," Glynn said. "I knew he started to feel it towards the end of the third period. I felt him breathing heavy and knew that [with] one scramble I would have to stop his initial attack and he would fade and give up at the end."
 
Marinelli forced five stall calls to win by disqualification at 165. He led 9-3 against former teammate Joey Gunther before the match was terminated with 1:26 left in the third period. Lee led 11-0 before pinning No. 15 Travis Piotrowski in 6:06. Stoll forced a couple stall calls to lead 1-0 in the second before ending things against Deuce Rachal in 4:37.
 
Lugo scored six of Iowa's 16 takedowns to win 14-4 at 149, and Illinois native Jacob Warner returned to his home state a 5-1 winner a 197.
 
Illinois scored only three takedowns in the dual, but it was enough to win ranked matchups at 141, 157, and 184.
 
Fourth-ranked Mike Carr scored four points in the final 30 seconds to defeat No. 15 Max Murin, 6-3, at 141. Twelfth-ranked Eric Barone scored a takedown in sudden victory to top No. 5 Kaleb Young, 3-1, at 157, and No. 2 Emery Parker scored a takedown late in the third period to pull away from No. 14 Cash Wilcke, 4-1, at 184.
 
UP NEXT
Iowa wrestles at Northwestern on Sunday at 2 p.m. (CT) at Welsh-Ryan Arena.  
 
NOTABLES
Spencer Lee improved to 4-1 against ranked opponents. The fall was his second straight and third this season.
Paul Glynn made his first dual appearance of the season. He won for the second time in his career against a ranked opponent. He lost to Duncan 9-1 at the 2018 Big Ten Championships and 6-1 at the 2017 Midlands Championships.
Lugo's major decision was his third of the season.
Marinelli improved to 14-0, matching his career best winning streak. He opened the 2018-19 season 14-0. He is 12-0 all-time in Big Ten duals
Keegan Shaw made his dual debut. It was his first career appearance at 174. He is 12-4 competing at 157 this season.
Jacob Warner improved to 3-0 in the Big Ten.
Sam Stoll made his fifth appearance of the season and improved to 5-0.
Iowa has won nine straight in the series.
The 23 points margin was Iowa's largest in the series since winning 32-4 in 2009.
Glynn and Shaw are the 15th and 16th Hawkeyes to win a dual match this season.
 
#4 IOWA 31, #20 Illinois 8
125 — #2 Spencer Lee (IA) pinned #15 Travis Piotrowski (ILL), 6:06; 6-0
133 – Paul Glynn (IA) dec. #17 Dylan Duncan (ILL), 3-1; 9-0
141 — #4 Mike Carr (ILL) dec. #15 Max Murin (IA), 6-3; 9-3
149 — #13 Pat Lugo (IA) major dec. Mousa Jodeh (ILL), 14-4; 13-3
157 — #12 Eric Barone (ILL) dec. #5 Kaleb Young (IA), 3-1; 13-5*
165 — #2 Alex Marinelli (IA) winner by stalling disqualification Joey Gunther (ILL), 9-3 (DQ); 19-5
174 — Keegan Shaw (IA) dec. Nick Gasbarro (ILL), 6-2; 22-5
184 — #2 Emery Parker (ILL) dec. #14 Cash Wilcke (IA), 4-1; 22-8
197 — #6 Jacob Warner (IA) dec. Andre Lee (ILL), 5-1; 25-8
285 — #3 Sam Stoll (IA) pinned Deuce Rachal (ILL), 4:37; 31-8
*Illinois was deducted one team point for unsportsmanlike conduct after 157
Records: Iowa (9-0, 4-0), #20 Illinois (2-4, 1-3)
Attendance: 1,317