Hawkeye Fan Shop — A Black & Gold Store | Hawk Talk Monthly — January | 24 Hawkeyes to Watch 2018-19 | I-Club Events Page
By CHRIS BREWER
hawkeyesports.com
IOWA CITY, Iowa — Keegan Shaw is not on the wall yet. He may or may not ever be. But he is going somewhere, and the University of Iowa wrestling program is going to get him there.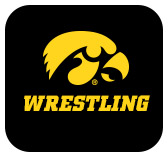 Shaw, a junior from Altoona, Iowa, comes from a wrestling family. He comes from a successful Iowa high school wrestling program coached by a member of that wrestling family. And when it was time to choose colleges, the Southeast Polk graduate followed the path of his family and classmates to the University of Iowa wrestling room.
 
But that could be where the similarities end.
 
Shaw's name is not on the famed wall of the Dan Gable Wrestling Complex. The one that lists hundreds of Big Ten champions, All-Americans, and NCAA champions. The wall that includes the names of his uncle, Jessman Smith, and former classmates Cory Clark and Alex Meyer.
 
Shaw still has two postseasons to get there, but whether he does or not, the lessons learned in the Iowa wrestling room will continue beyond that wall.
 
"I want to go to the army after school and ultimately go to the FBI," Shaw said, one day after winning his Hawkeye dual debut at Illinois on Jan. 25. "That would be ideal."
 
Shaw earned an undergraduate degree in economics in the spring of 2018, three years after arriving on campus. He is currently pursuing a master's in macroeconomics; juggling graduate school, teaching, and more recently, competing in the varsity lineup for the fourth-ranked Hawkeyes. His college eligibility expires in the spring of 2020, the same semester he'll earn his master's degree.
 
By then he will have acquired two degrees in five years, an impressive feat for any student-athlete. But outside the classroom, Shaw says it is his time in the wrestling room that will best prepare him for the Army Special Forces and eventually the Federal Bureau of Investigation.
 
"My experience in this program will definitely help," Shaw said. "The style of the program and the way they run things — the coaches' mentality, the training, and the mentality of the other guys on the team — it is the little things you do every day that make the difference."
 
Those values kept Shaw on campus, focusing on the big picture. He has 36 career wins (34 at 149 and 157 pounds), the fifth-highest total of all active Hawkeyes. But until Jan. 25, when he stepped in at Illinois as an undersized 174-pounder, he had never been in the varsity lineup.
 
"I have thought about what I could be doing if I were somewhere else, but I never thought about leaving," Shaw said.
 
"I've got my goals in wrestling and whether I reach those or not, I know I left it all out there and put myself in position to be the best wrestler I could be. I could have gone to a smaller school and had more accolades or success, but I would not have been as good of a wrestler and I would not have learned as much as I have at Iowa. It is not just about wrestling, but about mentality in life and facing adversity. I'm not a big fish in a small pond type of guy."
 
Shaw may someday serve our country, but for now his calling is educating Iowa students and training Hawkeye athletes. Big fish, big pond, big picture type stuff.