Hawkeye Fan Shop — A Black & Gold Store | Hawk Talk Monthly — February | 24 Hawkeyes to Watch 2018-19 | Match Notes | I-Club Events Page
By DARREN MILLER
hawkeyesports.com
IOWA CITY, Iowa — It has been a season of moving parts for the University of Iowa wrestling lineup, but one constant is junior Cash Wilcke. 
 
Iowa's 184-pound position is one of three that has had the same Hawkeye in the lineup for all 10 duals. The others are redshirt freshman Max Murin at 141 and sophomore Alex Marinelli at 165.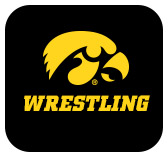 Wilcke, ranked 13th nationally, takes a record of 13-3 into Sunday's dual against Nebraska sophomore Taylor Venz, who is ranked fourth with a record of 15-3. Venz pinned second-ranked Emery Parker of Illinois in 5:33 on Sunday and was named Big Ten Wrestler of the Week.
 
"It is going to be a dog fight and I'm looking forward to it," Wilcke said.
 
Last season Wilcke, a junior from Battle Creek, Iowa, compiled a record of 21-8 at 197 pounds. He was sixth at the Big Ten Championships and won three of five matches at the NCAA Championships.
 
The drop down in weight has served Wilcke well. He said he is moving better and his body appears more durable at 184.
 
"A light-footed elf," said Iowa head coach Tom Brands. "(He is) very quick, explosive, and dynamic."
 
An area of emphasis is to use that explosiveness to finish shots. Of Wilcke's losses, two were by one point and the other was by three points. In all three of those, he was positioned for match-winning takedowns.
 
"Iowa State (a 7-6 loss to Sam Colbray), I was in on the guy's leg and he scrambled out of it. That is how I lost," Wilcke said. "Midlands final (a 3-2 loss to Drew Foster of Northern Iowa), I was in on a lot of shots there, couldn't finish. This last match (a 4-1 loss to Parker of Illinois), right at the end I was in on a shot. I'm right there with those guys, I just have to do a little more work. These little things, putting it all together."
 
It isn't far-fetched to envision Wilcke entering the month of February with a perfect 16-0 record. He has two falls and his average margin of victory in 11 decisions is 5.5 points.
 
"If we finish, (those three losses) are all different," Brands said. "I know he is about that. It's not like something you're looking to see different, it's more, we have to keep getting better when we get to the leg.
 
"It is about when you get an opportunity, put the work into it and make it go your way…grab with those fingertips and pull that in where it is a solid clamp, then lift the hips, and put him down and control the hips. Just that little extra effort."
 
Brands calls the Wilcke-Venz bout "a big match for us."
 
"(Wilcke) is our 84 pounder and it makes our lineup better," Brands said.
 
The 184-pound match is one of seven bouts in Sunday's dual between No. 3 Iowa and No. 9 Nebraska featuring opponents ranked in the top 19 in the country. There are top-7 battles at 157 (No. 7 Kaleb Young of Iowa versus No. 2 Tyler Berger of Nebraska) and 165 (No. 2 Marinelli of Iowa versus No. 6 Isaiah White of Nebraska).
 
Iowa has won the last nine meetings in its all-time series against Nebraska. Sunday's dual at the Bob Devaney Sports Center begins at noon (CT).
UP NEXT
Iowa hosts Maryland in Carver-Hawkeye Arena on Feb. 8 at 7 p.m. (CT). For tickets, click HERE.