Hawkeye Fan Shop — A Black & Gold Store | Hawk Talk Monthly — February | 24 Hawkeyes to Watch 2018-19 | I-Club Events Page | Photo Gallery
LINCOLN, Neb. — The order of appearance was flipped but the script stayed the same as the third-ranked University of Iowa wrestling team defeated No. 9 Nebraska, 20-13, on Sunday at the Bob Devaney Sports Center.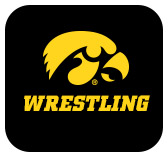 Iowa won four of the dual's final five bouts, closing with a major decision and technical fall at 125 and 133, respectively, to win its 11th straight against the Huskers.
 
The dual started at 141 pounds and featured three lead changes and a pair of ties before Spencer Lee and Austin DeSanto, traditionally the first two Hawkeyes on the mat, combined to put 43 points on the board.
 
Iowa trailed 13-12 in the team score when Lee registered an 18-4 major decision (one takedown, two reversals, and 10 nearfall points) against No. 16 Zeke Moisey at 125. DeSanto then piled up 12 takedowns, his final one with five minutes, 55 seconds on the clock, to record a 25-10 technical fall at 133.
 
The wins were numbers five and six on the day for Iowa, who also got decisions from Pat Lugo (149), Alex Marinelli (165), Cash Wilcke (184), and Jacob Warner (197).
 
Marinelli, Wilcke, and Warner earned wins against top 11 opponents. At 165, Marinelli used an escape, one penalty point, and one minute, 40 seconds of riding time to top No. 6 Isaiah White, 3-0. Wilcke looked like he was heading to overtime before a takedown with five seconds on the clock extended his lead to 5-2 and erased what could have been a riding time point favoring No. 4 Tyler Venz at 184. Warner used a second-period rideout and third-period escape and takedown to top No. 11 Eric Shultz, 4-1, at 197.
 
The Hawkeyes won four of the dual's six matches featuring ranked opponents. Nebraska won, 3-1, in sudden victory at 157, and 3-0 at 285. The Huskers won 4-1 at 141, and 14-4 at 174.
 
UP NEXT
Iowa returns home to host Maryland on Feb. 8 at 7 p.m. (CT) at Carver-Hawkeye Arena on. For tickets, click HERE.
 
NOTABLES
Spencer Lee improved to 5-1 against ranked opponents.  
Austin DeSanto extended his winning streak to 10. He improved to 14-1.
Lee and DeSanto are 27-2 this year with a combined 20 bonus-point wins.  
Alex Marinelli improved to 16-0 and has won a career-best 16 straight. He is 14-0 all-time in Big Ten duals.  
Cash Wilcke earned his first career win against a top-five opponent (1-10).
Jacob Warner improved to 5-0 in the Big Ten.
Iowa has won 11 straight in the series.
Iowa improved to 7-0 against ranked opponents.
 
#3 IOWA 20, #9 Nebraska 13
141 — #19 Chad Red (N) dec. Vince Turk (IA), 4-1; 0-3
149 — #12 Pat Lugo (IA) dec. Jordan Shearer (N), 8-4; 3-3
157 — #2 Tyler Berger (N) dec. #7 Kaleb Young (A), 3-1 (SV1); 3-6
165 — #2 Alex Marinelli (IA) dec. #6 Isaiah White (N), 3-0; 6-6
174 — #9 Mikey Labriola (N) major dec. Keegan Shaw (IA), 14-4; 6-10
184 — #13 Cash Wilcke (IA) dec. #4 Taylor Venz (N), 5-2; 9-10
197 — #5 Jacob Warner (IA) dec. #11 Eric Shultz (N), 4-1; 12-10
285 — #14 David Jensen (N) dec. #3 Sam Stoll (IA), 3-0; 12-13
125 — #2 Spencer Lee (IA) major dec. #16 Zeke Moisey (N), 18-4; 16-13
133 — #3 Austin DeSanto (IA) tech. fall Brian Peska (N), 25-10; 20-13*
*Iowa deducted one team point following the dual
Records: Iowa (11-0, 6-0), Nebraska (10-4, 4-3)
Attendance: 4,306