Hawkeye Fan Shop — A Black & Gold Store | Hawk Talk Monthly — February | 24 Hawkeyes to Watch 2018-19 | I-Club Events Page | VIDEO — Glynn Returns to Carver | VIDEO — Royce Returns | Match Notes
By DARREN MILLER
hawkeyesports.com
IOWA CITY, Iowa — It has been more than a year since Paul Glynn wrestled in Carver-Hawkeye Arena and he is eager to return.
 
Glynn will be the University of Iowa's 133-pounder when the undefeated and third-ranked Hawkeyes (11-0) host Maryland (0-8) on Friday at 7 p.m. (CT). He is 8-4 on the season and in his last appearance, defeated No. 17 Dylan Duncan of Illinois, 3-1, on Jan. 25 in Champaign, Illinois.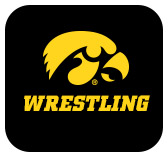 "He is wrestling well because his mind is well," Iowa head coach Tom Brands said. "He is consistent in his mind and he has matured into a leader; he is a leader and he is the No. 2 guy on the (133-pound) depth chart. When you have that in your program, you have a tremendous asset."
 
Glynn is behind third-ranked sophomore Austin DeSanto at 133 pounds. DeSanto has started 10 of Iowa's 11 duals, including all five at home. With DeSanto sidelined for Friday's dual, Glynn will make his first appearance on Mediacom Mat since he defeated Northwestern's Colin Valdiviez, 3-2, on Feb. 4, 2018.
 
"There is nothing better than wrestling in front of the fans in Carver," said Glynn, a junior from Bettendorf, Iowa, with a career home record of 2-3. "I'm excited for it."
 
Glynn was 8-11 last season as Iowa's No. 1 guy at 133. When DeSanto became a Hawkeye, Glynn was relegated to back-up duty after falling, 6-3, in preseason wrestle-offs.
 
"To have someone who is sitting behind a guy and is that purely motivated; I am impressed with his growth," Brands said of Glynn. "The most important thing is that he is ready to go. He is a heartbeat away from the presidency and he is ready to go. He has been ready to go."
 
Glynn (23-21 for his career) has been solid this season. At the Midlands Championships in December, he won four consecutive matches to reach the semifinals, while allowing just one point during the four wins.
 
"The biggest difference from last year to this year are the little things I have been doing in practice," Glynn said. "There were times last year where I didn't come to practice with something to get better on and work on every day. This year when I get done with practice, I reflect on the things I did well, the things I did poorly, and how I can do better the next day with those things I didn't do well on."
 
On Friday, Glynn will face Maryland freshman Orion Anderson (5-13). Anderson has lost six straight matches, his final two by fall. Glynn will take the mat with a starter's mentality.
 
"It is important that you are still acting like you're the guy in the lineup because you never know what will happen to the guy in front of you," Glynn said. "You always have to stay ready and train like you're the guy."
 
The Maryland-Iowa dual will be broadcast on AM800 KXIC and audio streamed at Hawkeye All-Access on hawkeyesports.com. It will also be streamed online by BTN2Go and FloWrestling.
 
Iowa has its final home dual of the season Feb. 15 against Indiana. To purchase tickets, click HERE.