Hawkeye Fan Shop — A Black & Gold Store | Hawk Talk Monthly — February | 24 Hawkeyes to Watch 2018-19 | I-Club Events Page | Maryland Recap
By DARREN MILLER
hawkeyesports.com
IOWA CITY, Iowa — On a night when University of Iowa wrestlers combined for 46 takedowns and 112 match points, the marquee bout was decided by an escape.
 
In a battle of top 10 heavyweights Feb. 8, seventh-ranked Hawkeye senior Sam Stoll bested No. 9 Youssif Hemida of Maryland, 1-0, with an escape five seconds into the third period. Typically, that wouldn't be big news, but five days earlier at Nebraska, Stoll was ridden for four minutes during a 3-0 loss to David Jensen.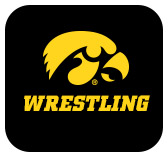 "It's always better to move forward with a win compared to last week, but there is definitely a lot I can do better," Stoll said Friday after Iowa's 48-0 victory on Mediacom Mat inside Carver-Hawkeye Arena.
 
Stoll (7-1 this season, 61-15 for his career) wasn't just bouncing back from the first loss of his senior season. He also had a personal score to settle with Hemida. In their first two meetings, Stoll was 2-0 against the Terrapin, outscoring him 23-5. In the second round of the 2018 NCAA Championships, Hemida defeated Stoll, 7-2.
 
Because of a preseason injury, Stoll had been in the varsity lineup just once in Iowa's first seven duals. Since Jan. 18, he has been there for five straight.
 
After the setback Feb. 3 at Nebraska, Stoll spent a bulk of practice time working from the bottom position.
 
"It's something I work on every week," Stoll said. "I knew Hemida wasn't going to ride me that hard, even if he did, I would get out on him.
"I'm pretty confident I can get out, even against Jensen, if I wrestle him again. I didn't have the match go how I wanted last week and I had to bounce back."
Don't be deceived by the 1-0 score, the Hemida-Stoll bout featured plenty of action and posturing. In somewhat of a surprise move after a scoreless first period, Hemida opted for the neutral position rather than putting Stoll on top where he has been strong.
 
Tech fall and a decision at 197 and HWT. Then Lee with a fall in 30 seconds. Hawkeyes lead 38-0 with Paul Glynn at 133 to close it out. pic.twitter.com/n40DcltBKm

— Iowa Hawkeye Wrestling (@Hawks_Wrestling) February 9, 2019
 "He needed that," Brands said. "It was a big win. It was a tough road at Nebraska where he got ridden for four minutes (Feb. 3). He got right out tonight. I was surprised (Hemida) didn't go down. That's giving Sam Stoll a lot of credit that he has earned. We have to keep building."
 
Stoll's performance was one of many things that caught Brands' eye during Iowa's 12th dual victory of the season. One highlight was the Hawkeyes combining to score 49 points in the first period and registering three first-period falls. Another was a 23-9 major decision from junior Cash Wilcke over Kyle Jasenski at 184 pounds. Wilcke defeated Jasenski, 2-0, on Dec. 29 at Midlands.
 
Sandwiched between a win by technical fall from redshirt freshman Jacob Warner at 197, and a 30-second fall by sophomore Spencer Lee at 125, was an impressive bounce-back win from Stoll.
 
"I feel like I'm coming along," Stoll said. "I'm taking everything day-by-day and week-by-week and doing what I can do to get better."
 
The shutout victory was Iowa's first since defeating Kent State, 45-0, on Nov. 9. It is the first shutout of a Big Ten opponent since blanking Michigan State, 44-0, on Jan. 8, 2017.
 
Iowa has its final home dual of the season Feb. 15 against Indiana. To purchase tickets, click HERE.