Hawkeye Fan Shop — A Black & Gold Store | Hawk Talk Monthly — February | 24 Hawkeyes to Watch 2018-19
By JAMES ALLAN
hawkeyesports.com
HONOLULU, Hawaii — The Honolulu Hawkeyes are in Hawaii.
 
The University of Iowa baseball team departed O'Hare International Airport at 10:34 a.m. (CT) Thursday morning before arriving in to 78-degree Honolulu weather at 3:34 p.m. local time Thursday after nine hours in the air.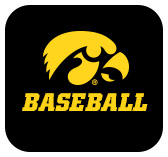 It's a trip that wasn't on the Hawkeyes docket until last June.
 
"Last summer a tournament fell apart that we were in this weekend," said Iowa head coach Rick Heller during a team practice Thursday night. "I checked the (scheduling) website and saw that Hawaii had listed an open date.  They had someone that backed out on them as well.
 
"I called Mike (Trapasso) and I thought it was early enough in the season where we would be able to handle the travel.  I knew the weather would be nice and it would be a good experience for our guys."
 
The Hawkeyes are looking to build on their 2-1 start, where they won their final two games at the Diamond 9 Sunshine State Classic in Kissimmee, Florida. Iowa out-scored its opponents, 22-8, in the three games and finished with a .434 on-base percentage and .283 batting average.
 
"Our at-bats all weekend were really good, we spit on a lot of tough pitches," said Heller. "Our on-base was well over .400 and we didn't strike out much. Those were all good signs for our offense.
 
"On the mound, we struck out a lot of guys, got a lot of guys into the game for their first outing of the year, which is important heading into a four-game series this weekend.  We'd like to clean up the walks and defense, and that happened as the weekend went along."
 
Thirteen pitchers took the mound in the Sunshine State, combining for a Big Ten-leading 41 strikeouts and a 2.77 ERA.  The staff had 20 walks and after committing three errors in the season opener, Iowa made one in its final two games.
 
The Hawkeyes will face a Hawaii team that went 1-3 last weekend against Portland.  The Rainbow Warriors were outscored 26-17 in four games.
 
"They had a weekend that didn't go the way they wanted last weekend at home," said Heller. "I look for them to come out and fight. We'll see some good arms, they have talented players and good guys on offense. They're solid defensively and their pitching staff didn't really walk anyone all weekend. I look for them to come out and play well against us and play hard."
 
Friday's game will begin at 10:35 p.m. (CT) from Les Murakami Stadium.  The game will be streamed on BigWest.TV and Zach Mackey will be on the call on the Hawkeye Radio Network.