Hawkeye Fan Shop — A Black & Gold Store | Hawk Talk Monthly — February | 24 Hawkeyes to Watch 2018-19 | I-Club Events Page | VIDEO — 125-133 Battles | Match Notes: Oklahoma State
By DARREN MILLER
hawkeyesports.com
IOWA CITY, Iowa — With a combined 32 wins and 25 bonus-point victories, not many Division I wrestling lineups can compare with what the University of Iowa has accomplished this season at 125 and 133 pounds.
 
Oklahoma State can.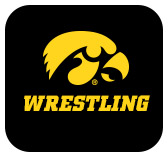 Sunday's marquee wrestling dual will open with an explosion when the respective Hawkeye and Cowboy lightweights take the mat.
 
At 125 pounds, No. 2 Oklahoma State has junior Nick Piccininni (26-0, 21 bonus-point wins); No. 3 Iowa counters with defending national champion Spencer Lee (16-1, 14 bonus-point wins), who is 2-0 against Piccininni, including a win by fall at the 2018 NCAA Championships. Lee is ranked second by Intermat, Piccininni is fourth.
 
At 133, Oklahoma State freshman Daton Fix (26-1, 15 bonus-point wins) will face Iowa sophomore Austin DeSanto (16-1, 11 bonus-point wins). Fix is ranked second in the country, DeSanto is third.
 
"Similar to us, except they like their guys and we like our guys," said Iowa head coach Tom Brands, describing Piccininni and Fix. "That is the except."
 
Lee defeated Piccininni, 10-5, in the dual in Carver-Hawkeye Arena on Jan. 14, 2018. It was his second match after taking off his redshirt nine days earlier. Lee went on to roll through the NCAA Championships with two falls and two technical falls. He pinned Piccininni in 3:58.
 
"I was ready to go and the match went my way," Lee said of the meeting at the NCAA Championships in Cleveland. "I wrestled hard, got the ball rolling, and scored points.
 
"He is always a great opponent, he's an All-American. You have to be ready to go; he's tough, he's from Oklahoma State, it's a big-time rivalry between Iowa and Oklahoma State, and I'm excited to wrestle in their arena. I heard it is a good time."
 
Piccininni failed to reach the medal stand last season at the NCAA Championships after placing fourth as a redshirt freshman in 2017.
 
DeSanto and Fix have never met and their introductory bout is highly anticipated. DeSanto has won 12 straight since suffering a last-second loss to Austin Gomez of Iowa State on Dec. 1. Fix defeated Gomez, 5-4, on Jan. 27, eight days after suffering his lone loss of the season to Micky Phillipi of Pittsburgh, 3-1.
 
"(Fix) has been good since he was little like Spencer (Lee) and (Nick) Suriano (of Rutgers)," DeSanto said. "He is good in all positions so I have to worry about that. It is the same as always, preparing like it is the most important match of your life: go out there and perform."
 
Gallagher-Iba Arena has a capacity of 13,611 and a raucous crowd is expected. Iowa and Oklahoma State are both 14-0; it is the eighth ranked team on the schedule for the Hawkeyes.
 
"That is what we live and train for," Lee said. "Nothing is like Carver-Hawkeye Arena, but I have heard Gallagher-Iba Arena is pretty good."
 
"I know it is going to be tough, the fans are going to be crazy," DeSanto said. "You just have to be professional about it and stay focused."
 
Not only will Sunday's dual open with two matches featuring opponents ranked in the top eight, but it will close with a similar scenario at 197 and 285.
 
In an interview posted on okstate.com, Oklahoma State head coach John Smith said the mat will be elevated inside Gallagher-Iba Arena, similar to the finals at the NCAA Championships.
 
"Big matches ought to be treated like big matches," Smith said. "The stage is where you hope all your wrestlers are wrestling the last day (of the season March 23). If you are, you're doing really well."
 
Iowa has won four of the last five meetings against the Cowboys, including 20-12 last season in Iowa City. Sunday's dual begins at 2 p.m. (CT) and will be broadcast on AM 800 KXIC and audio-streamed online at Hawkeye All-Access on hawkeyesports.com.