Hawkeye Fan Shop — A Black & Gold Store | Hawk Talk Monthly — February | 24 Hawkeyes to Watch 2018-19 | I-Club Events Page
STILLWATER, Okla. — The third-ranked University of Iowa wrestling team fell to No. 2 Oklahoma State on Sunday afternoon, 27-12, in front of a sold-out crowd at Gallagher-Iba Arena. The Hawkeyes finish the regular season 14-1.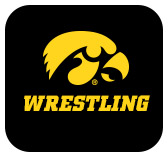 Oklahoma State led 12-0 after three matches before Iowa rattled off three straight wins from 149-165 pounds.
 
Twelfth-ranked Pat Lugo used two takedowns to upset No. 6 Kaden Gfeller, 7-4, at 149. Seventh-ranked Kaleb Young scored a takedown in each period to defeat Wyatt Sheets, 9-5, at 157. Alex Marinelli tied the dual, 12-12, with a fall in 2:44 at 165. Marinelli led 8-0 before locking in his team-high ninth fall of the season.
 
Oklahoma State closed the dual with four straight wins. The Cowboys won seven-of-10 matches overall and finished the regular season, 15-0.
 
"We are vulnerable in positions and it showed. Give them credit, they are a well-coached team," said Iowa head coach Tom Brands. "This was an important dual for us and it was important to them, but it looked more important to them. We need to impose our will and do what we do best against our opponent. We were passive or hesitant today, but the bottom line is we have to get ready for tournament time. That doesn't make it automatic, but we will go forward. Our guys will rally."
 
Iowa returns to the mat March 9-10 at the Big Ten Championships in Minneapolis. The NCAA Championships are March 21-23 in Pittsburgh, Pennsylvania.
 
NOTABLES
Pat Lugo improved to 4-4 against ranked opponents.
Alex Marinelli improved to 20-0 with his team-best ninth fall of the season. He has won a career-best 20 straight.
 
#3 IOWA 12, #2 Oklahoma State 27
125 — #4 Nick Piccininni (OSU) pinned #2 Spencer Lee (IA), 4:55; 0-6
133 — #2 Daton Fix (OSU) dec. #3 Austin DeSanto (IA), 2-0; 0-9
141 — #12 Kaid Brock (OSU) dec. #16 Max Murin (IA), 8-6; 0-12
149 — #12 Pat Lugo (IA) dec. #6 Kaden Gfeller (OSU), 7-4; 3-12
157 — #7 Kaleb Young (IA) dec. Wyatt Sheets (OSU), 9-5; 6-12
165 — #2 Alex Marinelli (IA) pinned Jonce Blaylock (OSU), 2:44; 12-12
174 — #10 Chandler Rogers (OSU) pinned Mitch Bowman (IA), 5:30; 12-18
184 — #9 Jacobe Smith (OSU) dec. #12 Cash Wilcke (IA), 6-3; 12-21
197 — #6 Preston Weigel (OSU) dec. #4 Jacob Warner (IA), 5-3; 12-24
285 — #2 Derek White (OSU) dec. #8 Sam Stoll (IA), 3-1; 12-27
Records: Iowa (14-1), Oklahoma State (15-0)
Attendance: 13,811