Hawkeye Fan Shop — A Black & Gold Store | 24 Hawkeyes to Watch 2018-19 | Hawk Talk Monthly — February | WEEK 4 NOTES (PDF)
| | |
| --- | --- |
| Date: | March 9-10, 2019 |
| Location: | Marion, Illinois | Rent One Park |
| Game Notes: | IOWA | Evansville |
| Statistics | IOWA | Evansville |
| | |
| Radio/Streaming: | Hawkeye Radio Network | Hawkeye All-Access ($) |
| Live Stats: | Game 1 | Game 2 | Game 3 |
| | |
| Game 1 | March 9 | 7 p.m. (CT) | |
| Pitching Matchup: | Iowa: RHP Cole McDonald (0-2, 6.59 ERA) |
| | Evansville: RHP Adam Lukas (1-1, 3.78 ERA) |
| Game 2 | March 10 | 1 p.m. (CT)  | |
| Pitching Matchup: | Iowa: LHP  Cam Baumann (0-0, 5.40 ERA) |
| | Evansville: LHP Nathan Croner (2-1, 3.86 ERA) |
| Game 3 | March 10 | Approx. 5 p.m. (CT) | |
| Pitching Matchup: | Iowa: RHP Grant Judkins (1-0, 0.82 ERA) |
| | Evansville: RHP Justin Hayden (1-1, 4.00 ERA) |
THIS WEEK
• The University of Iowa baseball team hits the road for a fourth consecutive weekend, traveling to Marion, Illinois, for a three-game neutral site series against Evansville. 
• The series was moved to Rent One Park in Marion, Illinois, due to the threat of inclement weather in Evansville, Illinois. Rent One Park is the home of the Southern Illinois Miners, a member of the independent Frontier League. 
• Saturday's single game begins at 7 p.m. (CT), while Sunday's doubleheader begins at 1 p.m. (CT) followed by game two.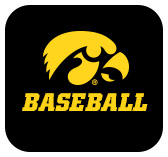 FOLLOW ALONG
• There will be no streaming options this weekend. 
• All Iowa games will also be available via the Hawkeye Radio Network with Zach Mackey and Ray Gilmore on the call. The games can be heard on Hawkeye All-Access/TuneIn Radio.
Saturday (DH): KMJM 1360 AM; KKFD 95.9 FM in Fairfield; WDBQ-FM107.5 in Dubuque
Sunday: KMJM 1360 AM; KKFD 95.9 FM in Fairfield; WDBQ-FM107.5 in Dubuque.
• Live stats are available on hawkeyesports.com and fans can follow along on Twitter @UIBaseball.
LEADING OFF
• Iowa won two of three games at No. 19 Oklahoma State on March 1-2 in Stillwater.  It is the second straight year Iowa has taken a series from the Cowboys.  Iowa has won 10 games over ranked foes since the start of the 2018 season.
• The Hawkeyes will play their third doubleheader in as many weeks this weekend against Evansville.  Iowa swept a doubleheader at Hawaii on Feb. 23 before splitting a twin bill on March 1 at No. 19 Oklahoma State.
• Iowa currently ranks 15th in the NCAA RPI rankings, as of March 6.
• Iowa's last five games have been decided in the eighth inning or later, while Iowa's last six games have been decided by two runs or less.  The Hawkeyes are 4-2 in games decided by two runs or less this season. 
• The Hawkeyes rank in the top-five in the Big Ten in nine key offensive categories, leading the league in on-base percentage (.374) and walks (60), while ranking second in runs per game (5.8), and third in batting average (.256) and doubles (18). 
• Sophomore Tanner Padgett's .395 batting average (15-for-38) leads the Big Ten, while three other Hawkeyes — Austin Martin (.324), Chris Whelan (.333), and Zeb Adreon (.321) — are hitting over .300. Padgett's 15 hits are tied for the second-most in the conference. 
• Iowa is second in the Big Ten in strikeouts per nine innings (9.8) and third in hits allowed per nine innings (6.42).  Defensively, the Hawkeyes rank fourth in the Big Ten with a .967 fielding percentage.
• Junior Grant Judkins (1-0) is second in the Big Ten with a 0.56 ERA. Judkins has gone at least five innings in all three of his starts, allowing one or fewer runs on three or fewer hits in each outing. 
• Redshirt junior Grant Leonard recorded his second and third saves of the season in Iowa's two wins at No. 19 Oklahoma State last weekend. Leonard is a perfect 3-for-3 in save opportunities this season. 
• Four Hawkeyes — Tanner Wetrich, Ben Norman, Mitchell Boe, and Justin Jenkins — have at least three stolen bases for a team total of 17, which ranks third-best in the Big Ten. 
• The Hawkeyes were picked to finish fifth in the Big Ten by Perfect Game, sixth by D1 Baseball, and sixth by Baseball America in 2019.
• The Hawkeyes will play 27 games at Duane Banks Field during the 2019 season. Last season, Iowa went 20-6 at home, improving to 72-20 in Iowa City since the start of the 2015 season.  
• Iowa has won 143 games since the start of the 2015 season, the best four-year stretch in school history. The Hawkeyes have won 173 games in the Rick Heller era (2014-present), which is the third-best five-year stretch all-time.  The  Hawkeyes won 178 games from 1981-85 and 175 from 1977-1981 under Duane Banks. 
QUICK HITTERS
• The Hawkeyes are receiving votes in the latest NCBWA rankings.
• Senior Mitchell Boe has started 43 straight games — all but one at second base.  
• Three Hawkeyes — seniors Cole McDonald and Chris Whelan and sophomore Jack Dreyer — were selected to the Big Ten Preseason Honors list. 
• Sophomore Izaya Fullard has reached base safely in the first 10 games of his Hawkeye career. Fullard has scored one run in the last nine games. 
• The Hawkeyes return four starters, their designated hitter, 2/3 of their starting rotation, and 19 total letterwinners in 2019.
• Iowa will play 12 games on the road against four 2018 NCAA Tournament teams this season (at Oklahoma State, at Indiana, at Purdue, and at Ohio State). 
SMOKED THE POKES
• Last weekend, Iowa won its second straight three-game series over Oklahoma State in as many years. This time on the road, Iowa bounced back from a 5-4 series-opening loss to take the series from the 19th-ranked Cowboys. 
• Iowa's series win knocked the Cowboys out of the top-25. All three games were decided by one run. 
• Trenton Wallace drew a bases-loaded walk to drive in the go-ahead run in Iowa's 5-4 game two win, while Duncan Davitt shined on the mound, getting the win after three innings of scoreless relief.
• In game three, Mitchell Boe plated the game-tying run on a two-out RBI double, while Lorenzo Elion scored the game-winning run in the ninth after he tripled to left. 
• Grant Leonard closed out both of Iowa's wins. 
ROTATION NOTES 
The Hawkeyes starting rotation this weekend will feature RHP Cole McDonald (0-2, 6.59 ERA), LHP Cam Baumann (0-0, 5.40 ERA), and RHP Grant Judkins (1-0, 0.56 ERA). 
• All three starting pitchers went at least five innings last weekend against No. 19 Oklahoma State. 
• McDonald logged his first quality start of the season against No. 19 Oklahoma State. The righty went six innings, allowing one earned run on three hits and two walks. 
• Judkins threw up his second scoreless start of the season in the series finale against No. 19 Oklahoma State. 
SCOUTING EVANSVILLE
• Evansville is 5-5 with two wins over Boston College and Arkansas Little Rock, and one over Mercer. The Purple Aces battled No. 2 Vanderbilt in their fourth game of the season, but fell 5-4 despite jumping out to a 2-0 lead in the second. 
• Evansville went 12-39 in 2018, including a 3-18 record in Missouri Valley Conference play.
• Evansville's offense is hitting .249 with a .215 on-base percentage. Outfielder Nate Reeder has been Evansville's top hitter, owning a .333 batting average (12-for-36) with three doubles, three home runs, and seven RBIs. Tanner Craig and Danny Borgstrom are also hitting over .300.
• The Purple Aces have blasted nine home runs, the most in the MVC. Evansville's 17 doubles and .379 slugging percentage are also top three in The Valley. 
• The Purple Aces' pitching staff has a 3.81 ERA over 85 innings. Evansville's Friday starter Adam Lukas (1-1, 3.78 ERA) threw seven scoreless innings in his last start against Boston College. No. 2 starter Nathan Croner (2-1, 4.86 ERA) threw six scoreless innings in his second start of the season against Little Rock.  Justin Hayden (1-1, 4.00 ERA) will start in the series finale. 
SERIES RESULTS
• The Hawkeyes are 4-2 all-time against Evansville, including sweeping the three games series last season in Iowa City.  Iowa out-scored the Purple Aces, 22-9. 
OFFENSIVELY SPEAKING
• The Hawkeyes are slashing .256/.374/.370 in 10 games this season.  
• Iowa's offensive approach has produced the most walks (60) in the Big Ten for the best on-base percentage in the conference (.374). 
• Mitchell Boe (.440 OBP) and Chris Whelan (.529 OBP) have combined for 21 walks at the top of the order.  Whelan's OBP is leading the Big Ten.
• Iowa's power has also been on display, ranking fourth in slugging percentage (.370) and third in doubles (18). 
• Chris Whelan's four doubles are tied for second most in the Big Ten. Four other Hawkeyes have two or more doubles.
• Austin Martin, Tanner Wetrich, and Ben Norman are tied for the team lead with two home runs. 
• The Hawkeye have eclipsed 10 hits four times this season, registering a season-high 14 hits in game two against Hawaii. Iowa has scored 10 runs three games this season. 
ON THE BUMP
• Iowa ranks second in the Big Ten with 96 strikeouts and second with 9.8 strikeouts per nine innings, but Iowa's 6.72 walks per nine innings are last in the Big Ten. The Hawkeyes 1.45 strikeout-to-walk ratio is the second-worst in the conference.
•  The Hawkeye staff is allowing 6.42 hits per nine innings, which ranks third-best in the Big Ten. 
BACK END OF THE BULLPEN
The Hawkeye bullpen has held opposing hitters to a .196 average over 42 1/3 innings with 47 strikeouts. 
• Grant Leonard has converted all three of his saves, which leads the team. Jason Foster also has one save this season.
• Foster and Trace Hoffman have been the go-to guys from the bullpen. Foster has appeared in six games and owns a 1.42 ERA with nine strikeouts and an opposing batting average of .095 over 6 1/3 innings. Hoffman (2-1) has appeared in a team-high seven games and has struck out seven batters to only one walk in seven innings.
• Kyle Shimp has appeared in five games, holding hitters to an .083 clip, while striking out seven. Control has been Shimp's issue, issuing five walks in 3 2/3 innings. 
SARG SALUTE
Sophomore Tanner Padgett is batting a conference-best .395 with 15 hits, the second-most in the Big Ten. Padgett has hit safely in eight of 10 games, while recording four multi-hit games this season. Padgett is the only Hawkeye to record four or more hits in a game this season. 
SUNDAY JUD
Junior Grant Judkins has been Iowa's top pitcher this season. In his latest start against No. 19 Oklahoma State, he worked around five walks to throw five scoreless innings with six strikeouts. 
• Judkins has pitched five or more innings in all three of his starts this season and he hasn't allowed more than one run or three hits in any of them. 
• His 0.56 ERA ranks second in the Big Ten and he has held opposing batters to a .115 batting average. 
DAVITT DOMINATES
Freshman pitcher Duncan Davitt had a bounce-back performance against No. 19 Oklahoma State. Davitt earned his first career win in game two after entering in relief and shutting down the Cowboy offense. He struck out five batters in three innings of relief, while only surrendering one hit and two walks. 
EIGHTH INNING SUCCESS
Iowa is out-scoring opponents, 9-3, in the eighth inning this season. In the Hawkeyes' three-game series against No. 19 Oklahoma State, Iowa out-scored the Cowboys, 4-0, in the eighth inning alone. 
• In game one, Trenton Wallace had a pinch-hit, two-out RBI double to tie the game at four.
• It was Wallace again in game two, getting the the game-winning bases-loaded walk in the eighth inning.
• Mitchell Boe was the hero in the eighth in game three. He hit a two-out, RBI double to tie the game at two. Lorenzo Elion capped off the comeback in the ninth, scoring on sacrifice fly from Austin Martin.
BASE-ON-BOE
Leadoff hitter Mitchell Boe has walked 13 times to lead the Big Ten and rank 17th nationally this season.  Boe tied a school record for the second time in his career when he drew four walks in the series opener at Hawaii.  His .440 on-base percentage is second on the team behind Chris Whelan (.529). 
ON THE MEND
• Sophomore Ben Probst will miss the remainder of the season with a partial tear to his UCL.  He suffered the injury at Hawaii on Feb. 23.
• Sophomore Jack Dreyer will miss 2-3 weeks with a shoulder injury.  He left his start at Hawaii after three innings.
• Sophomore Tanner Padgett won't travel this weekend after suffering a hamstring injury in game three at Oklahoma State. He is day-to-day.
COACHING STAFF CHANGES
Iowa welcomed Robin Lund and Tom Gorzelanny to the Hawkeye coaching staff after Desi Druschel and Joe Migliaccio accepted positions within the New York Yankees organization. Lund, who served as the volunteer hitting coach for the Northern Iowa softball program in 2018 and UNI's volunteer strength and conditioning coach under Heller in 2005-06, will replace Migliaccio as the team's hitting coach. Gorzelanny, who pitched for six MLB teams over a 12-year span, will replace Druschel as the team's volunteer pitching coach. 
TEAM CAPTAINS
Three seniors — Mitchell Boe, Cole McDonald, and Chris Whelan — and redshirt junior Kyle Shimp were voted team captains in January. Shimp is a team captain for a second straight season. 
IOWA BY THE NUMBERS
• Offensively, Iowa returns 41.9 percent (133-317) of its runs, 46.1 percent (218-472) of its hits, 38.9 percent (37-95) of its doubles, 21.9 percent (9-41) of its home runs, 40.3 percent (113-280) of its RBIs, and 58.9 percent (23-39) of its stolen bases.
• On the mound, Iowa has three starters — RHP Cole McDonald, LHP Jack Dreyer, and RHP Grant Judkins — and 10 pitchers returning. The Hawkeyes have 45.4 percent (15-33) of their wins, 45.4 percent (214 of 471 1/3) of their innings, 46.2 percent (231-499) of their strikeouts, and 18.1 percent (2-11) of their saves back in 2019.
CHAMPIONSHIP HAWKEYES
• Chris Whelan and Lorenzo Elion won a Prospect League championship with the Terre Haute Rex in 2018.  The Rex defeated Kokomo, 11-3, to claim their second title in four seasons.
• Mitchell Boe led the Fond du Lac Dock Spiders to their first Northwoods League title with a 4-3 victory over Duluth. 
ROSTER BREAKDOWN
• Iowa's 35-man roster features six freshmen, eight sophomores, 14 juniors, and seven seniors. Fifteen newcomers (five freshman and 10 transfers) joined Iowa's roster this season. 
• The Hawkeyes come from seven different states: 22 from Iowa, eight from Illinois, and one from Missouri, Indiana, Ohio, Kansas, and California. 
• Iowa has two sets of junior college teammates. Zeb Adreon, Austin Martin, and Trace Hoffman were teammates at Southeastern CC, while Izaya Fullard, Hunter Lee, Adam Ketelsen, and Jake McLaughlin were teammates at Kirkwood CC.  Junior Lorenzo Elion also played with Lee, Ketelsen, and McLaughlin at Kirkwood in 2017.
• The Hawkeyes also have two sets of teammates who played together in high school. Freshmen Brendan Sher and Duncan Davitt were teammates at Indianola, while Izaya Fullard and Connor McCaffery were teammates at Iowa City West. 
#HELLERBALL
• UI head coach Rick Heller is one of nine coaches all-time to lead three different NCAA Division I teams to regional play.
• Heller recorded his 800th career win against Lehigh on March 12 at the Snowbird Classic in Florida.
• The Hawkeyes have won 30 or more games in each of Heller's five seasons as the helm of the program. It's a first for the team since winning 30 or more in seven straight seasons from 1979-85.
• Heller has led the Hawkeyes to two NCAA Regional appearances in three seasons; the program had three regional appearances in its history prior to his arrival.
• Heller is fourth in school history in career wins with 173 in his four seasons at Iowa, including the second (41) and fifth-most (39) in school history.
• Heller led Iowa to its first Big Ten Tournament title in 2017 — the first conference title since 1990 — and he guided the Hawkeyes to the Big Ten Tournament title game in consecutive seasons. Iowa has advanced to the league tournament in five straight years for the first time in program history.
• Heller has coached at least one first-team All-Big Ten selection each season, and has 20 Major League Baseball Draft picks in four seasons — the most in a five-year stretch in school history.
• Iowa had a school-record six All-Big Ten selections in 2015 and five in 2017. The Hawkeyes have had 22 All-Big Ten honorees in five seasons under Heller.
• Iowa has posted winning streaks of nine games (in 2015) and eight games (in 2017) — the longest streaks for the program since 2012.
FOLLOW THE HAWKEYES
Iowa baseball fans can follow the Hawkeyes on Facebook @iowabaseball, Twitter @UIBaseball, and Instagram @UIBaseball in addition to coverage on hawkeyesports.com. 
SEASON TICKETS ON SALE
Season tickets for the 2019 season home schedule are on sale now through the UI Athletics Ticket Office online at hawkeyesports.com or at 800-IA-HAWKS. Reserved and general admission adult tickets are $75, while general admission youth tickets are $40. Fans can also purchase a "30-block" season ticket, priced at $99, where tickets can be used at any game or combination of games throughout the season.