Hawkeye Fan Shop — A Black & Gold Store | 24 Hawkeyes to Watch 2018-19 | Hawk Talk Monthly — March
By JAMES ALLAN
hawkeyesports.com
IOWA CITY, Iowa — After a tough Big Ten Conference opening weekend, the University of Iowa baseball captains called a team meeting.
 
Senior Chris Whelan said it wasn't a stern talking to and nobody was called out. It was a chance for Whelan, Mitchell Boe, Cole McDonald, and redshirt junior Kyle Shimp to clear the air with the Hawkeyes, who were set to open a key nine-game home stand.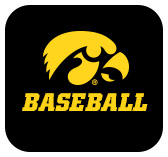 "It was a refocusing pow-wow and it was getting back to the basics," said Whelan. "My biggest thing was, if you fail, we have your back. Every guy (in the locker room) has each other's back.  We weren't believing in that until this past week and weekend."
 
With a record hovering around .500, the Hawkeyes started the week with a 4-2 come-from-behind victory over Bradley.  The team scored three runs on a Bradley eighth inning error to post its 12th win. 
 
The midweek spark carried over into the weekend when the Hawkeyes swept No. 23 Illinois to push their winning streak to four games and improve to 15-10 overall.   The Fighting Illini entered the weekend with a 17-5 record and as the Big Ten's only ranked team in the D1Baseball.com poll.
 
"I am happy with how our guys responded (to last week at Indiana) and how we trained during the week," said Iowa head coach Rick Heller. "Our effort all three games was tremendous."
 
It started on the mound and the offense stepped up and produced. 
 
After giving up 23 runs during the three-game series in Bloomington, Indiana, the Hawkeye pitchers surrendered just six runs in three games against the Fighting Illini and eight total runs during the four-win week.  The pitching staff posted a 2.00 ERA with 20 strikeouts in the three-game sweep of Illinois– the team's first sweep over a ranked foe since 2005 (No. 19 Indiana).
 
McDonald went six innings in the series opener and redshirt junior Grant Leonard pitched the final 1 1/3 for his second win of the season. Sophomore Cam Baumann followed with the best start of his career, allowing one run on five hits over six innings in game two, and junior Grant Judkins closed out the weekend with his third straight quality start, allowing one run on six hits over seven innings.
 
"It's a huge momentum boost," said Judkins, who is 3-2 with a 1.69 ERA in seven starts. "Coming off last weekend, it was disappointing.  It was big for us to come back and take all three games from a top 25 team."
 
On the heels of the Indiana series, Heller called last week a "make-or-break" week.  Following the midweek win, the Hawkeyes practiced outside for the first time this season and Whelan saw a different pep in the team's step.
 
"It was the most fun week of practice I have been a part of my entire life," said Whelan. "We kept it light, did what we needed to do, and it showed this weekend."
 
The Hawkeyes exhibited confidence and aggressiveness.  They trusted the process and "Hellerball" was back in full swing. 
 
"(The key moving forward) is how we go about our business," said Heller. "Win, lose, or draw, we have to be the aggressor and be taking it to (the opponent).  There is no fear or hesitation.  We were getting great at-bats, following the plan of attack for who we were facing, and getting swings off on our pitch.
 
"We weren't doing that for 4-5 games. To me, if you do that, then you give yourself a chance. If you don't, you usually lose.  That's the way I'd like us to go out."
 
The Hawkeyes return to Duane Banks Field for two midweek games, hosting Clarke University at 4:05 p.m. (CT) Tuesday and Illinois State at 6:05 p.m. Wednesday.  Iowa resumes Big Ten play Friday, opening a three-game series against Rutgers.