Hawkeye Fan Shop — A Black & Gold Store | Fight For Iowa | Rutgers Maryland Notes
 THIS WEEK FOR THE HAWKEYES
The University of Iowa women's tennis team hosts Rutgers on Friday and Maryland on Sunday at the Hawkeye Tennis and Recreation Complex. The Hawkeyes host Rutgers on Friday at 2 p.m. (CT) and Maryland on Sunday at 11 a.m. Admission is free.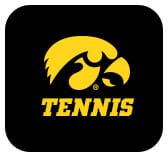 @SASHASCHMID ON RETURNING HOME
"We are ready to compete against two great conference teams again this weekend.  It was nice to get some victories last weekend, but the team knows we have to get back to work again Friday to compete hard against a good Rutgers team.  We need to build on last weekend and just keep working hard."
TAKING ON THE SCARLET KNIGHTS 
Friday's match is the third all-time meeting between the Hawkeyes and the Scarlet Knights. Iowa leads the series, 2-0, with their previous win coming last year, 5-2. 
 
TAKING ON THE TERRAPINS 
 Sunday's match is the fifth all-time meeting between Iowa and Maryland. Maryland leads the all-time series, 4-0. Maryland won the last meeting, 4-0, in 2018. 
 
HAWKEYES LOOK TO CONTINUE HOME HOT STREAK
Iowa is at home for its next three Big Ten matches. The Hawkeyes swept a two-game home stand last weekend, defeating both Purdue and Indiana. With a win this weekend, Iowa could pass its win total from last year (10). Elise van Heuvelen Treadwell became first Hawkeye this season to reach 10 singles wins after a victory Sunday.
 
BECOME A FAN
Fans can follow the Iowa women's tennis team at facebook.com and via twitter @Iowa_Tennis. Live results from this weekend are available on the Iowa women's tennis schedule page at hawkeyesports.com.
 
FOLLOW THE HAWKEYES
 Links to live results and a live video stream will be available on the women's tennis schedule page at hawkeyesports.com/playsight.