Hawkeye Fan Shop — A Black & Gold Store | Hawk Talk Monthly — April | 24 Hawkeyes to Watch 2018-19
By JAMES ALLAN
hawkeyesports.com
IOWA CITY, Iowa — Before it was Austin Martin on the baseball diamond, it was Austin Martin on skates. The principles Martin learned from hockey are a big part of who he is today on the baseball field.
 
"Hockey is a competitive sport," said Martin, a junior catcher from Altoona, Iowa. "A lot of what my baseball game revolves around is the discipline, toughness, and mental toughness that came from hockey. It's a sport that teaches you a lot more than just the sport, it's the way I carry myself."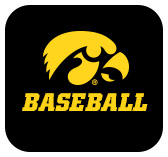 Martin found himself on the ice for the first time when he was 3 or 4 years old while he was in Iowa City visiting an aunt. They were killing time at Coral Ridge Mall and he put on skates. It took off from there.
 
The next weekend, Martin's uncle set him up with a set of hockey gear and he began playing and competed all the way through his senior year of high school. Initiation started at age 6, and he started competitively a year later.
 
In high school, he played for the Des Moines Oak Leafs in the Midwest High School Hockey League. The team competes in cities across the Midwest — Kansas City, Omaha, Nebraska, Lincoln, Nebraska, and against a second team in Des Moines, the Capitals.
 
"I wouldn't say I was a guy that was putting the puck in the back of the net super consistently," said Martin, who was a forward before playing center and left wing in high school. "Early on I was more of a role guy.
 
"I would go out and be the physical player and set up some of our higher goal scorers. My junior and senior years I started to score more, but I was always pretty unselfish and I wasn't afraid to pass the puck."
 
Hockey taught Martin many lessons, none more than a willingness to work.
 
"A lot about hockey is putting your nose to the stone and grinding," said Martin. "It's about not giving up until you have what you want. In hockey, I found myself being physically uncomfortable quite a bit and it taught me to push my limits."
 
Early in his career, when he was competing in peewee hockey, Martin was asked to move to Kansas City to play for a Russell Stover team. It required him to move to Kansas City and live with a host family.
 
"I wasn't ready for that," he said. "Plus, I liked baseball too much to give up on it that early."
 
After earning All-Star honors as a junior and senior, Martin had two or three junior offers, but again it came back to baseball. Still, Martin was full of emotion when he hung up his hockey skates for a final time.
 
"When we were playing Sioux City for my last game at state, that was one of the saddest sporting events I have been part of, going into the locker room with all the guys after my last game," said Martin.
 
Martin still occasionally skates as a way to exercise, but for now, his competitive days are over.
 
"There was an Oak Leafs alumni game this past winter break, but I had to respectfully decline," said Martin. "I didn't want to get hurt and jeopardize my baseball season."
 
That's a good thing for the Hawkeyes because Martin has had a smooth transition to Division I baseball after playing two seasons at Southeastern (Iowa) Community College. He has been one of Iowa's top players during the first two months of the 2019 season, hitting a team-best .370 to rank third in the Big Ten. Martin ranks in the top-11 in the Big Ten Conference in five categories, including batting average, on-base percentage (.444), hits (34), total bases (48), and slugging percentage (.522).
 
The Hawkeyes resume Big Ten play Friday, opening a three-game series against Rutgers.  First pitch is set for 6:05 p.m. (CT).