Hawkeye Fan Shop — A Black & Gold Store | Hawk Talk Monthly — April | 24 Hawkeyes to Watch
IOWA CITY, Iowa — The University of Iowa baseball team will play its final double midweek, hosting Western Illinois at 6:05 p.m. (CT) Tuesday at Duane Banks Field before traveling to Rosemont, Illinois, for a neutral-site, nonconference matchup against Northwestern on Wednesday at 7:05 p.m.
 
Tuesday is Division of Student Life Night and it's $2 Tuesday with tickets and hot dogs costing just $2.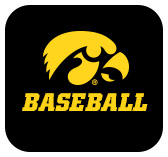 Wednesday's game will be held at Impact Field, the home of the Chicago Dogs, a member of the American Association of Independent Professional Baseball League.
 
The Hawkeyes are 26-16 overall and 11-7 in Big Ten play, sitting fourth in the league standings.  Iowa has won seven of its last nine games and is 15-6 dating back to March 26.
 
Western Illinois is 16-25 overall and 10-11 in The Summit League.  The Leathernecks have dropped six of their last eight games after winning six of seven games from April 5-13.
 
Northwestern is 18-22 overall and 6-9 in the Big Ten, sitting 11th in the league standings.  The Wildcats have dropped eight of their last 11 games since April 12. The team went 9-1 during a 10-game stretch from March 27-April 9.
 
The Leathernecks are hitting .246 as a team and average 5.0 runs per game.  Outfielder Drue Galassi leads the team with a .294 average with 16 extra-base hits (six doubles, two triples, eight home runs), 37 RBIs, and 10 steals.   On the mound, WIU has a 6.27 team ERA, allowing 361 hits and 280 runs (236 earned) over 338 2/3 innings.
 
The Wildcats have a .262 team average and average 5.3 runs per game.  Northwestern's lineup boasts three players hitting over .300 with Jack Dunn leading the way with a .349 average (52-of-149) to rank fifth in the Big Ten to go along with a team-high 36 runs and 10 steals. 
 
Alex Erro (.329) and David Dunn (.301) are both over .300 and Willie Bourbon has a team-best four home runs.
 
Northwestern is last in the Big Ten on the mound with a 5.54 team ERA.  The Wildcats have allowed 368 hits and 243 runs (213 earned) over 346 1/3 innings.
 
Tuesday's game will be streamed on BTN Plus on BTN2Go, while there will be no streaming options for Wednesday's game in Rosemont.  Both games can be heard on the Hawkeye Radio Network with Zach Mackey on the call.
 
Following the two midweek contests, Iowa will host No. 19 UC Irvine for a three-game series from May 3-5 at Duane Banks Field.  Friday's series opener is set for a 6:05 p.m. start.