Hawkeye Fan Shop — A Black & Gold Store | 24 Hawkeyes to Watch 2019-20 | Hawk Talk Monthly — September
By JAMES ALLAN
hawkeyesports.com
IOWA CITY, Iowa — Heading into Friday's Big Ten Conference opener, the University of Iowa soccer team's plan is to keep doing what it has been doing.
 
It's a solid plan, considering the Hawkeyes are undefeated during the first month of the season. Iowa rolled through the nonconference, reeling off eight straight wins, for the best start since 2013, including three victories over Power 5 foes.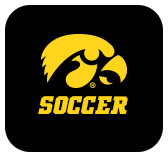 Following the Sept. 15 victory at Notre Dame, the Hawkeyes made their debut in the national rankings, checking in at No. 19 in the United Soccer Coaches poll and 21st by TopDrawerSoccer.  The No. 19 ranking is the highest in program history and it is the first time Iowa has been ranked since 2014.
 
"It's nice to be recognized, but none of that matters compared to how we do in the Big Ten," said senior co-captain Hannah Drkulec. "It's a reset point. Our season is about to start, it's a clean slate — it is for everyone. 
 
"We need to make our impact in this conference as well as we did in the nonconference."
 
The Hawkeyes cruised through the first month of the season with a balanced scoring attack, as 13 players have combined to score 25 goals — five more than all of last season.  Defensively, Iowa has posted four shutouts and the team has allowed just seven goals in eight contests. 
 
Iowa knows the next six-week stretch is a different animal.  Last season six of Iowa's 11 league games were decided by a single goal.
 
"Big Ten play is different," said senior Devin Burns, who is tied with Drkulec for the team lead with four goals. "We're going to learn who we are more as a team and what we can do."
 
The Hawkeyes were picked to finish 10th in the preseason Big Ten standings, but entering Friday's game at Indiana, Iowa is the only undefeated team remaining in the conference.
 
"The mindset we have is to keep doing what we're doing," said sophomore midfielder Josie Durr. "We're doing well right now; everything is working together and flowing like we want it to.  We need to keep how we're going and hopefully it will push us during Big Ten play and we'll be able to ride this 8-0 out as long as we can."
 
With a national ranking and strong RPI, the Hawkeyes will have a bullseye on their back, but head coach Dave DiIanni wants the team to continue with its underdog mentality.
 
"We have been the underdogs a lot; we still are," said DiIanni. "That's the mentality I want our kids to have.  We want to focus on what got us here and continue with the process.
 
"I have done this long enough to know 8-0 is one thing, but we have 2/3 of the season to go.  We need to be humble and hardworking so we can build on our success moving forward."
 
Friday's game will begin at 2 p.m. (CT) from Bill Armstrong Stadium in Bloomington, Indiana.  Iowa's road trip continues Sunday with a noon matchup at Purdue.  Both games will be streamed online via BTN+ — a paid subscription service.