Hawkeye Fan Shop — A Black & Gold Store | Hawk Talk Monthly — November | 24 Hawkeyes to Watch 2019-20 | NCAA Tournament Bracket (PDF) | Photo Gallery
IOWA CITY, Iowa — The University of Iowa soccer team earned an at-large berth into the NCAA Tournament for the second time in program history, it was announced during the NCAA Selection Show on Monday afternoon.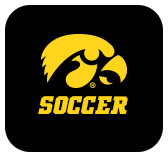 The Hawkeyes are in the Charlottesville Regional where they will face third-seeded Kansas on Saturday at Rock Chalk Park in Lawrence, Kansas.  The time will be announced at a later date.
 
"Sitting here, seeing our name with my teammates is something that I don't think I'll experience anything quite like that again," said senior Claire Graves.
 
"Being a senior, your whole career is right here and I've wanted this for four years," said senior Hannah Drkulec. "It's nice to be able to get (the berth) and have our hard work be recognized.
 
"It's crazy because for so long, people would always count us out and doubt us. Now we did the work, we're here, we're proving it, and we're going to get a chance to further make a name for ourselves in the tournament. I'm excited to do that."
 
It is Iowa's second NCAA Tournament appearance in program history and the first under head coach Dave DiIanni.  The Hawkeyes last played in the NCAA Tournament in 2013.
 
"I am so pleased for this group, for the seniors and what they've done over the course of their careers," said DiIanni. "Overall, the program deserves this. There are other classes that came before this that did a lot of work, but you didn't see the light at the end of the tunnel with the NCAA Tournament.
 
"This is a program-wide day for us and we're pleased to be able to extend our season."
 
The Jayhawks, who won the Big 12 Tournament with a 1-0 victory over TCU on Nov. 10, bring a 15-4-3 record into the NCAA Tournament.  Kansas is 6-0-3 since Oct. 3 when it fell 5-2 at No. 25 Oklahoma State.