Hawkeye Fan Shop — A Black & Gold Store | Hawk Talk Monthly — November | 24 Hawkeyes to Watch 2019-20 | Youth Clinic Registration
By DARREN MILLER
hawkeyesports.com
IOWA CITY, Iowa — Alex Marinelli is reliable, head coach Tom Brands said Tuesday. He also gets up for big matches.
 
Old reliable will be involved in one of the marquee bouts Sunday at 165 pounds when top-ranked Iowa (2-0) opens Big Ten action against No. 6 Wisconsin (6-0) on Mediacom Mat inside Carver-Hawkeye Arena. It will be a battle of two, two-time All-Americans when Marinelli, a University of Iowa junior, takes on Wisconsin junior Evan Wick.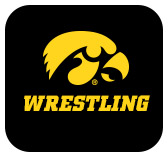 Marinelli was sixth at the NCAA Championships as a freshman and seventh as a sophomore; Wick placed third and fourth respectively.
 
The two will wrestle head-to-head for the fifth time since the 2018 NCAA Championships, when Wick won by 16-3 major decision. Last season, Marinelli won all three meetings: 4-3 in the finals of the Midlands Championships, 6-4 in overtime in the dual in Madison, and 2-1 in the semifinals of the Big Ten Championships.
 
Marinelli sees his familiarity with the tall, slender Wick as a bonus. 
 
"It is like wrestling your teammates, you know what they are going to do," Marinelli said. "You can scout as much as you want, but if they can't stop something you have, it will be hard for them to beat you. It is another year, we have had another summer of training, so it's different. A lot different."
 
National rankings show how close the competition is at 165 pounds. Penn State senior Vincenzo Joseph is a consensus No. 1. Intermat has Marinelli second and Wick third; Wrestling Insider Newsmagazine (WIN) has Wick second and Marinelli third. Marinelli is 2-0 all-time against Joseph and has won the last three against Wick.
 
"Our team is No. 1, I don't look at rankings for individuals," Marinelli said. "If you do your job it will come, and if you keep winning and keep winning, then you will be ranked No. 1 at the end. The end matters, it is important now, you don't want to lose, but March — the last match at the national tournament — is what really matters."
 
Marinelli takes down No. 3 Wick in sudden victory! @Hawks_Wrestling @FloWrestling

P.S. Please peep Brands celebrating in the background. 🤣

BTN x @AutoOwnersIns pic.twitter.com/IJlLHv95cr

— Iowa On BTN (@IowaOnBTN) February 17, 2019
 Marinelli is 2-0 this season, but he is still searching for his first bonus-point victory (he had 16 last season). He opened his junior season with a 9-4 win over Drew Nicholson of Tennessee-Chattanooga. One week later, he downed Chase Straw of Iowa State, 13-7.
 
"I have a lot more to give and I have to impose my will on my opponents," Marinelli said. "I have to go out and dominate; it's not like I have wrestled badly, but I think I can score a lot more points and bonus points."
 
Brands saw Marinelli's potential surface last season whenever he faced Wick.
 
"We haven't even seen Alex Marinelli come close to what he can do," Brands said. "This is a big match and he probably had it highlighted on his calendar. I think you will see him show up."
 
The bout at 165 is one of five probable matches between two ranked wrestlers. At 133, Wisconsin's Seth Gross is No. 1 and Iowa's Austin DeSanto is No. 2; at 141, Iowa's Max Murin is ranked ninth, Wisconsin's Tristan Moran is 10th; at 149, Iowa's Pat Lugo is third and Wisconsin's Cole Martin is 17th; at 285, Wisconsin's Trent Hillger is second and Iowa's Tony Cassioppi is 12th.
 
"(Wisconsin's) social media presence says they are coming to Iowa City and loaded for bear," Brands said. "They are excited and we have to be ready to go."
 
Sunday's dual begins at 7:03 p.m. (CT) and will be televised by BTN.