Hawk Talk Monthly — December | Hawkeye Fan Shop — A Black & Gold Store | 24 Hawkeyes to Watch 2019-20 | Youth Clinic Registration
By DARREN MILLER
hawkeyesports.com
IOWA CITY, Iowa — There were only four blips on Jacob Warner's record during his redshirt wrestling season in 2017-18.
 
The final one still stings.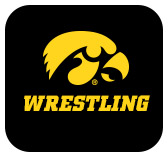 Warner, wrestling for fifth place at the Midlands Championships, dropped a 4-2 decision to Pat Brucki of Princeton. The same Pat Brucki from Carl Sandburg High School in Orland Park, Illinois, who Warner defeated twice when he attended Washington High School near his hometown of Tolono, Illinois.
 
"That's high school, it doesn't matter," Warner said Tuesday in Carver-Hawkeye Arena.
 
The result at Midlands in December 2017 won't matter, either when third-ranked Warner, a redshirt sophomore, takes on second-ranked Brucki, a junior, at 197 pounds as the Hawkeyes (3-0 overall) and Princeton (1-0) compete Sunday in Jadwin Gymnasium in Princeton, New Jersey.
 
Even though the two Illinois natives didn't wrestle last season in the dual (a 31-10 win by Iowa in Carver-Hawkeye Arena), they were in the same bracket at the NCAA Championships in Pittsburgh. Both were All-Americans, with Brucki placing fourth and Warner, seventh.
 
"It bothers me and I have a little bit to prove," Warner said.
 
Warner enters the dual with a 3-0 record. Sandwiched between a 5-4 win over Rodney Jones of Tennessee-Chattanooga and a 5-2 win over Taylor Watkins of Wisconsin, is an 11-2 major decision over No. 23 Joel Shapiro of Iowa State.
 
"The thing with Jacob Warner seems to be wrestling down to his competition a little bit," Iowa head coach Tom Brands said. "I'm not concerned about it, but we need to be more plugged into the high standard mission every time.
 
"Your opponent doesn't matter, and sometimes we caught up in, 'This guy is 0-6,' and 'Who is this guy from Chattanooga?' Then the Iowa State match was a big match and he got up for that — you saw a major decision there. We need to be at a higher level more consistently in the matches that seem that they are kind of automatic."
 
Warner agrees with the assessment from his head coach. He calls his season to date, "hot and cold," with disappointing efforts mixed with pleasing ones.
 
"I'm sure people can see it when I walk off the mat and my facial expressions," Warner said. "I feel better this year at this time than I did last year. There are things I'm doing better: I'm staying on the leg better, I'm getting off bottom and not getting pushed out on my feet from bottom. I'm staying in there more, throwing my legs back. Last year, if I'm up by one point, somebody is going to dive in, shoot, and I'm going to be scrambling, trying not to get taken down."
 
On Dec. 1 against Wisconsin, Warner held a 3-2 lead over Watkins when the Badger took a shot in the closing seconds.
 
"I got a go-behind and took him down with four seconds left," Warner said. "Little stuff like that, people don't notice except me, Tom (Brands), (assistant coach Bobby) Telford, (associate head coach) Terry (Brands), and (assistant coach Ryan) Morningstar. We see the growth there."
 
Warner looks for continued growth Sunday. The dual begins at 1 p.m. (CT) and will be broadcast on AM 800 KXIC with Steven Grace calling the action.