Hawkeye Fan Shop — A Black & Gold Store | Hawk Talk Monthly — December | 24 Hawkeyes to Watch 2019-20 | Midlands Notes PDF | Youth Clinic Registration | Session II Photo Gallery | Session I Photo Gallery
HOFFMAN ESTATES, Ill. — The University of Iowa wrestling team advanced 10 wrestlers to the semifinals of the 2019 Ken Kraft Midlands Championships following quarterfinal action Sunday inside the Sears Centre Arena.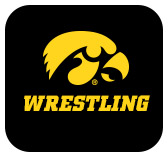 Iowa was 10-2 on the top side of the bracket, scoring bonus points in six matches, and building a 46 point lead in the team race. The Hawkeyes have 115.5 points. Northern Iowa sits in second with 69.5.
Five Hawkeyes — Spencer Lee, Austin DeSanto, Pat Lugo, Alex Marinelli, and Jacob Warner — combined for 17 wins in the opening day, scoring bonus points in every match. Marinelli led the way with four falls. Lee added two falls and a technical fall. Lugo registered four wins with two major decisions, one fall, and one technical fall. Warner earned three major decisions and DeSanto won by major decision and two technical falls.
"Bonus points come from dominant mentalities. It is not an afterthought; I can tell you that right now," said Iowa coach Tom Brands. :Bonus points are hard to get. You have to work hard to dominate. You have to work hard to have lopsided wins. You have to work hard in the top, bottom, and neutral positions, and be dominant in all three. It's not easy, but keep doing it."
The Hawkeyes are taking six No. 1 seeds with them to the semifinals. The other four spots belong to No. 2 Lugo, No. 2 Kaleb Young, No. 11 Abe Assad, and No. 12 Vince Turk.
Assad advanced to the 184-pound semis with an 8-6 win in sudden victory. Turk punched Iowa's second ticket to 149 with an 11-1 major decision. Both wrestlers are Illinois natives.
Four more Hawkeyes are alive on the backside of the bracket. Aaron Costello won a pair of matches this afternoon at 285. Jeren Glosser dropped a 6-5 decision in the final seconds to top-seeded Austin O'Connor. Nelson Brands, the No. 2 seed at 184, dropped a 3-2 decision, and Cash Wilcke won a pair of consolation matches to stay alive at 184. Wilcke and Brands meet Monday in the consolation bracket.
Competition resumes Monday with Session III at 12 p.m. (CT). The Midlands Championships is streamed online at BTN2Go and at FloWrestling.com.  The tournament in broadcast on AM 800 KXIC and stream on hawkeyesports.com via Hawkeye All-Access.
QUARTERFINAL RESULTS (# indicates tournament seed)
125 – #1 Spencer Lee (Iowa) tech. fall Nolan Hellickson (Harvard), 16-1
133 – #1 Austin DeSanto (Iowa) tech. fall #8 Carmen Ferrante (Penn), 21-8
141 – #1 Max Murin (Iowa) dec. #9 Dylan Duncan (Illinois), 8-4
149 – #1 Austin O'Connor (North Carolina) dec. Jeren Glosser (Iowa), 6-5
149 – #2 Pat Lugo (Iowa) major dec. Tres Leon (Cumberland), 16-3
149 – #12 Vince Turk (Iowa) major dec. Michael Murphy (Virginia), 11-1
157 – #2 Kaleb Young (Iowa) dec. #7 Zac Carson (Ohio), 7-2
165 – #1 Alex Marinelli (Iowa) pinned #9 Phillip Conigliaro (Harvard), 6:08
184 – #7 Zachary Braunagel (Illinois) dec. #2 Nelson Brands (Iowa), 3-2
184 – #11 Abe Assad (UN-Iowa) dec. #3 T. Harvey (American), 8-6 SV1
197 – #1 Jacob Warner (Iowa) major dec. #9 G. Braun (Northern Illinois), 9-1
285 – #1 Tony Cassioppi (Iowa) dec. #8 Z. Elam (Missouri), 6-0
CONSOLATION RESULTS
133 – #7 Paul Glynn (Iowa) vs. Dominic Dentino (Wisconsin)
133 – Joe Heilman (North Carolina) dec. #7 Paul Glynn (Iowa), 5-3 SV2
133 – Jaime Hernandez (North Carolina) dec. Gavin Teasdale (Iowa), 3-1
141 – #14 Carter Happel (Iowa) dec. Lukus Stricker (Harvard), 3-1
141 – #6 Dresdon Simon (Central Michigan) dec. #14 Carter Happel (Iowa), 8-6
141 – Justin Stickley (UN-Iowa) dec. Marcus Robinson (Buffalo), 14-10
141 – #12 Gabriel Tagg (North Carolina) dec. Justin Stickley (UN-Iowa), 9-3
184 – #9 Cash Wilcke (Iowa) dec. Isaac Odell (Wheaton), 8-3
184 – #9 Cash Wilcke (Iowa) major dec. Trent Tracy (Cal-Poly), 14-2
197 – Jake Boyd (Oklahoma) dec. Connor Corbin (Iowa), 4-2
197 – #12 J.T. Brown (Army) dec. Zach Glazier (UN-Iowa), 2-0
285 – #13 Aaron Costello (Iowa) tech. fall Jack Delgarbino (Princeton), 22-7
285 – #13 Aaron Costello (Iowa) dec. #12 Ben Sullivan (Army), 2-1 TB1
SEMIFINAL MATCHUPS
125 – #1 Spencer Lee (Iowa) vs. Michael DeAugustino (Northwestern)
133 – #1 Austin DeSanto (Iowa) vs. #4 Travis Piatrowski (Illinois)
141 – #1 Max Murin (Iowa) vs. #5 Shakur Laney (Ohio)
149 – #12 Vince Turk (Iowa) vs. #1 Austin O'Connor (North Carolina)
149 – #2 Pat Lugo (Iowa) vs. #3 Max Thomsen (Northern Iowa)
157 – #2 Kaleb Young (Iowa) vs. #3 Kendall Coleman (Purdue)
165 – #1 Alex Marinelli (Iowa) vs. #5 Zachary Hartman (Bucknell)
184 – #11 Abe Assad (UN-Iowa) dec. #7 Zachary Braunagel (Illinois)
197 – #1 Jacob Warner (Iowa) vs. #5 Jay Aiello (Virginia)
285 – #1 Tony Cassioppi (Iowa) vs. #5 Carter Isley (Northern Iowa)
CONSOLATION MATCHUPS
149 – Jeren Glosser (Iowa) vs. #13 McCoy Kent (Northern Illinois)
184 — #2 Nelson Brands (Iowa) vs. #9 Cash Wilcke (Iowa)
184 – #9 Cash Wilcke (Iowa) vs. #2 Nelson Brands (Iowa)
285 – #13 Aaron Costello (Iowa) vs. #11 Yaraslau Slavikouski (Harvard)