Hawk Talk Monthly — January | Hawkeye Fan Shop — A Black & Gold Store | 24 Hawkeyes to Watch 2019-20 | Youth Clinic Registration
By DARREN MILLER
hawkeyesports.com
EDITOR'S NOTE: This story first appeared in Hawk Talk Monthly, the official online e-magazine of the University of Iowa Athletics Department. To read the January issue, click HERE.
IOWA CITY, Iowa — Mark Ironside has earned something Alex Marinelli wants, so when the two-time NCAA champion talks, Marinelli listens.
Ironside won national titles in 1997 and 1998, and he remains close to the University of Iowa wrestling program as a radio analyst for Hawkeye matches. Over the summer, Ironside imparted wisdom on Marinelli: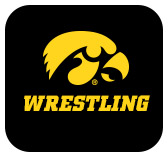 Push yourself so hard in practice that an actual match feels like a pushover.
"Ironside said he got the most tired in practice," Marinelli said after winning his third straight 165-pound Midlands Championships title Dec. 30 In Hoffman Estates, Illinois. "Then, when he went out there (for an actual competition), he was not tired at all. The goal in practice is to be the most tired in the room; it's not because you're out of shape, it's because you're pushing yourself."
Marinelli dominated Midlands, pinning his first four opponents en route to six straight wins. He became the 14th Hawkeye to win three or more Midlands Championships and has won 15 straight matches at Midlands. He has a 20-2 record over the last four years at Midlands, and became the 11th Hawkeye to join the prestigious 20-in-4 club, which requires wrestlers to record at least 20 wins in their first four years of competition.
"Marinelli has done a good job putting the fanfare in perspective and getting back to what is important in the sport of wrestling. That is preparation," Iowa head coach Tom Brands said.
The 165-pound bracket was one of the toughest at Midlands. It included Marinelli, two-time All-American Evan Wick of Wisconsin, and a late addition, three-time All-American David McFadden of Virginia Tech. The final two matches of Marinelli's redshirt freshman season were a 16-3 loss to Wick and loss by fall to McFadden. Since then, he has gone 4-0 against Wick; McFadden was fifth at the NCAA Championships at 174 a year ago.
"Having McFadden (at Midlands) fuels the fire, I love it," Marinelli said. "He is a great competitor and it makes the tournament more special when you beat a guy of that caliber."
With Wick and McFadden on the opposite side of the bracket, Marinelli went to work decking Jack Conway of Penn (2:00), Josh Otto of Wisconsin (1:17), Jake Stiles of Oklahoma (4:07), and Phillip Conigliaro of Harvard (6:08). Because of that, Marinelli won a Midlands trophy for most falls in the shortest amount of time.
Before the competition, Marinelli said his body felt "weird" and "jittery."
"I got water in me and was finally at optimum," Marinelli said. "By my fourth match I felt normal."
Normal, as in dominant.
In the semifinals, he defeated Zachary Hartman of Bucknell, 8-3, for his 14th straight win at Midlands. McFadden, by way of a 6-5 decision over Wick in the other semifinal, was up next.
Off the whistle, Marinelli got in on McFadden's right leg, setting the tone for the rest of the match. With 1:05 left in the first period, Marinelli grabbed McFadden's left leg and finished cleanly for a 2-0 lead. Near the end of the second period, Marinelli again went to McFadden's left leg for a takedown and 4-2 advantage. Marinelli won, 5-3, but he was looking for at least a four-point decision.
"I have to get another takedown," Marinelli said.
Marinelli was named Midlands Champion of Champions for the second time; he also won an award for scoring the most team points in the tournament (29). Now 56-8 on his career and 10-0 on the season, the second-ranked Marinelli owes part of his success to the preparation that goes on in the Dan Gable Wrestling Complex.
"He has good partners," Brands said, naming Pat Lugo, Kaleb Young, Jeren Glosser, Vince Turk, and even assistant coach Ryan Morningstar.
Moving forward, Marinelli said he will follow Ironside's words of wisdom and continue to push hard in practice on his quest to a first NCAA title.
"I'm not trying to be cocky, but I deserve to be national champion," Marinelli said. "You get what you earn."