Hawk Talk Monthly — January | Hawkeye Fan Shop — A Black & Gold Store | 24 Hawkeyes to Watch 2019-20
IOWA CITY, Iowa — Former Hawkeye and University of Iowa graduate Jimmy Frankos has been named the volunteer assistant coach with the Iowa baseball program, head coach Rick Heller announced Wednesday.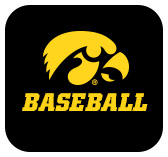 Frankos replaces former Iowa teammate Jake Yacinich, who accepted a full-time assistant coach/recruiting coordinator position at Xavier University in December.
 
"We're excited to welcome Jimmy to our program," said Heller. "He returns with head coaching experience and knows our team and culture.  He will be an excellent addition to our staff with his energy, work ethic, and will to succeed."
 
Frankos joins the program after spending the past three seasons at Heartland (Illinois) Community College.  He was an assistant coach in 2017 and 2018 before being promoted to head coach in 2019.  During his stint, the Hawks accumulated 119 wins, including a 34-20 record last season. 
 
Heartland won one regular season MWAC Championship and finished runner-up in the 2018 Region 24 Regional Tournament.  During his three seasons, 29 student-athletes went on to play at the Division I level, including a program record 14 in 2018.  PJ Smith, a former Hawk and Purdue graduate, was an MLB Draft selection in 2019.
 
Frankos also has coaching experience in the Cape Cod Summer League, where he served as an assistant coach for the Wareham Gatemen in 2017.  He worked with some of the nation's top hitters, coached third base, and both catchers he coached were top 10 round selections in the 2018 MLB Draft.
 
Frankos played for the Hawkeyes from 2013-16, where he was a three-year starter.  He finished his career with a .270 batting average with a career-best .313 average in 2014.  Frankos was a team captain and Iowa's recipient of the Big Ten Sportsmanship Award as a senior.
 
The Park Ridge, Illinois, native ranked 10th in the Big Ten in batting average (.344) as a sophomore and he was a Big Ten Co-Player of the Week during the 2015 season.  During the 2015 campaign, the Hawkeyes won 41 games — the second most in a single season in program history — advanced to the NCAA Tournament for the first time in 25 years, and posted their first NCAA Regional win since 1972.
 
Iowa finished the season in the national rankings for the first time in program history — 20th by Collegiate Baseball, 25th by Baseball America, and 28th by the NCBWA.  As a senior in 2016, Frankos helped the Hawkeyes advance to the Big Ten Tournament championship game.
 
Frankos graduated from the University of Iowa in 2016 with a business management and leadership degree and a minor in sports studies.