Hawk Talk Monthly — January | Hawkeye Fan Shop — A Black & Gold Store | 24 Hawkeyes to Watch 2019-20 | Youth Clinic Registration | Indiana, Purdue Notes PDF
ON THE MAT
The University of Iowa wrestling team wrestles at Indiana on Friday and at No. 18 Purdue on Sunday. The Hawkeyes and Hoosiers meet at 6 p.m. (CT) at Wilkinson Hall. Iowa visits Purdue on Sunday at 3 p.m. inside Holloway Gymnasium.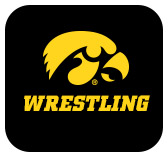 ONLINE AND ON THE AIR
Duals at Indiana and Purdue are streamed is audio streamed online at Hawkeye All-Access, and broadcast on AM 800 KXIC.
VIDEO STREAM
Duals at Indiana and Purdue are streamed online at BTN Plus and FloWrestling.com
SOCIAL MEDIA
For live Hawkeye wrestling updates follow @Hawks_Wrestling; facebook.com/iowahawkeyewrestling.
THE SERIES — INDIANA
Iowa leads the all-time series against Indiana, 39-4-3. The Hawkeyes have won the last 24 meetings, including a 32-7 win the last time Iowa visited Bloomington in 2017.
The Hawkeyes are 18-1-2 all-time in Bloomington, Indiana, against the Hoosiers. Indiana's last win in the series was in 1968, a 19-13 win at Indiana. That is their only home win the history of the series that started in 1918.
IOWA VS. PURDUE
Iowa leads the all-time series 42-4-3 and has won the last 30 meetings. The teams battled to a 14-14 tie in 1966, the last time Iowa walked away without a win.  That dual was in Iowa City. Purdue's last win in the series was a 23-9 victory in 1961 in Iowa City.
The Hawkeyes are 19-3-1 all-time against the Boilermakers in West Lafayette, Indiana. Purdue has not won a home dual against Iowa since Feb. 27, 1954 (16-10).
IOWA COACHING TREE
Purdue head coach Tony Ersland is one of four Big Ten coaches to graduate from Iowa (Tom Brands, Iowa; Tony Ersland, Purdue; Jim Heffernan, Illinois; Tom Ryan, Ohio State).  Ersland was part of three NCAA championship teams from 1995-97.
LUGO CLIMBS TO NO. 1
Senior Pat Lugo climbed to the top spot of the 149-pound rankings following the Midlands Championships on Dec. 29-30.
Lugo won the 149-pound title, going 6-0 and using one pin, one technical fall, and two major decisions to reach the semifinals. He defeated No. 7 Max Thomsen, 3-2, in the semis, and defeated top-ranked Austin O'Conner, 8-4, in the finals.
Lugo is 10-0 this season with five wins over ranked opponents, including three in the top seven. He is 17-9 all-time against ranked opponents.
The No. 1 billing is the first of Lugo's career. He has spent all season in the top 5 after finishing the 2019 season with an eighth-place All-America finish. Prior to the 2019 national tournament, Lugo had not been ranked higher than 10th.
FORCEFUL-LEE
Junior Spencer Lee enters the weekend ranked No. 1 at 125 with a 6-0 record. Lee has scored bonus points in each match, winning once by major decision, twice by fall, and three times by technical fall.
Only three times this season has Lee wrestled into the second period. His two pins are both in under a minute, 0:54 and 0:52. One technical fall occurred in the first period, and the other two were in 3:13 and 3:32.
BIG TEN & 0
Junior Spencer Lee (14-0), junior Austin DeSanto (8-0), junior Alex Marinelli (18-0), and freshman Tony Cassioppi (1-0) are all undefeated in their careers in Big Ten duals.
Among Lee's 14 wins are seven falls, five in the first period, three technical falls, and one major decision.
Junior Michael Kemerer has a career mark of 17-1 in Big Ten duals, and senior Pat Lugo is 8-1 in his career in Big Ten duals.
MARINELLI EARNS B1G WEEKLY HONOR
Junior Alex Marinelli was named Big Ten Co-Wrestler of the Week on Jan. 3
Marinelli won the 165-pound Midlands championship on Dec. 30. He ran through the bracket, recording four falls and three wins over ranked opponents. He was named the Midlands Champion of Champions, and earned tournament awards for most falls (4) and highest point scorer (29).
He shared the weekly conference honor with Wisconsin's Seth Gross.
The Big Ten honor was the fourth of Marinelli's career, and the second for Iowa this season. Austin DeSanto earned the award Dec. 3.
DESANTO EARNS B1G WEEKLY HONOR
Junior Austin DeSanto was named Big Ten Conference Wrestler of the Week on Jan. 3.
In a matchup of one versus two, DeSanto defeated Wisconsin's Seth Gross, 6-2, in Iowa's Big Ten opener on Dec. 1.
DeSanto scored one takedown in the first period and two more in the second to hand Gross his first loss at 133 pounds since the 2017 NCAA finals.
The Big Ten Conference honor was the first for Iowa this season and the second of DeSanto's career. He was named co-Wrestler of the week on January 22, 2019.
HAWKEYES TO HOST #SORESONSTRONG NIGHT
The University of Iowa wrestling program announced Jan. 8 that it will distribute #SorensenStrong bandanas to the first 3,000 fans through the doors of Carver-Hawkeye Arena when the top-ranked Hawkeyes host No. 2 Nebraska on Jan. 18.
The #SorensenStrong bandanas are a symbol of support for former Hawkeye All-American Brandon Sorensen, who is battling acute lymphoblastic leukemia.
The red, white, and blue bandanas were designed by former Hawkeye Jeret Chiri, and are being distributed in a partnership with ThinkIowaCity.com. For more information about the bandanas, visit SorensenStrong.org.