Hawkeye Fan Shop — A Black & Gold Store | Hawk Talk Monthly — January | 24 Hawkeyes to Watch 2019-20
By DARREN MILLER
hawkeyesports.com
IOWA CITY, Iowa — Half of the 28-player University of Iowa softball roster is new this season, a recipe head coach Renee Gillispie is using to craft a new culture within the Hawkeye program.
 
Iowa finished 19-32 last season, 5-18 in the Big Ten Conference. Gillispie has been quick to infiltrate fresh talent into Iowa's lineup with 13 new faces, eight coming from junior colleges.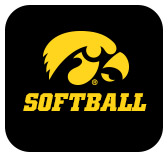 "This season will be a fantastic opportunity for us to take a step up from where we were a year ago," Gillispie said Thursday at Media Day inside the Hawkeye Tennis and Recreation Complex. "We're looking forward to seeing what we have with a lot of competition across the board."
 
Iowa showed glimpses of success in 2019, winning eight straight games from Feb. 17-March 1, its longest winning streak in 10 seasons. The program enjoyed that achievement and now wants more.
 
"It is a cultural change," Gillispie said. "We worked hard last year, had quite a few injuries and we battled through. We have a healthy squad and it is working hard in the weight room. They are looking like Division I athletes now. They are getting to that point where you are seeing we can compete in the Big Ten Conference this year."
 
Senior Allison Doocy returns after winning 14 games in the circle in 2019 with 195 strikeouts and a 2.73 ERA. She was named second-team All-Big Ten and All-Midwest Region for a second consecutive season.
 
"We have seen a huge shift in how our team is reacting this year," Doocy said. "We are focused and confident — we have seen a lot of changes within skills and drill work, so we're excited to get going next week."
 
Returning at first base for the Hawkeyes is leading hitter DoniRae Mayhew, a senior. She batted .264 with eight doubles, five home runs, and 18 RBIs a year ago. Her slugging percentage of .442 was also best on the team.
 
"Everyone's energy has been different," Mayhew said. "Everyone is super-excited to play and ready to get after it. They are putting in all the work, and I see a lot of girls coming in doing extra work. They really want it."
 
One of the eight junior college additions is junior Mia Ruther, a versatile middle infielder from Burlington, Iowa. Ruther spent the past two seasons at Des Moines Area Community College where she was a NJCAA All-American after batting .580 with 88 runs and 46 stolen bases.
 
"With her speed, she will give us a lot of opportunities offensively," Gillispie said.
 
Another speedster, junior Aralee Bogar, is back after leading the Big Ten in stolen bases the last two seasons. She was 26-of-30 in stolen base attempts in 2019.
 
Iowa opens the season Feb. 7-9 at the Kickin' Chicken Classic in Conway, South Carolina. The Hawkeyes will face East Carolina, Virginia Tech (twice), Campbell, and Coastal Carolina.
 
Meanwhile, Iowa will continue to mold its culture.
 
"It is getting them to understand how to be competitive, fight, come together as a team, and fight for each other," Gillispie said.