Hawkeye Fan Shop — A Black & Gold Store | Hawk Talk Monthly — January | 24 Hawkeyes to Watch 2019-20
IOWA CITY, Iowa — The top-ranked University of Iowa wrestling team defeated Michigan State, 32-3, on Sunday at the Jenison Field House.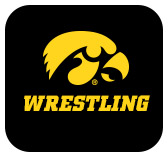 Iowa improves to 10-0 overall and 7-0 in the conference.
The Hawkeyes won nine-of-10 bouts, including three bonus-point victories, and held a 19-3 advantage in takedowns.
Iowa started its day with a Groundhog's Day performance, getting yet another bonus-point win from Spencer Lee. The nation's top-ranked 125-pounder led 10-0 before earning the fall in two minutes, 21 seconds. Lee is now 12-0 with 12 bonus-point victories, and has outscored his last seven opponents 110-2.
The Hawkeyes followed with four straight decisions to build an 18-0 decision at the break. Paul Glynn scored nine points in the third period to erase a 3-0 deficit and win 9-4 at 133. Carter Happel won by 4-1 decision at 141. Pat Lugo scored three takedowns in an 8-3 win at 149, and Kaleb Young used two takedowns and a riding time point to win 6-2 at 157.
Jeremiah Moody made his first appearance of the season and earned his first career Big Ten win, a 9-5 decision at 165. Michael Kemerer used three takedowns, one reversal, and four nearfall points to earn a 13-3 major decision at 174.
Michigan State got on the board at 184. Abe Assad was the aggressor for most of seven minutes, but the lone takedown of the match belonged to Michigan State and Assad was dealt a 3-2 loss.
Jacob Warner responded with a pair of first-period takedowns and a 5-2 win at 197, and Tony Cassioppi improved to 15-0 with his second shutout of the weekend, this one a 9-0 major decision.
UP NEXT
Iowa wrestles at Michigan on Saturday, Feb. 8 at 7 p.m. (CT). The dual is streamed at BTN Plus and FloWrestling.com.
NOTABLES
Iowa wrestlers have a combined record of 59-11 in Big Ten duals, and 78-12 in overall duals this season.
Spencer Lee (20-0) and Tony Cassioppi (6-0) are undefeated in their careers in Big Ten duals.
Spencer Lee improved to 12-0 with 12 bonus-point wins. Before today, he had won his last six matches by technical fall, outscoring his opponents 100-2. He led 10-0 today before recording the fall.
Paul Glynn won for the second time in as many dual appearances this season. He has won three straight Big Ten duals and evened his Big Ten career dual record at 5-5.
Jeremiah Moody won his first career Big Ten dual in his first appearance of the season.
Michael Kemerer improved to 10-0. It is the third time in his career he opened the season with at least 10 straight wins. Kemerer has won 30 straight duals.
#1 IOWA 32, Michigan State 3
125 — #1 Spencer Lee (IA) pinned Logan Griffin (MSU), 2:21; 6-0
133 — Paul Glynn (IA) dec. Garrett Pepple (MSU), 9-4; 9-0
141 — Carter Happel (IA) dec. Matt Santos (MSU), 4-1; 12-0
149 — #3 Pat Lugo (IA) dec. Alex Hrisopoulos (MSU), 8-3; 15-0
157 — #5 Kaleb Young (IA) dec. #15 Jake Tucker (MSU), 6-2; 18-0
165 — Jeremiah Moody (IA) dec. Austin Hiles (MSU), 9-5; 21-0
174 — #2 Michael Kemerer (IA) major dec. #23 Layne Malczewski (MSU), 13-3; 25-0
184 — #15 Cam Caffey (MSU) dec. #6 Abe Assad (IA), 3-2; 25-3
197 — #7 Jacob Warner (IA) dec. Nick May (MSU), 5-2; 28-3
285 — #3 Tony Cassioppi (IA) major dec. Christian Rebottaro (MSU), 9-0; 32-3
Records: Iowa (10-0, 7-0), Michigan State (6-8, 1-6)
Attendance: 1,567