Hawk Talk Monthly — February | Hawkeye Fan Shop — A Black & Gold Store | 24 Hawkeyes to Watch 2019-20 | Lugo Named B1G Wrestler of the Week
By DARREN MILLER
hawkeyesports.com
IOWA CITY, Iowa — Pat Lugo picked an opportune time for his first fall in Carver-Hawkeye Arena.
The second-ranked University of Iowa 149-pounder — the only Hawkeye senior in the lineup against No. 9 Oklahoma State — pinned sixth-ranked Boo Lewallen in 2 minutes, 21 seconds on senior night Feb. 23. It was one of six bonus-point victories for No. 1 Iowa during a 34-6 victory that concluded the regular season.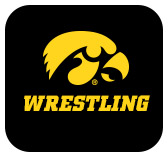 Lugo provided fireworks in a toss-up match between programs that have combined to win 57 national championships. The Hawkeyes finished 13-0 in duals, their first unbeaten or untied season since 2009-10.
For Lugo, he improved to 2-0 in the Iowa-Oklahoma State series. Last season he upset Kaden Gfeller, 7-4, in Gallagher-Iba Arena. After the fall over Lewallen, Lugo had a lot on his mind: memories of his final match at home, as well as upcoming postseason competition.
"The only thing that would have made it better is if I would have done it in Stillwater (Oklahoma) in front of all the (Cowboy) fans," Lugo said. "It was a good night, but the job is not finished. We have Big Tens, then nationals. I want to get my hand raised and do the same thing at Minnesota on that stage."
The NCAA Championships are March 19-21 at U.S. Bank Stadium in Minneapolis.
The way Lugo punctuated his final home match is indicative of how he rolled through his final regular season. He heads into the Big Ten Championships on March 7-8 with five straight wins and a record of 18-1. His final three victories have come against opponents ranked ninth, seventh, and sixth in the country.
Did you really think Pat Lugo was gonna end his career at Carver any other way?

The senior soaked it all in following a fall against No. 6 Boo Lewallen. 💪@Hawks_Wrestling | @FloWrestling pic.twitter.com/236dX2TN3c

— Iowa On BTN (@IowaOnBTN) February 24, 2020
"Lugo has really good control ties and when he forces them and is solid and consistent doing it, he is a bear. He's a bear-cat," Iowa head coach Tom Brands said.
Brands liked seeing Lugo assert his ties against Lewallen, reminiscent of when he won the Midlands Championships by going 6-0 with a fall, technical fall, and two major decisions. Lugo defeated then No. 1-ranked Austin O'Conner of North Carolina, 8-4, in the Midlands final.
A two-time NCAA qualifier at Edinboro, Lugo transferred to Iowa in 2017. He became an All-American in his first season on the mat for the Hawkeyes, placing eighth at the 2019 NCAA Championships in Pittsburgh. Lugo wasn't pleased with how he finished the seventh-place match: he raced to a 6-2 lead over Iowa State's Jarrett Degen, then lost, 11-9.
Lugo opened his senior season with 13 consecutive wins — including a 4-2 decision over Degen, who was ranked No. 4 at the time. The only blemish was a controversial 2-1 tie-breaker setback to Ohio State's Sammy Sasso on Jan. 24 in Carver-Hawkeye Arena.
In his Iowa career, Lugo is 41-10, 21-5 in duals. He exudes confidence heading into postseason.
"We want to show the world this is meant to be," Lugo said. "Read between the lines, we aren't done yet. We still have guys in front of us. It doesn't mean anything until you finish on top in Minnesota."
At the Big Ten Tournament a year ago, Lugo went 5-1 and placed third. He won three more matches at the NCAA Championships. It's apparent that Lugo thrives on postseason pressure.
"Pressure makes diamonds," he said. "I want to shine bright like a diamond."