Hawkeye Fan Shop — A Black & Gold Store | Hawk Talk Monthly — February | 24 Hawkeyes to Watch 2019-20 | Photo Gallery (Session II) | Photo Gallery (Session I) | Photo Gallery (Session III) | B1G Post Session III Brackets
PISCATAWAY, N.J. – University of Iowa wrestlers Austin DeSanto, Abe Assad, Jacob Warner, and Tony Cassioppi advanced to the consolation finals of the 2020 Big Ten Wrestling Championships on Sunday afternoon at the Rutgers Athletics Center.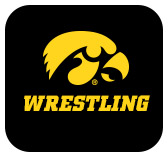 The Hawkeyes went 4-1 in the placement round. Max Murin dropped a 3-1 overtime decision at 141 and wrestles for fifth place later today.
The Hawkeyes are in first place entering Sunday's medal round. Iowa has 140.5 points. Nebraska is in second with 125. Ohio State (103), Penn State (99), and Purdue (99) round out the top five.
Cassioppi, the No. 3 seed at 285, turned defense into offense and secured a fall against No. 5 David Jensen in 2:55.
Warner, the No. 3 seed at 197, controlled No. 5 Lucas Davisson in a 9-3 win. Assad and DeSanto both won by 3-1 decisions.
All five wrestlers return to the mat for the medal round this afternoon. Session IV begins Sunday at 2:30 p.m. (CT) and is televised live on BTN. The third- and fifth-place matches will be contested during the title match of each corresponding weight class. Those matches are streamed online at BTN Plus.
CONSOLATION RESULTS
133 – #3 Austin DeSanto (IA) dec. #4 Travis Piatrowski (ILL), 3-1
141 – #4 Chad Red (NEB) dec. #3 Max Murin (IA), 3-1 SV1
184 – #3 Abe Assad (IA) dec. #11 Max Lyon (PU), 4-2 SV2
197 – #3 Jacob Warner (IA) dec. #5 Lucas Davisson (NU), 9-3
285 – #3 Tony Cassioppi (IA) pinned #5 David Jensen (NEB), 2:55
FINALS MATCHUPS
125 – #1 Spencer Lee (IA) vs. #2 Devin Schroder (PU)
149 – #2 Pat Lugo (IA) vs. #1 Sammy Sasso (OSU)
165 – #2 Alex Marinelli (IA) vs. #1 Vincenzo Joseph (PSU)
174 – #1 Michael Kemerer (IA) vs. #2 Mark Hall (PSU)
THIRD-PLACE MATCHUPS
133 – #3 Austin DeSanto (IA) vs. #1 Seth Gross (WIS)
184 – #3 Abe Assad (IA) vs. #4 Taylor Venz (NEB)
197 – #3 Jacob Warner (IA) vs. #6 Shakur Rasheed (PSU)
285 – #3 Tony Cassioppi (IA) vs. #4 Trent Hillger (WIS)
FIFTH-PLACE MATCHUPS
141 – #3 Max Murin (IA) mff #6 Mitch McKee (MINN)
IOWA                  140.5
Nebraska            125.0
Ohio State          103.0
Penn State         99.0
Purdue                82.0
Michigan            72.0
Northwestern   69.5
Wisconsin          61.5
Minnesota         58.5
Michigan State  57.0
Illinois                 48.0
Rutgers               25.5
Indiana               11.5
Maryland           0.0
Gallery: (3/8/2020) Big Ten Championships (Session III)