By DARREN MILLER
hawkeyesports.com
IOWA CITY, Iowa — Kit Rocco is an honest, up-front person.
"Integrity first," said Rocco, a sophomore catcher on the University of Iowa softball team. "People love it or hate it, but I am going to tell you how it is and not sugarcoat anything. That's how I was raised."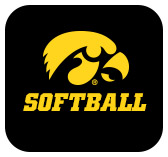 If you think Rocco's explanation of integrity first sounds like it was lifted from a military how-to manual, you might be right. She cherishes the core values taught in the United States Air Force (more on that later) and both parents are retired from the United States Navy.
"I have a lot of discipline for a 20-year-old," Rocco said. "The military lifestyle is something I try to use every day. I make my bed first thing every morning. It sounds ridiculous, but it's how I feel comfortable and feel like I am doing something purposeful with my life."
In her first spring with the Hawkeyes, Rocco played in 21 games (19 starts), hit safely in eight of her first 10 games and finished with a .311 batting average. Among her 19 hits were three doubles and a home run; she was second on the team with 11 RBIs.
Adding comfort to handling a pitching staff is that fact her three roommates pitch: Sarah Lehman, Donirae Mayhew, and Lauren Shaw. In 2020, Rocco caught a group that owned a 2.15 ERA.
"You have to know your pitcher," Rocco said. "They all have different personalities and different pitches they like to throw and don't like to throw. You need to know what works to calm them down."
For example, Allison Doocy likes to be in the zone, attack, send batters down 1-2-3 and get back to the dugout. Shaw likes to toy with hitters, make them look silly and be the boss in the circle.
"You need to know pitchers and teammates off the field, too, and get to know them on a personal level" Rocco said. "It helps to know what is going on in their life."
Iowa was 17-5 before its abbreviated season was canceled March 12 because of the coronavirus pandemic.
"Integrity first. People love it or hate it, but I am going to tell you how it is and not sugarcoat anything. That's how I was raised."

Kit Rocco, University of Iowa catcher
"That hurts a little bit," Rocco said.
Her highlights were traveling with teammates to Hawaii (where the Hawkeyes went 5-0 and outscored Portland State, Missouri-Kansas City and Hawaii, 24-7), overcoming flight delays en route to the Spring Games in Madeira Beach, Florida, and bouncing back to avenge losses to Virginia Tech and Georgia Tech.
On Feb. 7, Iowa lost to Virginia Tech, 9-1. Two days later, the Hawkeyes defeated the Hokies, 4-3 in eight innings. On Feb. 15, Iowa lost to Georgia Tech, 8-0. The next day, the Hawkeyes defeated the Yellow Jackets, 5-0.
"Those were little moments we needed as a team to realize we are not invincible," Rocco said. "Anyone can win on any given day, you have to give your all."
As for travel issues?
"That's where memories happen," Rocco said.
Rocco is from Woodbury, Minnesota, 4 ½ hours north of Iowa City. Her parents encouraged her to try different sports, so she played soccer…hated it. She played hockey…hated it.
"I wasn't great at softball, but I had something there," Rocco said. "My dad could see it, my mom could see it, everyone could see it. I stuck with that."
As a member of the Minnesota Strong 14U team, Rocco played a tournament championship game on the Women's College World Series field in Oklahoma City.
"I got an inside-the-park home run and I will never forget that," she said.
Rocco was that girl no one wanted to play catch with. She had a live arm but didn't want to pitch. Instead, she found a spot behind the plate. In high school, Rocco focused on softball, was a manager for football and wrestling teams, and participated in junior ROTC.
"That was the best experience I ever had," Rocco said of ROTC.
She attended Northern Kentucky in 2018-19, hitting .233 in 54 games and driving in her team's only run in her final game with the Norse. Rocco intended to participate in ROTC in college but wasn't able to do so at Northern Kentucky. Plus, her family was 14 hours from watching her play in person.
Rocco reached out to Iowa head coach Renee Gillispie and when she stepped on campus…
"This is what home away from home is supposed to feel like," Rocco said. "It's like the University of Iowa steals your heart the minute you walk on campus."
In the fall semester at Iowa, Rocco began ROTC, but withdrew before the season.
"It hurt to have to tell my commander," Rocco said. "I'm a kid who likes to be great at everything I do and trying to juggle ROTC, sports, school, social life was not bearable at the time."
Rocco is pursuing a degree in criminology with a minor in human relations. After college she will attend Air Force Officer Training School (OTS) and resume her ambition of a military career.
"I am focusing on living out the softball dream I have had since I was 12," Rocco said. "I'm working on that, getting school done and getting good grades so I can get accepted into OTS."