IOWA CITY, Iowa — Four extra-base hits from senior Ben Norman helped the Gold Team stay alive with a 9-1 game three victory over the Black squad in the annual Black & Gold World Series on Wednesday afternoon at Duane Banks Field.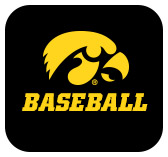 Norman, an outfielder from Des Moines, Iowa, tripled in each of his first three at-bats as the Gold team jumped out to a 4-0 lead through three. Norman finished 4-for-6 with three RBIs in the game.
The gold team added single runs in the fourth and fifth before redshirt junior Trenton Wallace hit a solo shot to right center field to make it 6-1 in the sixth. The Gold team extended its lead in its final at-bat courtesy of an RBI single from Wallace and an RBI groundout by freshman Keaton Anthony.
Senior Zeb Adreon (3-for-5), Wallace (2-for-3, 2 RBIs), and senior Matthew Sosa (2-for-4) all had multi-hit games. Wallace allowed one hit and struck out five in the start, while redshirt sophomore Ben Probst and redshirt junior Jack Guzek scattered four hits and struck out five over the final four innings.
The Black squad scored its lone run in the fourth when senior Lorenzo Elion doubled and scored on an RBI single from redshirt freshman Brayden Frazier.
Freshman Andy Nelson had two of the Black team's five hits. He finished 2-for-3 on the day.
Game four of the best of five series will begin at 3:50 p.m. (CT) Thursday.