IOWA CITY, Iowa — An 11-run sixth inning propelled the Gold team to a 12-5 come-from-behind victory in game four of the Black & Gold World Series on Thursday afternoon at Duane Banks Field. The Gold team's win evens the series and sets up a winner-take-all Game 5 on Friday afternoon.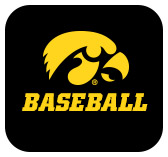 The Black team led 4-1 heading into the bottom of the sixth before the Gold team's bats erupted. Redshirt junior Trenton Wallace and freshman Keaton Anthony had two-run doubles in the inning and redshirt senior Matthew Sosa delivered a big blow with a bases-clearing three-run double.
When the dust settled, 11 runs scored and the Gold team turned a three-run deficit into an eight run lead. The Gold team had eight hits and five extra base hits in the inning.
Anthony had four of the Gold team's 11 hits on the day, finishing 4-for-5 with two doubles, a triple, and four RBIs. Norman was 2-for-4 with two doubles and two RBIs, redshirt junior Izaya Fullard was 2-for-4, and Wallace (two RBIs) and Sosa (three RBIs) had multi-RBI games.
GAME 3 PHOTOS >>>
The Black team struck first in the fifth, taking a 1-0 lead on an RBI single from redshirt sophomore Brayden Frazier before the Gold team evened the game at one courtesy of an RBI triple from Anthony.
The Black squad regained the lead in the sixth on an Andy Nelson sacrifice fly before DJ Heck hit a two-run triple to extend the lead to 4-1.
Martin paced the Black squad with four hits, finishing 4-for-5 game with an RBI single in the top of the seventh. Junior Dylan Nedved (2-for-5) and Nelson (2-for-4) had two-hit games.
Redshirt junior Cam Baumann allowed two hits over four shutout innings in the start for the Black team, while redshirt sophomore Drew Irvine tossed three shutout innings, scattering four hits in the start for the Gold.
Friday's decisive game will begin at 3:20 p.m. (CT).