IOWA CITY, Iowa – The University of Iowa baseball program has signed eight players – all who hail from the Hawkeye State – who will join the program in the fall of 2021, it was announced Monday by head coach Rick Heller.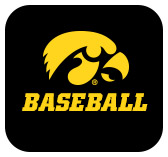 "We really like this class. It has a good mix of athletic position players who can hit and talented pitchers," said Heller. "Most of these guys have been committed to our program for quite some time and they already feel like family. We are looking forward to their arrival and working with them next fall.
"(Associate head coach) Marty Sutherland did a fantastic job heading up our recruiting efforts."
The class consists of Gehrig Christensen (C, Urbandale, Iowa), Weston Fulk (LHP, Ankeny, Iowa), Luke Llewellyn (RHP, Urbandale, Iowa), Sam Petersen (IF, Huxley, Iowa), Coy Sarsfield (OF, Marion, Iowa), Caden Stoffer (RHP, Fairfax, Iowa), Ben Wilmes (IF, Des Moines, Iowa) and Mitch Wood (IF, Ottumwa, Iowa).
The group features seven prep players and one junior college transfer and five positional players and three pitchers. All seven prep players are nationally ranked by Perfect Game.
| Name | Pos. | Ht. | Wt. | B/T | Hometown/High School (Last School) |
| --- | --- | --- | --- | --- | --- |
| Gehrig Christensen | C | 6-1 | 170 | L/R | Urbandale, Iowa/Urbandale |
| Weston Fulk | LHP | 6-4 | 230 | L/L | Ankeny, Iowa/Ankeny |
| Luke Llewellyn | RHP | 6-4 | 230 | R/R | Urbandale, Iowa/Urbandale (Kirkwood CC) |
| Sam Petersen | IF | 5-11 | 175 | R/R | Huxley, Iowa/Ballard Community |
| Coy Sarsfield | OF | 5-8 | 175 | R/R | Marion, Iowa/Linn Mar |
| Caden Stoffer | RHP | 6-4 | 175 | R/R | Fairfax, Iowa/Cedar Rapids Prairie |
| Ben Wilmes | IF | 6-0 | 170 | R/R | Des Moines, Iowa/Johnston |
| Mitch Wood | IF | 6-2 | 185 | R/R | Ottumwa, Iowa/Ottumwa |
Gehrig Christensen
6-1, 170, C, L/R
Urbandale, Iowa
Urbandale High School (Jeremy Heinen)
Iowa Sticks (Evan Romanchuk)
Ranked as a top-500 player nationally by Perfect Game
Rated as the sixth-best player in Iowa by Prep Baseball Report
First-team all-state as a junior after hitting .376 with seven doubles, two triples, one home run, and 17 RBIs… also scored 23 runs and stole 10 bases
Second-team all-state as a sophomore
Led Urbandale to state titles in 2018 and 2019
Coach Heller on Christensen
"Gehrig is an outstanding defensive catcher who throws extremely well. He is athletic, can run, and will bring a solid bat to the program. Gehrig has been on two state championship teams in his prep career at Urbandale. We are all looking forward to having Gehrig with us next fall."
Weston Fulk
6-4, 230, LHP
Ankeny, Iowa
Ankeny High School (Joe Balvanz)
 Ranked as a top-500 player nationally by Perfect Game
Third-team all-state as a junior after going 2-1 with a 3.84 ERA over 27 1/3 innings… had 45 strikeouts and allowed 22 hits
 2019 & 2020 honorable mention Central Region All-American
 Helped Ankeny to a state runner-up finish as a junior
 Starting tight end in football where he has helped Ankeny to a state title game appearance
Coach Heller on Fulk
"Weston is big, strong upper 80s left-handed pitcher with a great deal of upside. He is a multi-sport athlete who is a three-year starter at tight end on Ankeny's second-ranked football team. We are excited to have Weston in Iowa City next year."
Luke Llewellyn
6-4, 230, RHP
Urbandale, Iowa
Kirkwood Community College (Todd Rima)
Urbandale High School (Jeremy Heinen)
Went 1-1 with a 2.25 ERA during a shortened freshman season at Kirkwood… had 27 strikeouts and surrendered just eight hits over 16 innings
Two-time first-team Academic All-Region at Kirkwood
2018 Iowa High School Baseball Coaches Association Super Team selection
 Helped Urbandale to a 2018 state championship
Coach Heller on Llewellyn
"Luke is a tough kid who really competes on the mound. He has shown great arm strength at Kirkwood (90-93) and has worked hard to add 30 pounds since he started college. Luke is an outstanding student and has an excellent work ethic. We are happy that Luke will be a Hawkeye."
Sam Peterson
5-11, 175, IF, R/R
Huxley, Iowa
Ballard Community High School (Mike Furlong)
Iowa Sticks (Evan Romanchuk)
Ranked as the 186th-player nationally by Prep Baseball Report and as the No. 457-ranked player nationally by Perfect Game
Rated as the fourth-best player in the state of Iowa by Perfect Game and the fifth-best player by Prep Baseball Report
2019 Prep Baseball Report Futures Game Most Valuable Player
 Two-time first-team all-state… led 3A in home runs and steals in 2020
 Hit .420 with five home runs, five doubles, 15 RBIs, 27 runs, and 29 steals as a junior
 Three-time all-district selection in football… lettered in football, basketball, baseball, and track and field.
 IHSAA Academic Achievement Award recipient
Coach Heller on Peterson
"Sam is a strong, fast, athletic infielder, who we believe will be a dynamic offensive player. He also plays football, basketball, and run's track at Ballard. Sam is also an excellent student and we're excited he will be a Hawkeye."
Coy Sarsfield
5-8, 175, OF, R/R
Marion, Iowa
Linn Mar High School (Kyle Rodenkirk)
PG Select (Tim Evans)
Ranked as a top-500 player nationally by Perfect Game
Second-team all-state honoree as a junior
 Three-time first-team all-conference and two-time first-team all-district selection
Hit .442 with three doubles, two triples, 18 runs, seven RBIs, and 10 steals as a junior
 Earned academic distinction as a sophomore and junior
Coach Heller on Sarsfield
"Coy is a tough, gritty centerfielder that we are looking forward to working with. He is a plus runner, who also has some pop in his bat. We love Coy's approach to the game and he is an excellent student. We are excited Coy will be a Hawkeye."
Caden Stoffer
6-4, 175, RHP
Fairfax, Iowa
Cedar Rapids Prairie High School (James Nelson)
PG Select (Tim Evans)
 Ranked as a top-500 player nationally by Perfect Game
Underwent Tommy John surgery in the summer of 2020
 Rawlings second-team preseason all-region
 Two-year letterwinner in baseball and basketball
Coach Heller on Stoffer
"Caden is a lanky, upper 80s right-hander whose best days are ahead of him. He is an excellent athlete who also plays basketball at Cedar Rapids Prairie. We are excited that Caden will be coming to Iowa."
Ben Wilmes
6-0, 170, IF, R/R
Des Moines, Iowa
Johnston High School (Michael Barta)
Iowa Sticks (Evan Romanchuk)
Ranked as a top-500 player nationally by Perfect Game
Rated as the ninth-best player in Iowa by Prep Baseball Report
 2020 first-team all-state selection after hitting .427 with six doubles, one triple, one home run, and 19 RBIs… also scored 44 runs and had 13 steals
 Led team to the state championship in 2020
 Second-team all-state in 2019
 Three-time All-Academic Award selection
Coach Heller on Wilmes
"Ben is a great defensive shortstop and an excellent all-around player. He brings a lot of versatility to our program and we love how hard he plays. Ben is an outstanding student and we are happy Ben has chosen Iowa."
Mitch Wood
6-2, 185, IF, R/R
Ottumwa, Iowa
Ottumwa High School (John Jaeger)
Iowa Sticks (Evan Romanchuk)
Ranked as a top-500 player nationally by Perfect Game
Two-time first-team all-conference and all-district selection
 Hit .358 with five doubles, three triples, and one home run as a junior… had 12 RBIs, 24 runs, and seven steals.
Lettered in football, basketball, and wrestling
 Member of the National Honor Society
Coach Heller on Wood
"Mitch is a physical third baseman with a strong bat and throwing arm. We may also look at Mitch on the mound next fall. We love Mitch's work ethic and are excited that he will be a Hawkeye."