By DARREN MILLER
hawkeyesports.com
IOWA CITY, Iowa —Monday Night Football featuring the Los Angeles Rams and Tampa Bay Buccaneers reminds Austin Blythe of any game the University of Iowa played in the latter half of the 2015 season.
For Tristan Wirfs, it is like one of those highly awaited Wisconsin-Iowa matchups between storied Big Ten programs that flaunt their offensive lines.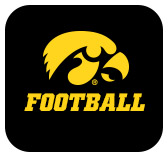 Blythe and Wirfs, both Iowa alumni, have much in common, even though they will be on opposite sidelines in Raymond James Stadium with NFC supremacy within reach. Blythe starts at center for the Rams (6-3, second in the NFC West) and Wirfs starts at tackle for the Buccaneers (7-3, second in the NFC South).
Blythe, 28, grew up in Williamsburg, Iowa, less than 30 miles west of Iowa City; Wirfs, 21, was raised in Mount Vernon, less than 30 miles north of Iowa City. Both of their high schools were members of the Eastern Iowa Hawkeye Conference, both Blythe (2009-10-11) and Wirfs (2017) were state wrestling champions. Heavyweight, of course.
Both played in three bowl games as Hawkeyes. It is the Iowa football link that solidly binds them.
"It's cool seeing how close guys are even after we are done with our time at Iowa," Wirfs said.
"No matter whether you crossed over with them as teammates, you have a bond because you played there and you know what that means," Blythe said. "That is the same with Tristan — I didn't play with him, but being from Iowa, we know what we're about."
"Both are good football players and team members. I'm happy for both of them; they are playing for good organizations, on good teams and helping those teams get better."

Kirk Ferentz, Iowa head football coach
Blythe lettered for the Hawkeyes from 2012-15, playing in the Outback, TaxSlayer and Rose bowls. Wirfs lettered for Iowa from 2017-19, playing in the Pinstripe, Outback and Holiday bowls. When Blythe was a senior in 2015, Iowa won its first 12 games before falling in the Big Ten Championship and Rose Bowl.
"We were rolling with an undefeated season and every game carried a big weight to keep winning," Blythe said. "In the Big Ten, you need to win every game to have a chance to get into the College Football Playoff. Unfortunately, we didn't win the Big Ten Championship, but it reminds me of this game coming up. It is a must win for both teams and it will be a good atmosphere in Tampa Bay's stadium."
Blythe (6-foot-3, 298 pounds) and Wirfs (6-5, 320) are two of 18 Hawkeye offensive linemen drafted into the NFL since head coach Kirk Ferentz took over in 1999. Blythe was selected by Indianapolis in the seventh round (pick 248) in 2016; Wirfs was chosen by Tampa Bay in the first round (pick 13) in 2020.
"That's a good illustration that it doesn't matter how you get to the NFL, it's about what you do when you get there," Ferentz said.
Though they were never teammates, Blythe and Wirfs became familiar with each other when Blythe returned to the Stew and Lenore Hansen Football Performance Center to train in the offseason.
"I would have loved to have been at Iowa the same time as Blythe," Wirfs said. "He has a good resume. I knew him because of his high school wrestling background, and I watched him play at Iowa when I was getting recruited. He is a pretty awesome guy."
"What stands out about Tristan are his physical gifts and how he plays with them," Blythe said. "He uses them to his advantage and that has carried over to the NFL. He is playing very, very well."
It's no surprise Blythe and Wirfs are thriving as professionals. Both say the NFL is simply an extension of what they were taught at Iowa under Ferentz.
"You learn how to be a pro in college," Blythe said. "That's what the Iowa program is about, being detailed with whatever you're doing, being disciplined, and giving 100 percent effort. Guys from Iowa are prepared to do well and play well and I think you're seeing that with the ones who are in the league today."
"It is about being a pro, that is coach Ferentz's whole thing," Wirfs said. "He wants to get you ready for that. It is about being a good person; the University of Iowa does a great job making sure you are pro ready because that's the way coach Ferentz runs his program. A lot of people know that and respect coach Ferentz for that."
Wirfs said there is another reason he is having a memorable rookie season. It has to do with perfecting technique over and over in college.
"It is doing the basics and fundamentals 24-7," Wirfs said. "I loved that."
The Hawkeye offensive linemen left their mark on the program. Blythe still holds the pro agility performance record for centers, running 4.21 seconds in 2015; Wirfs set the hang clean record of 500 pounds in 2019. They both earned the Iron Hawk Award presented to the Iowa student-athlete who maximized physical potential on the field through dedication to strength and conditioning.
"Tristan has settled right in, done a great job, (Tampa Bay is) very complimentary of the work he has done and the way he has been playing," Ferentz said. "You look at the career Austin has had and his position flexibility has helped. He has played excellent football at guard and now he is playing excellent at center.
"Both are good football players and team members. I'm happy for both of them; they are playing for good organizations, on good teams and helping those teams get better."
There are currently 36 Hawkeyes with NFL teams. Two others will be involved Monday: Anthony Nelson plays for the Buccaneers, Jake Gervase is on the practice squad for the Rams.
Los Angeles plays at Tampa Bay on Nov. 23 beginning at 7:15 p.m. (CT). Tune to ESPN and watch the Hawkeyes on display.