By MATTHEW WEITZEL
hawkeyesports.com
IOWA CITY, Iowa — The fifth-ranked University of Iowa men's basketball team won its fourth straight game on Sunday, knocking off No. 16 Minnesota, 86-71. Iowa has won nine of its 11 games by 15 points or more.
The Hawkeyes were led by three of its veterans, Luka Garza, Jordan Bohannon, and Joe Wieskamp. The trip combined for 72 of Iowa's 86 points.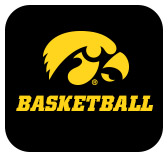 Garza, who leads the country in scoring, led all scorers with 33 points, five rebounds, and three assists. It was the All-American center's sixth 30-point effort of the season and 11th of his career.
Garza became Iowa's all-time scoring leader in Big Ten games after today's 33-point effort. The native of Washington, D.C., now has 1,116 points in regular season Big Ten games, surpassing Roy Marble (1,113).
Wieskamp tallied 20 points, equaling his season high set twice before in mid-December (Northern Illinois, Gonzaga). Wieskamp's free throw with 17:48 remaining in the second half was his 1,000th career point, becoming the 50th Hawkeye to achieve that milestone.
Bohannon netted 19 points, bolstered by a game-high four triples. In addition to his 19 points, Bohannon recorded  career highs in assists (14) and rebounds (7) while also recording zero turnovers. The 14 assists were two shy of the school record.
"I haven't seen many stat lines like Jordan Bohannon had today: 19 points, 14 assists, seven rebounds, and zero turnovers," said head coach Fran McCaffery. "Minnesota is a team that goes to the glass and our guards have to rebound if you want to beat this team. An unbelievable effort by Jordan today."
The Hawkeyes led by as many as nine points in the first half. Iowa played unselfish basketball recording assists on 12 of its 14 first-half baskets.
Garza and Bohannon led the home team the first 20 minutes; Garza netted 15 points, while Bohannon had eight points and six assists. Three Hawkeyes – Connor McCaffery, Keegan Murray, and Joe Toussaint –played reduced minutes in the first half due to each being whistled for two fouls.
Iowa's lead swelled to double digits in the second half by virtue of a 22-4 run sparked by nine consecutive field goals by the Hawkeyes. Junior Joe Wieskamp netted eight points during that stretch, including his 1,000th career point, becoming the 50th Hawkeye to achieve that milestone.
The Gophers went on an 8-0 scoring run to cut a 13-point Hawkeye lead to five points with 5:30 left. Garza snapped the brief scoring drought by scoring back-to-back buckets to regain separation. The Hawkeyes closed out the contest scoring eight consecutive points over the final 1:49.
"They made a good run, but I think we continued to keep outrunning them," said Wieskamp. "We did an excellent job in transition today."
WIESKAMP ON 1,000 CAREER POINTS
"It is a special accomplishment for me. Scoring 1,000 points was one of the goals I set for myself when I got here at the University of Iowa."
OF NOTE
• Iowa improved to 8-0 when Jordan Bohannon makes multiple 3-pointers. Bohannon (19 points) made a game-high four triples this afternoon.
• Bohannon registered his seventh career double-double (14 assists, 19 points). His 14 assists today moved the redshirt senior past Mike Gesell and Dean Oliver for third on Iowa's all-time assists chart (Woolridge, 575; Horner, 612).
• Iowa has won 22 of its last 23 games inside Carver-Hawkeye Arena, dating back to last season.
• Jack Nunge pulled down a game-best 10 rebounds, leading the team in rebounding for the second time this year.
• The Hawkeyes won their ninth straight home game over a against AP ranked opponents, dating back to last season. That's the longest such streak in program history during the AP Poll era (since 1948-49).
• Iowa, who leads the league in assists per game, was credited with 27 assists on 31 field goals.
UP NEXT
Iowa returns to action on Thursday against Michigan State. Tipoff is scheduled for 8 p.m. (CT) on Mediacom Court at Carver-Hawkeye Arena in Iowa City, Iowa.