Editor's Note: This story first appeared in the January issue of Hawk Talk Monthly, the official e-magazine of the Iowa Hawkeyes. The publication was named best in the nation in 2018, 2019 and 2020. To read Hawk Talk Monthly, click HERE.
By MATTHEW WEITZEL
hawkeyesports.com
IOWA CITY, Iowa — The fifth-ranked University of Iowa men's basketball team has a blend of experience and youth on its 2020-21 roster. The Hawkeyes returned seven players with starting experience and added six talented freshmen.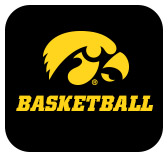 One of those skilled rookies is Keegan Murray, who plays with a quiet confidence when his name is called off the bench. All-American center Luka Garza has tabbed him "Nicholas Baer 2.0," in honor of the Hawkeye letterwinner from 2016-19 who was named Big Ten Sixth Man of the Year in 2017. Murray is one of only eight players nationally — and the only bench player — to record at least 80 points, 55 rebounds, 15 blocks and 15 steals.
"The moment Keegan stepped foot on campus you could tell he was not a freshman," said Garza. "He has the mentality of an experienced player. He comes in with energy and gives our group second chances. He's confident when he walks on the court."
The 6-foot-8 forward can score a variety of ways whether it is in the lane, offensive put-backs or on the perimeter. Murray ranks fourth on the team in rebounding (4.3), second in blocked shots per game (1.1) and fifth in 3-pointers made (eight).
"Competing is my favorite thing in the world," Murray said. "If I can do anything to help our team win, it's satisfying to me."
Murray was one of the team's key contributors in a road win at No. 14 Rutgers on Jan. 2. The native of Cedar Rapids, Iowa, scored a personal-best 14 points and led the team in rebounding (nine), steals (three) and blocked shots (three).
"Keegan is a phenomenal rebounder," said Iowa head coach Fran McCaffery. "His length, his tenacity to go to the glass and keep balls alive is what separates him. His ability to make plays off the dribble, make 3s and pass allows him to play a number of positions. Keegan wants to compete and is thankful for the opportunity. He has a chance to be special."
Although technically a freshman, Murray and his twin brother Kris gained a year of experience following high school graduation playing at DME Academy in Florida in 2019-20 prior to arriving in Iowa City. The Murray twins are legacy Hawkeyes: their father Kenyon played for head coach Tom Davis for four seasons (1993-96).
Garza, who knows a thing or two about hard work, has been impressed with Keegan's work ethic.
"He works hard and he is someone you always see in the gym," Garza said. "It is not surprising at all. That's the type of player he is; we're lucky to have someone like him on the roster."
The Hawkeyes host Michigan State on Thursday at 8:07 p.m. (CT) on Mediacom Court at Carver-Hawkeye Arena.