IOWA CITY, Iowa — The top-ranked University of Iowa wrestling team defeated No. 6 Nebraska, 31-6, on Friday night in the 2021 season opener at Carver-Hawkeye Arena.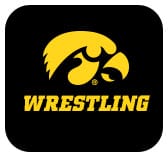 Iowa won eight-of-10 bouts, scored bonus points in four matches and defeated six ranked opponents to win its 14th straight dual overall and extend its Big Ten winning streak to 19. The Hawkeyes held a 28-5 advantage in takedowns and an 89-35 edge in match points.
The Hawkeyes got a fall from Spencer Lee, a technical fall from Austin DeSanto, and major decisions from Kaleb Young and Nelson Brands.
In just over six minutes of mat time, Iowa built a 11-0 lead in the team score. Lee led 6-0 before recording the fall in one minute, 21 seconds at 125. DeSanto won 21-6, piling up 10 takedowns before terminating his match in four minutes, 57 seconds at 133.
Jaydin Eierman made his Hawkeye debut at 141 and registered atop 10 victory over No. 7 Chad Red, 8-4. Max Murin scored a pair of takedowns on his way to a 6-2 win at 149, his first collegiate match at 149, and Young used four takedowns, two reversals and four back points to earn a 17-5 major decision at 157.
Alex Marinelli scored takedowns in each period to win 9-3 at 165. Nelson Brands earned a top 10 major decision in his Big Ten dual debut, topping No. 7 Taylor Venz, 13-5, and Tony Cassioppi closed the dual with a 3-0 shutout at 285.
Nebraska won matches at 174 and 197. Freshman Patrick Kennedy dropped a 7-4 decision to No. 4 Mikey Labriola at 174, and a third-period takedown was the difference in Jacob Warner's 3-2 loss to No. 2 Eric Shultz at 197.
UP NEXT
No. 1 Iowa wrestles at No. 14 Minnesota on Friday, Jan. 22 at 8 p.m. (CT). The dual is televised live on BTN.
NOTABLES
• The Hawkeyes returned to the mat for the first time since winning the Big Ten Championships on March 8, 2020, in Piscataway, New Jersey (45 weeks).
• Iowa has won 14 straight overall, 17 straight at home and 19 consecutive Big Ten duals.
• Spencer Lee improved to 19-0 all-time at Carver-Hawkeye Arena. In Lee's 19 home wins, he has five pins, eight technical falls and three major decisions. Five of the wins are against top 10 opponents.
• Spencer Lee extended his winning streak to 24 matches.
• Spencer Lee's pin was the 22nd of his career, 17 have come in the first period.
• Austin DeSanto won 21-6, his 22nd career match scoring 20 or more points.
• Iowa is 113-12 (.904) at Carver-Hawkeye Arena since Tom Brands took over the program prior to 2006-07.
• Tom Brands improved to 12-0 all-time against Nebraska.
• Nelson Brands made his Big Ten debut.
• Jaydin Eierman made his University of Iowa debut.
• Patrick Kennedy made his collegiate debut.
#1 IOWA 31, #6 Nebraska 6
125: #1 Spencer Lee (I) pinned #11 Liam Cronin (N), 1:21; 6-0
133:#5 Austin DeSanto (I) tech. fall Alex Thomsen (N), 21-6; 11-0
141: #1 Jaydin Eierman (I) dec. #7 Chad Red Jr. (N), 8-4; 14-0
149: #8 Max Murin (I) dec. #20 Brock Hardy (N), 6-2; 17-0
157: #6 Kaleb Young (I) major dec. Caleb Licking (N), 17-5; 31-0
165: #2 Alex Marinelli (I) dec. #18 Peyton Robb (N), 9-3; 24-0
174: #4 Mikey Labriola (N) dec. Patrick Kennedy(I), 7-4; 24-3
184: #8 Nelson Brands (I) major dec. #7 Taylor Venz (N), 13-5; 28-3
197: #2 Eric Shultz (N) dec. #4 Jacob Warner (I), 3-2; 28-6
285: #2 Tony Cassioppi (I) dec. #16 Christian Lance (N), 4-0; 31-6
Records: Iowa (1-0, 1-0), Nebraska (1-1, 1-1)
Attendance: 246
Date: Jan. 15, 2021
Extra Matches
133 Tucker Sjomeling (N) dec. Cullen Schriever (I), 6-2
141 Ridge Lovett (N) dec. Carter Happel (I), 4-2
149 Jevon Parrish (N) dec. Zach Axmear (I), 5-3
184 Myles Wilson (I) major dec. Nathan Haas (N), 15-6
197 Silas Allred (N) major dec. Connor Corbin (I), 12-2
285 Cale Davidson (N) dec. Aaron Costello (I), 3-2