By DARREN MILLER
hawkeyesports.com
IOWA CITY, Iowa — FOX has a popular television show, The Masked Singer. On Thursday, the University of Iowa women's basketball team unmasked a shooter.
Redshirt sophomore Kate Martin set career highs with 19 points, seven made field goals, five 3-point field goals and 11 assists as the Hawkeyes came from 13 points down to blow out Penn State, 96-78, on Mediacom Court inside Carver-Hawkeye Arena.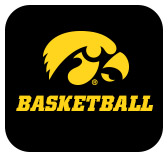 Iowa head coach Lisa Bluder enjoyed her teams' assist total (29), second half defense (allowing just 26 points over the final 20 minutes), scoring balance (four in double figures) and the performance from the unmasked Martin.
"This was a special game for Kate Martin," Bluder said. "Eleven assists, zero turnovers, two steals, perfect 5-for-5 from 3-point. It was a special game for her."
Prior to Thursday, Martin had worn a transparent plastic mask since breaking her nose at Illinois on Jan. 3. Coincidence? Maybe. Impressive? Without a doubt. She entered this home matinee averaging 6.6 points in 17 games with a career high of 12 points in a game. In the last three games, Martin shot 22 percent from the field.
"This was a special game for Kate Martin. Eleven assists, zero turnovers, two steals, perfect 5-for-5 from 3-point. It was a special game for her."

Lisa Bluder, Iowa head coach
"I got into the rhythm of the game," she said. "My teammates were doing a great job of getting open against (Penn State's) zone, I was hitting them with passes and they were knocking down the shots.
"(The hot shooting) started to come to me throughout the game and after hitting one and two I felt confident and kept shooting. Thankfully I was making them."
Martin was scoreless on a 0 for 2 effort in the first quarter and had just two points at halftime. In the third period she was 3 of 3 from distance and in the fourth quarter she tacked on two more 3-pointers.
"I feel more comfortable without (the mask) for sure, but I think it was a coincidence," Martin said.
With the blessing of head athletic trainer Jennie Sertterh, Martin practiced this week without a mask. Bluder admitted she didn't realize Martin played without one.
"It felt fine, so (Sertterh) let me not wear it this game and it was nice," Martin said.
With 32 points, fantastic freshman Caitlin Clark led Iowa in scoring for a 14th time in 18 games and topped 30 points for a fourth consecutive outing. She welcomed Iowa's scoring balance with three teammates in double figures; Martin's performance stood out.
"Kate shot the ball well," Clark said. "Not only that, she is the glue of our team. She is one of the hardest workers on this team."
Martin distributed at least one assist to five teammates: four to Clark, three to sophomore McKenna Warnock, two to junior Monika Czinano, and one apiece for juniors Logan Cook and Tomi Taiwo.
Czinano scored 17 points on 8 of 11 shooting and led the team with eight rebounds. She complemented and complimented the effort of Martin, her teammate and roommate.
"She was so confident out there," Czinano said. "Every shot she took I knew it was going down. She had a look in her eyes that she knew. She is such a fighter and it's kind of a funny coincidence it happened the first game without her mask."
Of the points and assists, which brought the biggest smile to Martin's maskless face?
"Assists for sure," Martin said. "I was so happy my teammates could knock them down. They are great shooters and I had confidence in them the whole time."
The Hawkeyes (12-6 overall, 8-6 Big Ten) will now work through a schedule shuffle. A game at Indiana — scheduled for Sunday — will be moved to March 3. Iowa's game at No. 9 Maryland that was postponed Jan. 20, has been rescheduled for Tuesday, Feb. 23, at noon. The matchup will air live on Big Ten Network.
Whoever and wherever the Hawkeyes play, they will do it with a more confident and productive Martin.
"Making shots feels good when I can knock them down, it brings more and more confidence," she said. "Hopefully it brings more confidence into the rest of the season."