By SAM BASLER
hawkeyesports.com
IOWA CITY, Iowa – Led by Freshman Caitlin Clark and a career night from redshirt sophomore Kate Martin, the University of Iowa women's basketball team battled back from an 11-point halftime deficit to defeat Penn State, 96-78.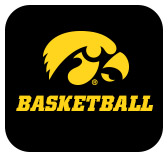 Clark had 32 points including 17 in the fourth quarter. It was her NCAA leading, eighth 30-point game of the season and fourth consecutive. For Martin, it was a career-high day with 19 points, 11 assists and five made 3-pointers, shooting 5-for-5 from beyond the arc.
Clark and Martin combined to score 37 of Iowa's 55 points in the second half while the Hawkeye defense limited Penn State to 26 points.
Junior Monika Czinano had 17 points and sophomore McKenna Warnock had 15 to join Clark and Martin with double-figure scoring nights.
"Overall scoring balance for our team is what is going to lead us down the road and help us win games, and win hard games," Clark said. "It can't just be one or two people every night. When we have four players over 15-plus points, it is going to be hard to stop us."
Despite being out-rebounded 32-14 and having faced a barrage of 10 made Penn State 3-pointers, the Hawkeyes went into halftime knowing they had a chance to get back in the game. Penn State grabbed 25 offensive rebounds.
"Thankfully, we scored pretty well, especially in the second quarter where we had 24 points. That was keeping us in the game," Iowa head coach Lisa Bluder said. "Then we took it to a different level in the second half, not only offensively, but also defensively and rebounding."
In the second half, the Hawkeyes chipped away at the Nittany Lion lead with a 6-0 run making it a five-point game with five minutes left in the third quarter. With a little over two minutes left in the third, the Hawkeyes took their first lead at 65-64 when Clark hit a 3-point bucket.
Penn State would match it on its trip back down the court, but sophomore Gabbie Marshall responded with a 3-pointer of her own and the Hawkeyes led the rest of the way.
Iowa locked down on defense in the fourth quarter holding Penn State to 11 points. The Hawkeyes went on a 15-3 run to close the game, and Clark hit a dagger from well beyond the arc with 30 seconds remaining in the game to cap the 18-point victory.
Game Notes:
• The Hawkeyes have won five consecutive matchups over the Nittany Lions, dating back to a 80-7, home win Feb. 8, 2018.
• Martin recorded her first career double-double with a career-high 19 points and career-high 11 assists.
• Clark recorded her fourth consecutive 30-point game (eighth of the season). Her eight 30-point games are the most in the NCAA this season. She is the first freshman to accomplish the feat since 2009-10 when Oral Roberts' Kevi Luper and Delaware's Elena Delle Donne had eight.
Up Next: The Hawkeyes' Sunday matchup at Indiana has been rescheduled for March 3. Tip and television designation have not been set. Iowa's game at Maryland that was postponed on Jan. 20 has been rescheduled for Tuesday, Feb. 23 at noon (CT). The matchup will air live on Big Ten Network.