By JAMES ALLAN
hawkeyesports.com
MADISON, Wis. – The 11th-ranked University of Iowa men's basketball team made 12 3-pointers and shot a season-best 63.2 percent from 3-point range in a 77-62 road victory at No. 21 Wisconsin on Thursday night at the Kohl Center.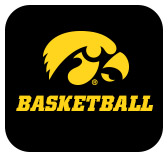 The win is the Hawkeyes' sixth against an AP Top 25 opponent – the most nationally. Iowa is 16-6 overall and 10-5 in Big Ten play.
"We've had a lot of impressive performances and this is up there, being able to handle a team coming back at you," said senior All-American Luka Garza. "It feels great to have a team win where so many guys did whatever they could to help the team win.
"When you look down the line, every person on our roster who was on the floor had a tremendous effect and the bench has been outstanding, providing us energy."
Iowa built a double-digit first half lead after stifling the Wisconsin offense. The Badgers made just four of their first 30 shots and Wisconsin finished just 9-of-36 from the field in the first 20 minutes.
"It started at the defensive end," said sophomore CJ Fredrick, who played 31 minutes. "We were locked in and they made a little run, but we stayed connected and stayed the course and got Luka going and Joe (Wieskamp) going and kept running."
The Hawkeyes had a 36-27 lead at the break behind a 17-point half by Garza. Iowa's lead grew from nine to a game-high 16 points in the first three minutes of the second half before Wisconsin began battling back.
The Badgers reeled off eight straight points behind 3-pointers from Aleem Ford and Brad Davison. Wisconsin whittled the deficit to 47-43 on a D'mitrik Trice layup and to 49-46 on a Davison 3-pointer with 9:17 to play.
"Our whole mindset as a team going into that timeout was they had their run, now let's have ours," said Garza. "We're an experienced group, it's happened a couple of times where we've gotten a big lead and aren't able to close it out.
"We came together and made a run of our own. I am proud of our guys for getting stops during that stretch and to be able to execute on offense."
A Garza old-fashioned three-point play stretched the lead to 52-46 then the 3-balls fell.
Jack Nunge and Davison traded 3s then Joe Wieskamp and Davison traded two more and Wieskamp hit another to stretch the lead to 61-52.
Garza's 3-pointer at the 5:23 mark pushed the lead to 66-54 and the margin never got any closer.
After scoring a season-low eight points last Saturday at Michigan State, Garza led all scorers with 30 points and eight rebounds. He made 11-of-19 field goals, including 4-of-6 3-pointers. Wieskamp scored 17, making 6-of-9 field goals (5-of-6 3s) and had eight rebounds. Freshman Keegan Murray had a career-best 12 rebounds off the bench.
Iowa finished the game with higher percentages across the board, shooting 51 percent (to Wisconsin's 30 percent), 63.2 percent from 3 (to 38.2 for UW) and 68.4 percent from the free throw line (compared to 58.3 for the Badgers). Iowa also won the rebounding battle, 41-37.
Micah Potter paced Wisconsin, scoring 23 points and grabbing 11 rebounds.
QUOTING HEAD COACH FRAN MCCAFFERY
"We beat a really good team. We shared the ball, which is a staple of our team. Our man-to-man was good again, we mixed it, but our man-to-man was good. They shot 34 3s, that's a lot of 3s. I thought our defense from start to finish was good."
MONSTER MURRAY
Freshman Keegan Murray grabbed a career-high 12 rebounds in just 22 minutes against the Badgers.
"He was great on the glass, that's the first thing that jumps out at you, but his defense coming down the stretch on Davis, was really good," said McCaffery. "Keegan's length was really good there.
BUILDING DEFENSIVELY
The Hawkeyes limited Wisconsin to its lowest field goal percentage of the season (30 percent), continuing a string of strong defensive performances.  Iowa has allowed 63.3 points over its last four games.
"We're staying connected and communicating," said Fredrick. "We know if we want to make a deep run, we have to guard. Our man-to-man has been tremendous and when we went to zone, it was good.  Defense is all about communicating and being locked in and we've been locked in these past couple of weeks on defense."
OF NOTE
• Iowa won its third straight game, including two straight on the road (Michigan State, Wisconsin). Jerry West Award Semifinalist Joe Wieskamp has shot a blistering 15-of-20 (.750) from 3-point range combined during the three-game win streak.
• Iowa has now won six games against AP Top 25 opponents this season.
• Iowa's 77 points are the most scored at the Kohl Center since a 79-76 win on Feb. 3, 1998.
• Luka Garza totaled 30 points and eight rebounds. Garza has netted 20+ 15 times this season and 52 times in his career. Garza made four 3-pointers, marking the third time this season the center made four or more triples. Tonight was Garza's NCAA-best seventh 30-point game and 12th of his career, trailing on John Johnson (13) for the most in school history.
• Joe Wieskamp netted 17 points, bolstered by draining a team-best five 3-pointers. Wieskamp has made five 3-pointers in three consecutive games and three or more for the eighth time in 10 contests.
• Iowa shot a season-best 63.2 percent (12-of-17) from 3-point range tonight.
• Keegan Murray snagged a game-best 12 rebounds, a personal best for the true freshman.
• Tonight's win was Fran McCaffery's 99th regular season Big Ten victory, one shy of 100.
UP NEXT
Iowa returns home to host Penn State in the only regular season meeting. Tipoff is slated for 4 p.m. (CT) on Mediacom Court at Carver-Hawkeye Arena in Iowa City. The game will be televised nationally on FS1.