By DARREN MILLER
hawkeyesports.com
IOWA CITY, Iowa — Don't tell University of Iowa freshman Denali Loecker what she can't do. Then again, give it a try and see what happens.
For most of her travel softball career, Loecker (pronounced Lecker), was told she wouldn't be a pitcher. The accuracy wasn't there and her speed wasn't overpowering. Even as an eighth-grader, Loecker played third base for her travel team.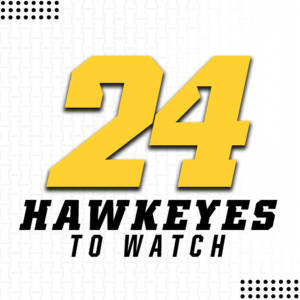 "I had multiple people tell me I was never going to be a pitcher," Loecker said. "When people tell me I'm not going to be good at something that makes me want to be better and prove them wrong."
Loecker begins her first season with the University of Iowa softball program after an impressive career at Ogden (Iowa) High School, where she hit for average and power and pitched the Bulldogs to a Class 2A state championship last season. In the title game — a 6-1 win over North Linn — Loecker hit a double and home run and collected two RBIs. On the mound she scattered four hits and fanned seven.
Here are her numbers during the pandemic-shortened 2020 summer season. In 25 games (Ogden was 22-3), Loecker batted .560 with 36 base on balls, 31 RBIs, 19 runs, 18 extra-base hits and 11 home runs. In the circle, she was 20-2 with one save. In 128 innings, Loecker struck out 142 and had a 1.42 earned run average.
Loecker's hitting and pitching prowess leaves Iowa head coach Renee Gillispie with a pleasant, but tough, dilemma. Does she hit, pitch or do both?
"When we look at Iowa players, someone like Denali is exactly what we're looking for," Gillispie said. "She is versatile, she pitches, plays first base and hits. She has such a great attitude and she wants to be at Iowa; those are the kind of players we're looking for."
If it wasn't for a family move from a small town in Nebraska to central Iowa, Loecker might be flashing her versatility in a different sport.
"If I would have been raised in Nebraska and my parents never moved to Iowa, I would have been a rodeo girl," Loecker said. "That's what happens there."
"I had multiple people tell me I was never going to be a pitcher. When people tell me I'm not going to be good at something that makes me want to be better and prove them wrong."

Denali Loecker
Her father, Jason, rode bulls well into high school. Before Nebraska, he lived in Alaska and played hockey. Denali is named after the Denali National Park and Preserve that encompasses 6,000,000 acres of Alaska's interior wilderness.
"My grandma always said he was a hard head," said Denali, referring to her father. "That is where I get my competitiveness. He does not like to lose."
Nor does Denali.
She was a multi-sport student-athlete at Ogden, participating in volleyball, basketball, track for two seasons and softball. When she reached varsity softball, the Bulldogs lacked pitching depth, so Loecker alternated in the circle with an upperclassman.
"They wanted me to hit, so they found a place for me," Loecker said. "They knew I was a pitcher and my high school coach believed in me and would catch me in the morning. He knew I worked hard at pitching and it was something I wanted to do, so he found time for me in games. That is when I started pitching."
Her first two seasons on varsity, older sister Maddy was her catcher. In five summers with Denali on the roster, Ogden averaged 22 wins per season and made trips to the state tournament in 2019 and 2020. In 148 career games, Loecker finished with a batting average of .533 with 59 doubles, 67 home runs and 232 RBIs. She was walked 91 times her final two seasons.
As a pitcher, Loecker won 72 games and struck out 628 in 575 2/3 innings. Her out pitch is a drop ball.
"Playing high school softball helped a lot because I pitched every game," Loecker said. "That's when I gained confidence and got better because I was facing actual batters compared to just pitching to a catcher in practice."
When Gillispie took over as Iowa's head coach on June 8, 2018, one of her objectives was to keep Iowa's softball talent in-state. More specifically, in Iowa City. With Loecker, the Hawkeyes have an all-stater with potential. Gillispie has lofty goals for the freshman and that excites both coach and student-athlete.
"We talked about when we recruited her that as a freshman, we want her coming in and become a starter in the Big Ten," Gillispie said. "Her mission is to be on that mound and be able to win games. She has such a great offensive side, too, of being a power hitter and being able to change the course of a game with one swing."
The Hawkeyes were 17-5 in 2020 before the season was canceled in mid-March because of the coronavirus pandemic. Iowa's entire pitching staff returns, and adds Loecker and fellow freshman Maggie Peterson. If she isn't pitching, Loecker will be at first base or designated hitter. She wants to make an early impression.
"Big Ten Freshman of the Year would be amazing," she said. "Any record I can achieve, that's what I'm going for. Hitting multiple home runs would be awesome as well."
There are 1,900 people who live in Ogden, Iowa, and many of them will be tuned into the Big Ten Network when Loecker and the Hawkeyes take the field.
"From a small town, no one really expects anyone to do something big," Loecker said. She intends to dispel that myth.
As a Hawkeye, Loecker has an opportunity to play a sport she loves in her home state. Her excitement level is at an all-time high and the competition she sees daily drives her improvement.
"We are doing well so far," Loecker said. "Our pitching staff has been phenomenal, our hitters have been doing well, and our defense has been good. I'm excited to see how far this team can go."
A bit of advice to Iowa's opponents: don't tell Loecker and the Hawkeyes they won't succeed. Then again, give it a try and see what happens.