By JAMES ALLAN
hawkeyesports.com
COLUMBUS, Ohio – The ninth-ranked University of Iowa men's basketball team notched a top five road victory – a.k.a. a signature win — on Sunday afternoon in the Buckeye State.
After dropping their previous three games against top-five ranked opponents this season, the Hawkeyes downed No. 4 Ohio State, 73-57, at Value City Arena.  The win moves Iowa's record to 18-7 overall, 12-6 in Big Ten play, which puts them alone in third place in the league standings.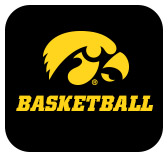 "We've had a couple of performances (against top-flight teams) that didn't reflect who we are," said senior Luka Garza. "It was nice tonight to beat one of the best teams in the country and take them down on their home floor.
"We know how much that home loss hurt when we were up 11, so that was big motivation for us in this game."
It is Iowa's first win on the road with both teams ranked in the AP Top 10 since 1989 when the ninth-ranked Hawkeyes won at No. 6 North Carolina.
Iowa led 42-28 at the half before Ohio State made its run, but the Hawkeyes withstood it.
The Buckeyes trailed 44-31 with 19:25 remaining before reeling off seven straight points, including a 3-pointer from Justice Sueing, to pull to within 44-38 to force an Iowa timeout.
The run extended to 11-0, pulling the Buckeyes to within 44-42 with 16:49 left before Iowa's All-American ended the Iowa drought. Junior Joe Wieskamp followed with a 3-pointer on the next possession and Iowa's lead was back to nine with 13:55 to play.
"We didn't rattle," said head coach Fran McCaffery. "Sueing hit a couple 3s, CJ Walker hit a couple of pullups, we changed defenses and did a couple of things and kind of settled down."
The Buckeyes closed to within four (51-47) one final time — with 13:07 to play — but Iowa pushed its lead to double figures 4 ½ minutes later and the Hawkeyes led by double figures the rest of the way.
"This is a huge win for our group," said Garza. "To be able to beat a team like that on their home floor, it is impressive for us and it's huge for us with seeding in the Big Ten and NCAA Tournament.
"It's huge for us overall and we know we have keep doing what we're doing and control the things we can control, which is our effort on the defensive end and moving the ball on offense.  When we do that, good things happen."
Garza led all scorers with 24 points, making 10-of-16 field goals, and he grabbed 11 rebounds to notch his 11th double-double of the season. Wieskamp scored 19 points, making 7-of-13 field goals with five 3-pointers.
Senior Jordan Bohannon and freshman Keegan Murray scored eight points apiece, while Bohannon had five assists en route to becoming the Hawkeyes' school record holder in career assists.
Iowa shot 46.8 percent from the floor and it went 10-of-24 from 3-point range. Ohio State shot 45.1 percent, but went just 5-of-17 from long range, and Iowa won the rebounding battle, 34-31. After having four assists Thursday at Michigan, the Hawkeyes had 19 assists on its 29 field goals.
The Hawkeyes jumped on the Buckeyes early, jumping out to a 15-7 lead over the game's first six minutes and Iowa pushed the advantage to 11 points on a pair of Patrick McCaffery free throws at the 8:03 mark.
Ohio State closed to within seven on a Duane Washington, Jr., 3-pointer with 3 ½ minutes left in the first half, Iowa followed with nine straight points, including five from Wieskamp, to open up a 41-25 lead.
Iowa shot 51.6 percent in the opening 20 minutes, while limiting Ohio State to 38.7 percent. The Buckeyes' 28 first-half points were tied for their lowest first-half production in a half this season.
E.J. Liddell led the Buckeyes with 15 points.
QUOTING HEAD COACH FRAN MCCAFFERY
"We played a complete game. That's how you want to be this time of year. It's great to have a performance like this. Now you have to turn around and do it again."
JBO PASSES HORNER
Bohannon passed Jeff Horner to become Iowa's all-time assists leader with an assist on a Wieskamp 3-pointer with 2:28 left in the first half. Bohannon finished the game with five assists, giving him 615 career assists.
"It's a blessing, I can't even put it into words, my emotions right now, thinking about the players I passed on that list," said Bohannon. "Jeff Horner was a role model for me growing up, I wanted to be like Jeff Horner when I was a little kid in the back yard.
"He reached out to me about a week and a half ago, and as I was getting closer to the assists record. Having a guy like that and having him reach out to me during my career has been special for myself.  It wouldn't happen without these phenomenal teammates without all these guys I have played with."
OF NOTE
Iowa has won five of its last six games.
Today was Iowa's sixth conference road win of the season and its first win in Columbus since 2014.
Today's win was Iowa's seventh over a ranked opponent, tying Kansas for the most in the country this season.
Luka Garza posted his team-leading 11th double-double of the season and 32nd of his career today (24 points, 11 rebounds).
Junior Joe Wieskamp netted 19 points and had six rebounds. Wieskamp has scored 19 points or more eight times this season.
UP NEXT
Iowa returns to action on Thursday, hosting Nebraska in the only meeting between the two teams. Tipoff is set for 8 p.m. (CT) on Mediacom Court at Carver-Hawkeye Arena in Iowa City.