ON THE MAT
The University of Iowa wrestling team competes at the 2021 Big Ten Championships on Saturday and Sunday at the Bryce Jordan Center in University Park, Pennsylvania. The two-day event begins Saturday at 9 a.m. (CT). Session II starts Saturday at 6:30 p.m. Session III begins Sunday at 11 a.m., followed by the finals at 3 p.m. Sessions I, II and IV will be televised by BTN. Session III is streamed at BTN Plus. Times are subject to change.
BIG TEN CHAMPIONSHIPS RESULTS
Brackets and team standings will be available throughout the tournament at bigten.org and hawkeyesports.com.
AUTOMATIC QUALIFIERS
The Big Ten Championships is one of seven NCAA qualifying tournaments across the country. The NCAA has awarded the conference 76 of the 266 automatic qualifying bids for the national championships in St. Louis on March 18-20. The Big Ten was allotted more bids than any other conference. The league will have five automatic qualifiers at 197, six automatic qualifiers at 149 and 285, and seven at 125, 133, 141, 157, 165, 174 and 184. After all of the qualifying events have concluded, the NCAA Division I Wrestling Committee will meet in-person to select the remaining 64 at-large qualifiers. All weight classes will consist of 33 wrestlers.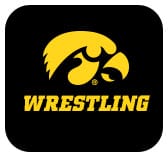 Wrestlers that meet two or more of the at-large consideration standards will be eligible for at-large selection Minimum standards include: .700 overall winning percentage; .700 Division I winning percentage at the weight class; Top 33 Coaches Ranking (taken after the qualifying tournament); One win against a wrestler who qualified via a pre-allocated spot or AQ; Qualifying event placement one below pre-allocated spots; Seeded in top 16 during 2020 selections; Finished in top 8 during 2019 Championships.
BIG TEN COACH OF THE YEAR
Tom Brands has been named Big Ten Conference Coach of the Year four times in his career, more than any other coach in school history. Brands was recognized in 2008, 2009, 2010 and 2020 following conference titles. Iowa has five Big Ten championships under Brands (2008, 2009, 2010, 2015, 2020).
WRESTLER OF THE CHAMPIONSHIP
Since 1989, the year the Big Ten record book first recognizes the award, nine different Hawkeyes have been named Wrestler of the Big Ten Championships. Alex Marinelli won the award in 2019 after winning the 165-pound bracket. He shared the award with Penn State's Jason Nolf. Head coach Tom Brands won the award in 1989 following his 126-pound conference title. Associate head coach Terry Brands won the honor following his 126-pound Big Ten title in 1992. Brent Metcalf is the only Big Ten athlete to win the award twice (2008, 2009).
BIG TEN TOURNAMENT CHAMPIONS
The Hawkeyes' 115 Big Ten champions have won a total of 203 conference titles. There have been seven four-time, 18 three-time and 31 two-time winners. The Hawkeyes have won 36 team titles, twice as many as the next closest school (Illinois, 17). Iowa won 25 consecutive conference championships from 1974-1998.
Iowa's most recent Big Ten Champion by weight:
125: Spencer Lee, 2020
133: Cory Clark, 2016
141: Cliff Moore, 2004
149: Pat Lugo, 2020
157: Derek St. John, 2012
165: Alex Marinelli, 2020
174: Jay Borschel, 2010
184: Sammy Brooks, 2017
197: none since weight was introduced in 1999.
HWT: Blake Rasing, 2011
BONUS POINTS AND ALL-AMERICAN DOMINANCE
The Hawkeyes have nine All-Americans in their postseason lineup that have a combined record of 35-3 in 2021. Spencer Lee, Jaydin Eierman, Alex Marinelli and Michael Kemerer are all three-time All-Americans. Austin DeSanto, Kaleb Young and Jacob Warner are 2019 and 2020 All-Americans. Max Murin and Tony Cassioppi earned All-America honors in 2020. The group has scored bonus points in 24 of its 35 wins.
TOURNAMENT EXPERIENCE
Spencer Lee, Alex Marinelli and Michael Kemerer are competing at the Big Ten Championships for the fourth time. Lee won the 125-pound title in 2020. He was runner-up in 2019 and placed third in 2018. He is 8-2 in three tournament appearances. He has scored bonus points in all eight tournament wins: three pins, three major decisions and two technical falls.
Marinelli is the two-time defending 165-pound champion. He is 8-3 all-time in the tournament. He was 3-0 in 2020 and 3-0 in 2019, when he was named co-wrestler of the championships. He placed sixth as a redshirt freshman in 2018, going 2-3 in five matches.
Kemerer placed runner-up at 174 pounds in 2020 after competing at 157 pounds in 2017 and 2018. He missed 2019 with an injury. He is 6-3 all-time at the conference championships. He was runner-up as a redshirt freshman in 2017, going 2-1 overall. He placed sixth in 2018, going 2-1 before injury defaulting from the tournament.
Four Hawkeyes, Austin DeSanto, Max Murin, Kaleb Young and Jacob Warner, are making their third straight Big Ten tournament appearances. Murin placed seventh and fifth, respectively, in 2019 and 2020 at 141 pounds. He is making his first appearance at 149.
Tony Cassioppi is making his second straight tournament appearance. He placed third at heavyweight in 2020, picking up a pair of falls and a 4-1 record. The Hawkeyes enter the Big Ten Championships with two wrestlers making their Big Ten tournament debuts. Sophomore Nelson Brands (184) is making his postseason debut and senior Jaydin Eierman is making his first appearance at the Big Ten Championships after winning three MAC titles from 2017-19.
4 HAWKEYES EARN TOP PRE-SEEDS FOR B1G CHAMPIONSHIPS
Four University of Iowa wrestlers are on the top line of the 2021 Big Ten Championships pre-seeds released Tuesday by the conference office. Spencer Lee (125), Jaydin Eierman (141), Alex Marinelli (165) and Michael Kemerer (174) are all seeded No. 1 at their respective weight classes for the 2021 Big Ten Championships set for Saturday and Sunday at the Bryce Jordan Center in University Park, Pennsylvania.
Iowa's four top seeds lead the conference. Penn State (two) is the only other school that received more than one. The Hawkeyes also picked up three No. 2 seeds, more than any other school. They include Austin DeSanto (133), Max Murin (141) and Kaleb Young (157). Jacob Warner (197) and Tony Cassioppi (285) are both seeded third. Nelson Brands is the No. 9 seed at 184. The complete tournament brackets will be released Friday afternoon following the Big Ten Conference coaches meeting.
QUICK WORK
Top-ranked Spencer Lee has outscored his opponents 38-0 in seven minutes and 12 seconds of mat time. Lee opened the season with a fall in 1:21 against No. 11 Liam Cronin (Nebraska). He ended his match against No. 9 Patrick McKee (Minnesota) with a fall in 1:53. He pinned Illinois's No. 13 Justin Cardani in 2:27. He led 6-0 in his first match, 14-0 in his second match, and 4-0 in his third match before securing pins. He led 14-0 at Purdue before winning in 1:32. Since the start of the 2019-20 season, Lee has outscored his 22 opponents 272-18. He has scored bonus points in 20 of those 21 matches.
Lee is making his third Big Ten Championships appearance. He is 8-2 all-time at the conference tournament with bonus points in all eight wins. He was won 27 consecutive matches.
NEW KID IN TOWN
Senior Jaydin Eierman is the top seed in his first Big Ten Conference Championships. Eierman transferred to Iowa in 2020 from the University of Missouri, where he was the 2019 MAC Wrestler of the Year and 2017 MAC Freshman of the Year. He won three MAC tournaments from 2017-19, posting a 9-0 mark with eight bonus-point wins. Eierman was a three-time All-American at Missouri. He placed fifth at the NCAA Championships as a freshman, fourth as a sophomore and third as a junior in 2019. He used an Olympic redshirt in 2019-20. Eierman has a career record of 94-11. Eierman is 5-0 in his first season as a Hawkeye. He won by 8-4 decision against No. 7 Chad Red on Jan. 15 in his Hawkeye debut. He has since won four straight, the last three by fall.
MARINELLI AIMS FOR THE HAT TRICK
Senior Alex Marinelli is a two-time defending Big Ten champion, winning the 165-pound title in 2019 and 2020. In 2019, he was named Big Ten Co-Wrestler of the Tournament. He is seeking to become the 19th three-time conference champion in school history. Joe Scarpello was the first Hawkeye to win three Big Ten titles. He won four from 1947-50. Scarpello is one of seven four-time champions. T.J. Williams is the last Hawkeye three-timer. He won three titles from 1999-2001. Tom and Terry Brands are among the 18 three-timers. Terry won three straight from 1990-92. Tom won his first as a freshman in 1989, and then again in 1991 and 1992). Marinelli is the top seed at 165. He is making his fourth appearance at the conference tournament. He has an 8-3 record in three appearances and has won his last six matches at the tournament. Marinelli is 2-0 overall and has won his last eight matches dating back to the 2020 regular season.
A LOOK BACK AT 2020 BIG TEN CHAMPIONSHIPS
The top-ranked University of Iowa wrestling team won the 2020 Big Ten Championship on March 8 in Piscataway, New Jersey, scoring 157.5 team points and crowning three individual champions.
Alex Marinelli defended his 165-pound conference title, and Spencer Lee and Pat Lugo became first-time champions, leading Iowa to its first outright team title since 2010 and its 36th conference title overall. Iowa's team title was the 36th in program history, more than any other school in the Big Ten. Iowa's point total (157.5) was its highest since 1995 (185).
Tom Brands was named Big Ten Conference Coach of the Year for the fourth time in his career, more than any other coach in school history. He was previously recognized in 2008, 2009 and 2010 following conference titles. Iowa has five Big Ten championships under Brands (2008, 2009, 2010, 2015, 2020).
BIG TEN TEAM RECORDS
Iowa holds the record for most individual champions in a single conference championships with nine in 1983. The Hawkeyes had eight in 1985, and crowned seven in 1981, 1982, 1984 and 1986.
The conference record for most falls in a tournament belongs to the Hawkeyes, who recorded 12 pins in 1979. The fastest fall by a Hawkeye belongs to Bart Chelesvig, who pinned Keith Bollman in the 1992 quarterfinals.
The largest margin of victory by a champion also belongs to Iowa. The 1983 Hawkeyes scored 200 points, 118.5 more than second-place Michigan State (81.5).
REGULAR SEASON B1G CHAMPIONS
The Big Ten Conference announced Feb. 23 that Iowa and Penn State are co-champions of the 2021 conference regular season. The top-ranked Hawkeyes finished the dual season 5-0.
Iowa has won or shared the Big Ten regular season title 11 times in the last 14 years, and 13 times since the conference starting recognizing a dual meet champion in 1999. Iowa won the title outright in 2000, 2008, 2009, 2010, 2011, 2013, 2015 and 2020, and shared the title in 2003, 2014, 2016, 2019 and 2020.
The Hawkeyes have 10 undefeated conference seasons since 2006-07, head coach Tom Brands' first year.
BIG TEN CHAMPIONSHIPS @ PENN STATE
The last time Penn State hosted the Big Ten Wrestling Championships was 2009. The Hawkeyes won the title, their second under Tom Brands, with 141 points. Illinois was second with 113.5. Brands was named Big Ten Coach of the Year and Brent Metcalf was named Outstanding Wrestler of the Championships. Metcalf (149) and Dan Erekson (285) won conference titles.