By JAMES ALLAN
hawkeyesports.com
IOWA CITY, Iowa – Thursday night inside Carver-Hawkeye Arena was a good old-fashioned rout.
The fifth-ranked University of Iowa men's basketball team led by 22 points at the break before pouring it on from there in a 102-64 victory over Nebraska on Mediacom Court. The Hawkeyes have won seven of their last eight games to improve to 19-7 overall, 13-6 in Big Ten play.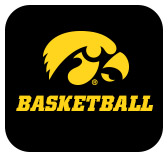 With a win Sunday or a Purdue or Ohio State loss, the Hawkeyes will clinch a double bye in next week's Big Ten Tournament in Indianapolis.
Senior Jordan Bohannon scored a game-high 26 points, making eight 3-point field goals, in 25 minutes. He had a +32 +/- for the game.
"Any time you have a player make eight 3s in a game, it's probably going to be a good thing for everybody," said head coach Fran McCaffery. "He was tremendous moving the ball defensively and then taking the shots when he was open and really moving well without the ball."
Redshirt freshman Patrick McCaffery scored a career-high 19 points to go along with six rebounds, senior Luka Garza scored 14 points and had eight rebounds, and junior Joe Wieskamp scored 11 and grabbed seven boards.
"I was talking to Wiesy after the game and he was like, 'It feels good doesn't it?'" said Patrick McCaffery. "I was like, yeah, now I know what it feels like to be him every game. It feels good to get in a zone like that and feel like everything I put up was going to go in."
The Hawkeyes shot 51.4 percent while limiting Nebraska to 33.8 percent shooting. Iowa made 16 3-pointers in the game (Nebraska made 12) and the Hawkeyes out-rebounded the Huskers, 45-38. Iowa had 25 assists with eight coming from junior Connor McCaffery.
Iowa wasted little time getting going, jumping out to a 17-5 lead over the first 5 ½ minutes. Bohannon hit three 3-pointers during the stretch. Nebraska closed to within 32-23 at the 6:02 mark before Iowa reeled off 11 straight points to push the lead to 43-23.
The Huskers hit a 3-pointer on their first possession of the second half to close to 48-29, but never got any closer. The lead went to 30 on a Keegan Murray dunk at the 13:31 mark and the Hawkeyes hit the century mark on a Josh Ogundele layup – one that pushed the lead to a game-high 39.
Kobe Webster paced the Huskers with 17 points.
OF NOTE
• The 102 points and 38-point margin of victory are the largest points total and margin of victory in the 35-game series history.
• Iowa's 102 points are the most Iowa has scored in a Big Ten game since a 116-77 win against Northwestern on Feb. 8, 1995.
• Tonight's 38-point victory is Iowa's largest margin in a conference game since a 39-point win over Northwestern (116-77) on Feb. 8, 1995.
• Iowa has won six of its last seven games.
• The Hawkeyes have held seven of the last eight opponents to fewer than 70 points.
• Iowa has won 10 Big Ten games by double digits, the most in a single season in five years (10 in 2015-16).
• Jordan Bohannon finished tonight's contest with a season-best 26 points, netting 20+ points for the 20th time in his career and third time this season. Bohannon tied a career high with eight 3-pointers (at Maryland, 2017). Bohannon's scoring totals from tonight move the redshirt senior past Dean Oliver and in a tie with Adam Haluska for 11th in career scoring at Iowa.
• Luka Garza tallied 14 points, eight rebounds, and a game-best four blocks in only 24 minutes of action. Garza's eight rebounds moved the senior past Ed Horton for fourth in Iowa career rebounding (879).
• Iowa drained 16 triples, its second highest total in a game this season (17 vs. North Carolina).
• Redshirt freshman Patrick McCaffery posted career bests in scoring (19), rebounds (6), and 3-pointers made (3).
• Redshirt junior Connor McCaffery dished out a game-best eight assists.
• Iowa has won 13 of the last 14 games against Nebraska in Iowa City, dating back to 1943.
UP NEXT
No. 5 Iowa will host 25th-ranked Wisconsin in its home finale on Sunday. Tipoff is scheduled for 11:31 a.m. (CT) on Mediacom Court at Carver-Hawkeye Arena in Iowa City, Iowa.