BETTENDORF, Iowa — The University of Iowa soccer team battled Michigan to a scoreless draw Thursday at the TBK Bank Sports Complex in Bettendorf, Iowa.  The game was the Hawkeyes' home opener.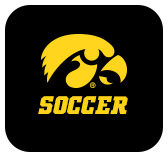 Iowa redshirt sophomore goalkeeper Monica Wilhelm was solid in goal, making a career-high nine saves in 110 minutes. That included a clutch save in the 108th minute off a point blank look from Michigan's Nicki Hernandez.
The Hawkeyes fended off a barrage of 21 shots and seven corner kicks en route to their first shutout of the season.
HEAR FROM HEAD COACH DAVE DILANNI
"Michigan is a good team and they like to open up the game and open up their shape. We knew that they were going to have the ball a little bit more than us, so we wanted to invite them into spaces so we could win the ball and counter out of that. I thought we were pretty successful in the first half, creating some good chances off the counter and transition.
"We didn't use the bench as much today as we would normally, and that will be important on Monday. We have nine and 10 players that played 95-or more minutes, so we need to get them back."
OF NOTE
– Wilhelm notched a career-high nine saves en route to her first career shutout.  She combined for a shutout with Claire Graves last season.
– Thursday marks the first time Iowa has been out-shot this season (21-9).
– Five Hawkeye position players played the duration of the contest (110 minutes). They were Sara Wheaton (4), Aleisha Ganief (3), Samantha Cary (2), Rielee Fetty (2), and Maggie Johnston (1).
NEXT UP
Iowa hosts Northwestern at the TBK Bank Sports Complex in Bettendorf, Iowa. Kickoff is set for 11 a.m. (CT).