MATCHUP
Iowa (0-0) vs. No. 18/21 Michigan (0-0)
LOCATION
Dell Diamond | Round Rock, Texas
DATE
March 6-8, 2021
WATCH
BTN+ (All Games)
LISTEN
Hawkeye Radio Network | TuneIn Radio
LIVE STATS
All Games
 
STARTING ROTATION
Game 1 | March 6 | 6 p.m.
UI: LHP Trenton Wallace
UM: LHP Steven Hajjar
Game 2 | March 7 | 2 p.m.
UI: RHP Drew Irvine
UM: RHP Cameron Weston
Game 3 | March 7 | 6 p.m.
UI: LHP Cam Baumann
UM: LHP Jacob Denner or RHP Isaiah Paige
Game 4 | March 8 | 11 a.m.
UI: RHP Duncan Davitt
UM: RHP Blake Beers or LHP Ben Dragani
THIS WEEK
The University of Iowa baseball team begins the 2021 season with a four-game series against No. 18/21 Michigan from March 6-8 at Dell Diamond in Round Rock, Texas. Saturday's series opener is set for 6 p.m. (CT), the two teams will play a Sunday doubleheader beginning at 2 p.m. and the finale is slated for 11 a.m. on Monday.
WATCH/LISTEN LIVE
• All four games will be streamed live via BTN+, a paid subscription service.
• The duration of the four-game series will be available on the Hawkeye Radio Network with Zach Mackey on the call. Fans can access the stream via TuneIn Radio.
• Saturday: 1360 AM KMJM; Sunday: 1360 AM KMJM; Monday: 360 AM KMJM, AM 800 KXIC
• Fans can follow along for live updates via Twitter/@UIBaseball.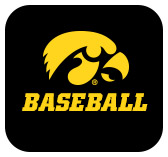 LEADING OFF
• Iowa will take the field for the first time in 360 days when it faces No. 18/21 Michigan on March 6 in Round Rock, Texas.
• The Hawkeyes are coming off a season where they went 10-5 before the season was halted and cancelled by the global coronavirus pandemic. The 15-game start was Iowa's best since 2015.
• Iowa is projected to finish fourth in the Big Ten Preseason Coaches Poll and fifth in the Big Ten Conference standings by D1Baseball.com in 2021.
• The Hawkeyes won seven of their last eight games to finish tied atop the Big Ten standings with Maryland and Penn State. Iowa went 3-1 against top-25 opponents and it owned the best RPI (38) in the Big Ten.
• Iowa returns 27 letterwinners, including all nine positional starters and its designated hitter from the 2020 season, including Perfect Game preseason All-Big Ten selection Izaya Fullard. Iowa's
• Seniors Austin Martin and Ben Norman and junior Trenton Wallace have been named to the Big Ten Players to Watch List.
• The 2020 Iowa lineup led the conference in batting average (.295) and fielding percentage (.980), ranked second in batting average against (.217), and fourth in ERA (3.39). Iowa's .980 fielding percentage ranked 25th in the NCAA.
• Two-thirds of the Iowa starting rotation will be different in 2021 with RHP Grant Judkins opting for a free agent contract with the Oakland Athletics and LHP Jack Dreyer undergoing Tommy John surgery.
• RHP Duncan Davitt is the lone holdover after going 0-1 with a 4.50 ERA in four starts. RHP Drew Irvine and LHP Trenton Wallace will join the weekend rotation.
• Senior Grant Leonard enters the 2021 season with 20 career saves — three saves away from breaking Kurt Belger's (22 saves, 1993-97) career saves record.
HAWKEYE NOTABLES
• Redshirt freshman Peyton Williams brings an 11-game hitting streak into the 2021 season.
• Senior Zeb Adreon and junior Dylan Nedved have reached base safely in 11 straight games dating back to 2020.
• The Hawkeyes led the conference in RBIs (98), ranked second in runs scored (108), third in on-base percentage (.391) and hits, (148) and fifth in slugging percentage (.408) in 2020.
• Iowa will play a 44-game Big Ten only schedule in 2021 because of the global coronavirus pandemic. That includes 16 games at Duane Banks Field.
AROUND THE HORN
The Hawkeyes starting infield is intact from the end of the 2020 season with senior Matthew Sosa (3B), junior Dylan Nedved (SS), junior Izaya Fullard (2B), and freshman Peyton Williams (1B). Fullard is also a candidate to DH with sophomore Brendan Sher playing second base.
PATROLLING THE OUTFIELD
Iowa returns its three starters in the outfield in seniors Zeb Adreon and Ben Norman, and junior Trenton Wallace. When Wallace is on the mound, redshirt freshman Brayden Frazier or freshman Michael Seegers could be in line for playing time in the outfield.
WEEKEND ROTATION NOTE
• Iowa's weekend starting rotation of LHP Trenton Wallace, RHP Drew Irvine, LHP Cam Baumann and RHP Duncan Davitt went 2-2 with a 3.86 ERA over 32 2/3 innings. The trio had 44 strikeouts to 13 walks.
• Wallace will be making his first career weekend start and 12th career start overall. The southpaw is 3-1 with a 4.50 ERA over 32 career appearances. He was 1-0 with a 1.59 ERA in five appearances in 2020.
• Irvine will make his first career start on March 7 against Michigan. He is 2-2 with a 5.86 ERA in 20 career appearances — all in relief.
• Baumann returns to the rotation after pitching in relief last season. In 2019, the southpaw made 14 starts, going 4-5 with a 4.11 ERA. He struck out 54 over 64 2/3 innings.
• Davitt returns for his second straight season as the No. 3 starter. He is 2-2 with a 5.01 ERA in 21 appearances, including eight starts.
PATTY RETURNS
Redshirt junior Izaya Fullard, aka "Meat Patty", was off to a torrid start in 2020 before seeing the season canceled abruptly. The North Liberty, Iowa, native led the team and Big Ten in RBIs (21), ranking 25th in the nation and 18th in the country in RBIs per game (1.40). He was on track to shatter his RBI total (31) in 52 games as a sophomore.
• Fullard hit a team-best .400 (24-of-60) in 15 games with a team-leading seven multi-hit games, including a streak of six straight games. He hit safely in 11 of 15 games and his .400 batting average tied for fifth in the Big Ten.
• led Iowa and ranked second in the conference with 19 runs scored. His 1.27 runs per game ranked 29th in the country.
BUCKS HOME RUN KING
Redshirt freshman Peyton Williams enjoyed a breakout summer while playing for the Waterloo Bucks in the Northwoods League. The Johnston, Iowa, native hit a Bucks record 13 home runs in 33 games and finished the year with a .304 average and a 1.076 OPS with 36 RBIs, five doubles, and 26 runs scored. He was voted the Bucks' team Most Valuable Player.
A SUMMER ALL-AMERICAN
Redshirt junior Dylan Nedved was honored as a National Baseball Congress All-American as a shortstop, while playing for the Hutchinson Monarchs. Nedved also hit .355 with four home runs and 21 RBIs in the Sunflower Collegiate League and he was the MVP of the league's All-Star Game.
THE GRANT LEONARD FILE
• Redshirt senior Grant Leonard (1-1, 5.68 ERA) followed up his record-breaking junior year with a solid 2020 campaign. In seven appearances, he recorded four saves in five chances — the second most in the Big Ten and 17th most nationally.
• Leonard enters his sixth and final season as a Hawkeye with 20 career saves, which are tied for the second most in Hawkeye history with Tim Gudex (2004-06). Kurt Belger (1993-97) holds the program record with 22 career saves.
• Leonard also earned a "save" off the field as he and Iowa softball pitcher Allison Doocy became engaged in January.
TWO-WAY GUYS
• Redshirt juniors Trenton Wallace and Dylan Nedved and freshman Keaton Anthony will make an impact as two-way players for the Hawkeyes in 2021.
• Wallace will serve as a starting outfielder and weekend rotation pitcher. He made five appearances out of the bullpen in 2020, posting a 1.59 ERA, and started four games at DH and two in left field, batting .529 (9-of-17) with one home run, three doubles, and five RBIs. He struck out 18 batters and issued only two walks in 11 1/3 innings of work.
• Nedved is slated to be Iowa's starting shortstop and a relief pitcher in 2021. The Shawnee, Kansas, native started 10 games in the field, hitting .308 (12-of-39) with 11 RBIs and 10 runs scored. On the mound, Nedved went 1-0 with a 1.35 ERA in five appearances, spanning 6 2/3 innings. He recorded seven strikeouts, while limiting opposing batters to a .100 average.
• Anthony will be a dual-role player as an outfielder and relief pitcher. He is currently sidelined with a hamstring injury.
DON'T COUNT 'EM OUT
The Hawkeyes have overcome deficits to win 51 games since the start of the 2017 season and posted 14 walk-offs. Twenty-six of those victories have come with Iowa trailing or being tied entering or through seven innings. Seventeen have come in the final at-bat.
SCOUTING MICHIGAN
• The Wolverines are picked as the preseason Big Ten favorite by the league's 13 head coaches and by D1Baseball.com.
• Michigan went 8-7 during the shortened 2020 season after advancing to the NCAA Final in 2019.
• The Wolverines have 13 seniors and 32 players with collegiate experience, including key offensive returnees Jimmy Obertop, Riley Bertram, and Christian Bullock.
• Hajjar, RHP Cam Weston, and Obertop were named to the Big Ten Preseason Honors List.
• Steven Hajjar was tabbed as the Preseason Big Ten Pitcher of the Year by D1Baseball.com.
SERIES RECORD
• Michigan leads the all-time series, 115-53. The Hawkeyes last met the Wolverines during the 2018 season. Iowa won two of three games during the regular season in Iowa City before falling 2-1 in 10 innings in the opening game of the Big Ten Tournament.
TEAM CAPTAINS
Iowa's team captains for the 2021 season are seniors Trace Hoffman, Grant Leonard, Austin Martin, and Ben Norman and junior Trenton Wallace.
30 WINS X 6
Since head coach Rick Heller's first season in 2014, the Hawkeyes have reached the 30-win plateau six straight seasons. It is the program's longest stretch since posting seven straight 30-win seasons from 1979-85.
2014: 30-23
2015: 41-18 (2nd-most wins all-time)
2016: 30-26
2017: 39-22 (5th-most wins all-time)
2018: 33-20
2019: 31-24
2020: 10-5 (*pandemic shortened)
BANKS MAGIC
• The Hawkeyes are 95-27 at home since the start of the 2015 season.
• Iowa won 19 games in 2019, the third-most in a single-season in school history, trailing only the 22 wins in 1977 and 20 wins in 2018.
• Iowa has 16 walk-off victories at Duane Banks Field since the start of 2015.
ROSTER BREAKDOWN
• Iowa's 41-man roster features seven redshirt seniors, eight redshirt sophomores, nine redshirt freshman, and 10 true freshman.
• The Hawkeye roster is made up of student-athletes from 11 different states: Iowa (24), Illinois (7), Wisconsin (2), Kansas (1), Georgia (1), Arizona (1), California (1), Colorado (1), Indiana (1), Missouri (1), and Nevada (1).
• Iowa had two sets of junior college teammates. Zeb Adreon, Austin Martin, and Trace Hoffman were teammates at Southeastern Community College, while Izaya Fullard, Hunter Lee, and Adam Ketelsen were teammates at Kirwkood Community College.
• The Hawkeyes also have six sets of teammates who played together in high school: Brendan Sher and Duncan Davitt (Indianola); Izaya Fullard and Connor McCaffery (Iowa City West); Trenton Wallace and Ben Beutel (Davenport Assumption); Jackson Vines, Peyton Williams, and Jack Dreyer (Johnston); DJ Heck and Brett McCleary (City High), Tyler Snep and Anthony Mangano (Lake Zurich).
#HELLERBALL
• Head coach Rick Heller recorded his 900th career win against Grand View in a 15-2 victory on March 3, 2020, at Duane Banks Field
• Heller is one of nine coaches all-time to lead three different NCAA Division I teams to regional play.
• Heller recorded his 800th career win against Lehigh on March 12 at the Snowbird Classic in Florida. Heller won his 200th game at Iowa on May 1 in a victory over Western Illinois.
• The Hawkeyes have won 30 or more games in each of Heller's six seasons as the helm of the program. It's a first for the team since winning 30 or more in seven straight seasons from 1979-85.
• Heller has led the Hawkeyes to two NCAA Regional appearances; the program had three regional appearances in its history prior to his arrival.
• Heller is fourth in school history in career wins with 204 at Iowa, including the second (41) and fifth-most (39) in school history.
• Heller led Iowa to its first Big Ten Tournament title in 2017 — the first conference title since 1990 — and he guided the Hawkeyes to the Big Ten Tournament title game in consecutive seasons. Iowa has advanced to the league tournament in six straight years for the first time in program history.
• Heller has coached at least one first-team All-Big Ten selection in five of his first seven seasons, and has 21 Major League Baseball Draft picks in seven seasons — the most in a six-year stretch in school history.
• Iowa had a school-record six All-Big Ten selections in 2015 and five in 2017. The Hawkeyes have had 23 All-Big Ten honorees in six seasons under Heller.
• Iowa has posted winning streaks of nine games (in 2015) and eight games (in 2017) — the longest streaks for the program since 2012.
FOLLOW THE HAWKEYES
Iowa baseball fans can follow the Hawkeyes on Facebook @iowabaseball, Twitter @UIBaseball, and Instagram @UIBaseball in addition to coverage on hawkeyesports.com.